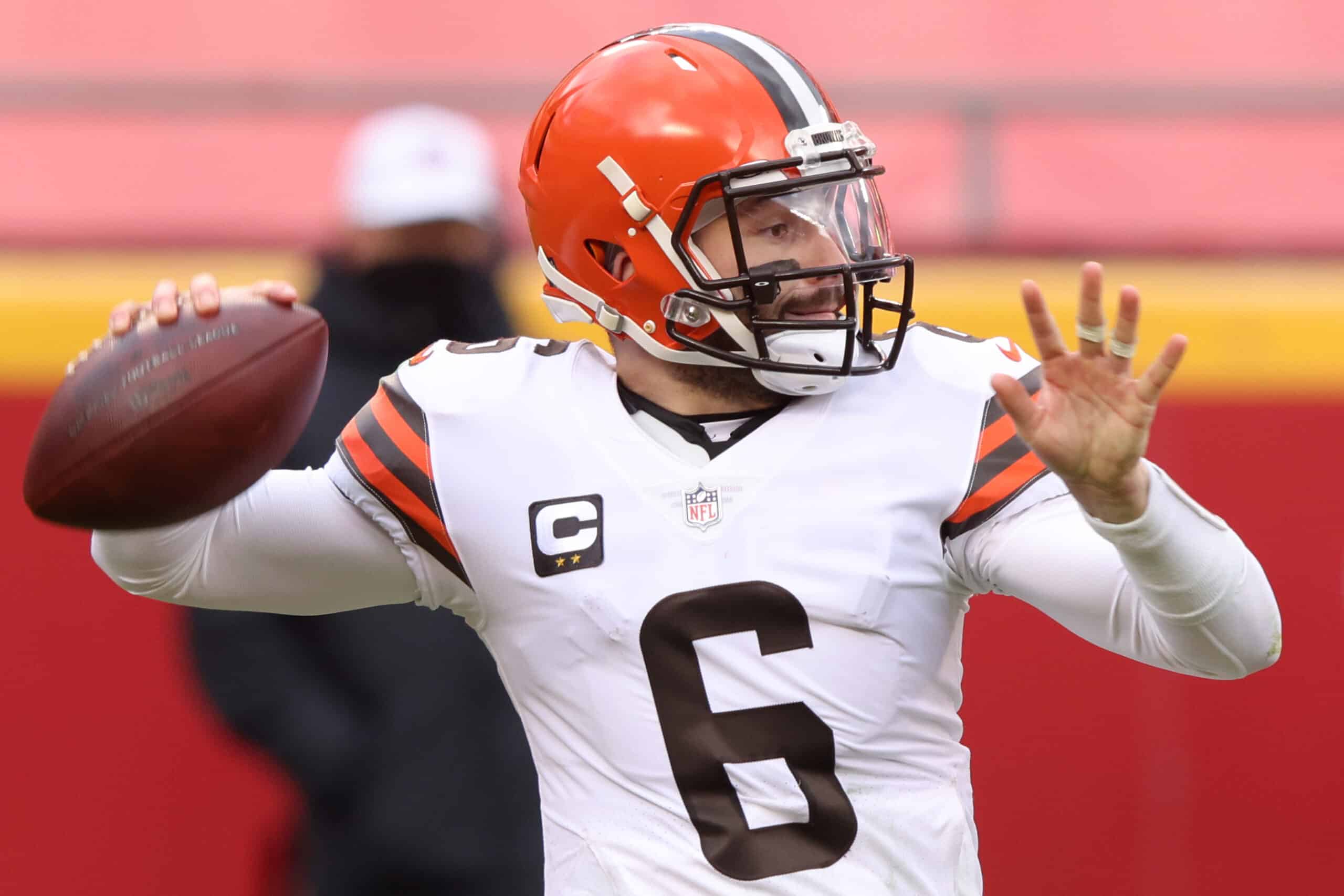 There are a lot of new faces in the Cleveland Browns locker room for this week's minicamp.
But a tried and true stalwart has the best odds to win the NFL's Most Valuable Player award in 2021.
And it is not just the Browns faithful who believe Cleveland can land their first MVP in more than 40 years.
So far Baker Mayfield is the most popularly bet player to win the MVP by total dollars wagered at William Hill.

That includes a $5,000 wager on Mayfield at +4000 at @WilliamHillIL that would pay out $205,000.

Current odds, trends and more for 2021-22 🏈 MVP futures ⬇️

— William Hill US (@WilliamHillUS) June 15, 2021
Bettors across the country are putting money on Baker Mayfield.
In fact, Mayfield is the most popular MVP bet at William Hill Sportsbooks.
And if his falling odds are an indication, he is very popular across all the major Las Vegas betting organizations.
William Hill still offers 20-1 (+2000) betting odds on Mayfield.
The largest 2021-22 NFL MVP bet so far at @WilliamHillUS is $5,000 on Baker Mayfield at 40-1 odds.

Mayfield is down to 20-1 and has the most total dollars wagered in the MVP market.

— Ben Fawkes (@BFawkes22) June 15, 2021
But that is way down from +4000 last month after about 12% of bettors put money on the Browns' quarterback.
One William Hill customer caught the higher odds and placed a  $5000 bet on Mayfield in April.
He stands to win over $200,000 if the Browns quarterback comes through.
Why Mayfield Is a Popular MVP Bet 
Las Vegas and other bookmakers offer betting action on a wide variety of NFL side bets.
Winners of all the league's individual and team performances warrant action.
But the NFL MVP offers some of the "most educated" odds among all the categories.
Benjamin Solak outlined some of the MVP trends in an article for The Draft Network last month.
He explains how 13 of the last 14 MVPs were quarterbacks, diminishing the likely pool of candidates.
.@PFF_Sam believes #Browns quarterback Baker Mayfield is the best value bet to win the 2021 NFL MVP. https://t.co/yripRmyB8C https://t.co/8Tg8VttacH

— Mark Bergin (@mdbergin) June 6, 2021
These MVP quarterbacks came from playoff teams with double-digit wins, usually a division winner.
Cleveland is widely expected to fit that bill, helping Mayfield's odds of winning the MVP.
But despite popular opinion in Ohio, the Baltimore Ravens are favored to take the AFC North.
So Lamar Jackson is among 14 quarterbacks who started with lower odds of winning the award.
And that helped inflate the odds and added to the value of a Mayfield payout.
What Does Mayfield Have To Do? 
Cleveland's playoff odds and win projections thrust Mayfield into the MVP conversation.
But his personal performance will cement the MVP award.
That is not to say Kevin Stefanski has to turn the Browns into a passing team.
An MVP quarterback just has to be good enough to warrant credit for leading the offense.
Mayfield's progressive improvement over the course of the 2020 season helps.
Talking #Browns after playing a clip of @mikethemiz on Rich's "Just Getting Started" podcast… here's some odds for 2021:

win total O/U: 10
-210 to make playoffs
+140 to win AFC North
+750 to win AFC
+1600 to win Super Bowl@bakermayfield +2500 for MVP

thoughts? pic.twitter.com/ENsbwCeYo6

— Rich Eisen Show (@RichEisenShow) May 7, 2021
Not only did he improve statistically, but the Browns' offense flowed better as Mayfield's confidence grew.
Bettors expect those trends to continue in the team's second season under Stefanski.
Fair or not, the MVP bar for quarterbacks is lower than for other positions.
That is why 21 of the 24 lowest betting odds are assigned to passers.
And another Browns star, Nick Chubb, comes in at +10000, or a 32nd-lowest 100-to-1 odds.