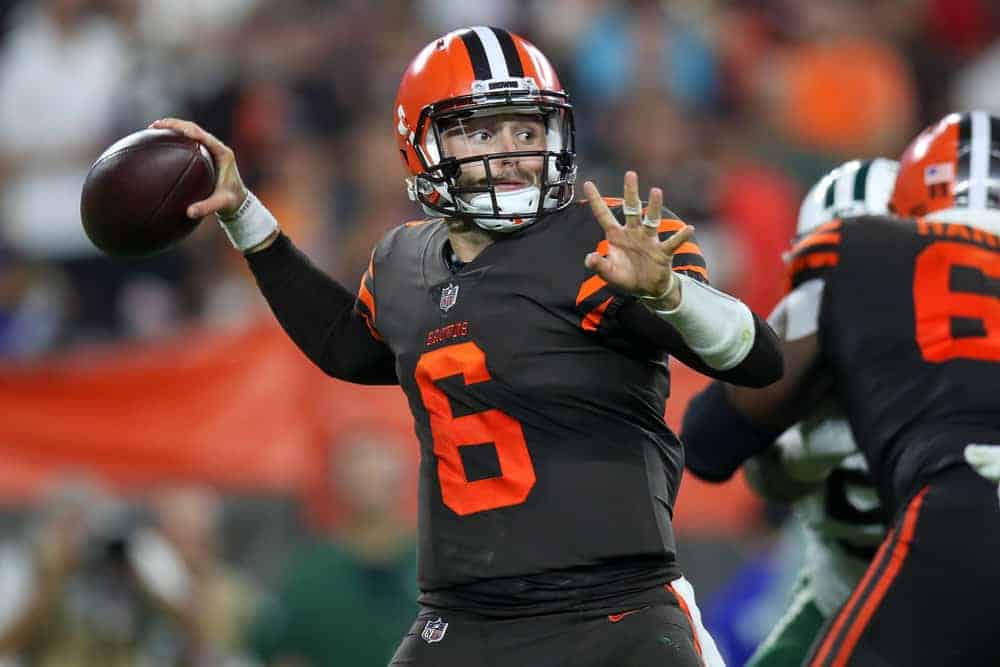 The 2019 season did not go as expected for the Cleveland Browns.
Quarterback Baker Mayfield suffered from a sophomore slump that severely hurt the Browns offense.
He regressed from being one of the best, to one of the worst deep ball quarterbacks in the NFL.
There were multiple reasons as to why Mayfield might have struggled last season.
Doug Farrar of the "Touchdown Wire" recently ranked Mayfield as the ninth-worst quarterback at throwing deep in 2019.
Here is what Farrar had to say on Mayfield:
"Mayfield's statistical regression in his second NFL season covered all phases of his game, and the deep ball was no different. In his rookie season of 2018, Mayfield threw 15 touchdowns and seven interceptions on routes requiring deep passes. In 2019, his touchdowns on such throws fell to eight, and his interceptions rose to 10, which tied for the NFL's worst. Mayfield was victimized to a point by dropped passes leading to interceptions, which is to be considered."
What Happened to Mayfield?
The former first overall pick jumped onto the scene and put together a record-setting rookie campaign.
During his rookie season, Mayfield threw 15 touchdowns and seven interceptions on deep routes.
However, those numbers saw a significant regression during the 2019 season.
Mayfield threw eight touchdowns and tossed 10 interceptions on deep passing routes last season.
His 10 interceptions were tied for the most in the league on routes requiring deep passes.
Baker Mayfield finished the season 31st in completion percentage, 31st in quarterback ratings and second in interceptions.

— Ben Axelrod (@BenAxelrod) December 30, 2019
Mayfield threw for 3,827 passing yards, 22 touchdowns, and 21 interceptions last season.
His quarterback rating was 93.7 during the 2018 season, but dropped 78.8 after the horrendous season he endured in 2019.
It seemed like everything went wrong for Mayfield last season, but there is hope for better results in the future.
What Has Changed Since Last Season?
Clearly, Mayfield does have the talent to be a reliable quarterback after seeing what he did during his rookie campaign.
It is worth noting that Mayfield is already on his fourth head coach while he's entering his third season in the league.
The Browns offense heavily struggled as a unit last season under then-coach Freddie Kitchens.
"I've been very impressed with how smart Baker is."

New @Browns coach Kevin Stefanski says Baker Mayfield is off to a great start under the new regime.

AUDIO | #Browns | #DawgPound pic.twitter.com/7iAfezraLo

— SiriusXM NFL Radio (@SiriusXMNFL) May 19, 2020
After the 2019 season, the Browns hired Minnesota Vikings offensive coordinator Kevin Stefanski.
He changed the Vikings offensive scheme and helped them get to the playoffs last season.
Stefanski believes that he can help Mayfield technique-wise and with some new schemes.
The Browns have also added some new offensive weapons that should help Mayfield in 2020.
The Browns Offseason
Cleveland kicked off free agency by adding right tackle Jack Conklin and Pro Bowl tight end Austin Hooper.
Both players are expected to immediately slide into starting roles and help the Browns next season.
However, the Browns didn't stop there and kept adding through the 2020 NFL Draft.
Welcome to Cleveland, Jedrick Wills Jr.!

📰: https://t.co/X4Nll3DMee#BrownsDraft pic.twitter.com/agucLqT4To

— Cleveland Browns (@Browns) April 24, 2020
The Browns selected Alabama offensive tackle Jedrick Wills Jr. during the first round of the draft.
He was projected as one of the top tackles in the entire draft class.
Cleveland has made enormous upgrades on the offensive side of the ball over the offseason.
Will Mayfield Improve Next Season?
Mayfield has a new offensive scheme, revamped offensive line, and upgraded weapons on offense for the 2020 season.
Last season, Mayfield was sacked 40 times, so it's tough to expect him to play well if he's under pressure the entire game.
He has an improved offensive line which should give him more time in the pocket to make accurate deep passes.
Having Stefanski as head coach should be good for Mayfield and will hopefully help him improve his game under a smart offensive-minded coach.
The Browns have Odell Beckham Jr. and Jarvis Landry coming off surgeries, but are expected to be fully healthy next season.
Everything appears to be looking positive for Mayfield, so hopefully, he is able to bounce back nicely in 2020.