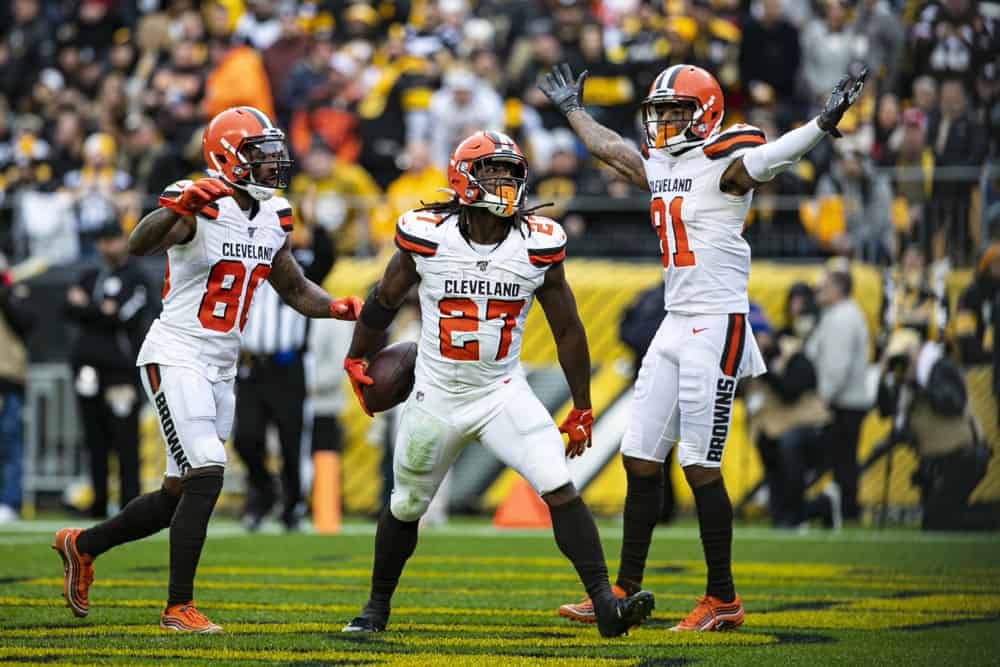 The times are changing in Cleveland.
Cleveland Browns fans are not the only ones taking notice.
Former NFL quarterback Sean Salisbury was a recent guest on the Bull & Fox podcast, and he talked about this and other NFL-related issues.
Here's how Salisbury sees the changes in Cleveland.
Cleveland Is Fostering Good Culture
.@SeanUnfiltered tells @BullandFox #Browns additions in free agency show players like good culture, winning; "things are moving in Cleveland"https://t.co/BsG93slTA6… pic.twitter.com/e5H4p4Cb2w

— 92.3 The Fan (@923TheFan) March 31, 2021
Salisbury says good culture allows players to do what they love and have fun.
Outsiders take notice, and when the opportunity comes (through free agency), they want to be a part of it.

Those free agent players are also willing to make less money to come to Cleveland.
What Is Creating The Good Culture?
1. Coach and Front Office
Having the reigning NFL Coach of the Year Kevin Stefanski on the Browns' sidelines certainly helps.
What he accomplished in his first season in a pandemic is remarkable, and the fact that the Browns did not have to spend the offseason interviewing and selecting a new coach is a huge step forward for the organization.
The clarity and well-thought out plan and use of cap dollars by GM Andrew Berry is also part of it.
2. Quarterback
Baker Mayfield excelled in his third year in the NFL.
He led the Browns to the playoffs.
His maturity and leadership is helpful in attracting quality players.
Several of the newly signed Cleveland Browns have mentioned that Baker was the first player to reach out to them; those little gestures are part of the culture change.
3. Fan Base
Salisbury spoke from his experience as a player when talking about the "Dawg Pound."
He said whether the Browns were winning or losing, playing in Cleveland was one of the toughest places because the fans were loyal and loud.
The fans have never waivered and waited a long time for the Browns to find their footing.
Winning keeps all of this going, and Salisbury believes the Browns are just at the beginning of a winning run.
Other NFL Issues Salisbury Talked About
1. 17 Game Schedule
17 games in the NFL is great for 💰 but they are going to have to adjust practices and what a regular offseason looks like. Dudes were already falling apart playing 16. As a whole this is great but adjustments have to be made.

— Torrey Smith (@TorreySmithWR) March 28, 2021
Salisbury has a unique perspective as a former player.
He admits the addition of another regular season game is great for the fans.
However, he questions why the players' union did not ask for an extra bye week or other concessions.
While the NFL's shift to a 17 game schedule is largely motivated by money, he says concern over player health and safety should be paramount.
Taking away a preseason game that most of the veteran players would likely see limited action in is not a good trade-off.
2. Pro Day Obsession
The smart Quarterback coach/evaluator goes nuts over a guys performance in full gear vs defense. If you prefer T-shirt and shorts performance over what tape told you, then may I suggest you find a new sport to evaluate or coach!

— Sean Salisbury (@SeanUnfiltered) March 31, 2021
Salisbury is not a fan of all the media frenzy surrounding NFL Pro Days (or the NFL Combine when it is held).
He told Bull & Fox that even in his late 50s, he could complete those air passes in shorts and a t-shirt.
With no opposing defense, this is more or less a show.
Salisbury says the good scouts have studied all of the game tape and know who the quality players are.
What the Pro Days are supposed to do is solidify those assessments; nothing should change because of air passes.