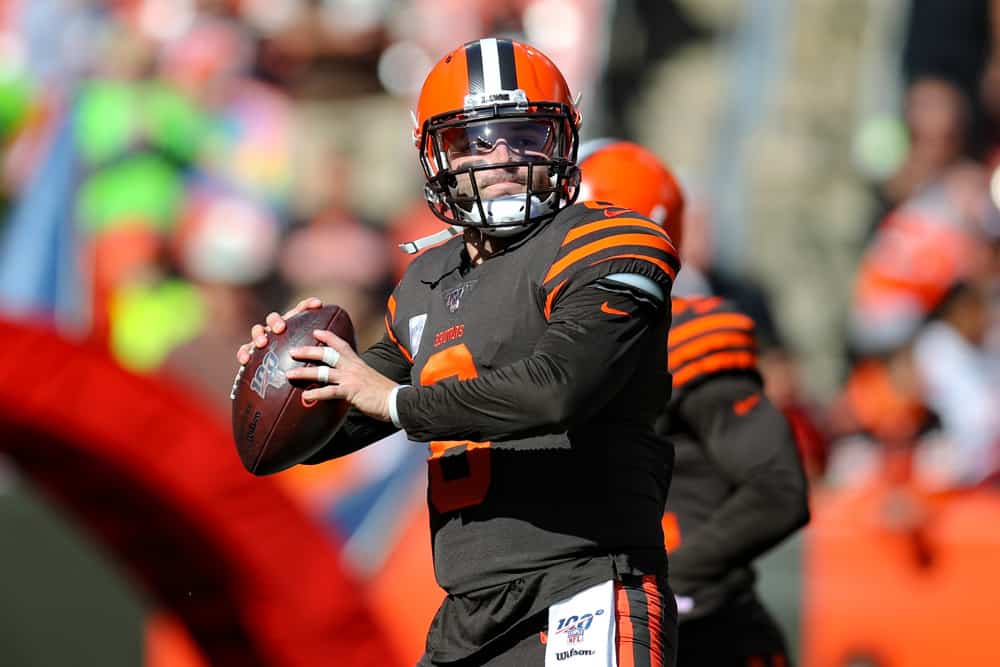 Back in January, Baker Mayfield took the stage on ESPN's 'Get Up,' where he was described in a way you don't often hear when it comes to the often brash quarterback.
Humble.
Following the Cleveland Browns' brutal 2019 campaign, Mayfield admitted he had to be a better leader. He accepted blame for his team's putrid performance, owning up to the numerous missteps which littered such a miserable season.
Most importantly, Mayfield hammered home the fact he needed to lead not by picking fights on Twitter, but instead through pushing his teammates to be better.
While it was admittedly refreshing to hear, he still needed to put his words into action.
Sure, everything Mayfield said was practically required after last year. Still, it's easy to talk a big game about making positive changes. Actually doing so requires much more effort.
So far, he's kept his word. After claiming he needed to become a better leader, Mayfield has spent the past few months doing exactly that.
Frankly, it couldn't be coming at a better time.
Thanks to the coronavirus pandemic, the Browns are as physically distanced as ever. Opportunities have arisen for multi-player workouts, but for the most part, Cleveland's offseason program is taking place via Zoom meetings.
It's an issue every NFL team is working through this summer, but it's a bigger hindrance for the Browns considering rookie head coach Kevin Stefanski is attempting to implement a new system. Whenever training camp begins, said implementation could be particularly rocky.
However, the obvious hurdles haven't stopped others from raving about Mayfield's leadership this summer.
Earlier this month, offensive coordinator Alex Van Pelt heaped praise towards his quarterback, specifically for how involved he's been with team meetings.
"He's done everything I'd expect from him as a starting quarterback,'' Van Pelt said. "His work ethic is great. He jumps into other meetings that aren't required, and he'll sit in the receiver meetings when they have them and will sit in running back meetings from time to time, as well."
Speaking of running backs, Kareem Hunt had similar accolades for Mayfield when speaking with local media this week.
"Baker is doing a great job,'' said Hunt. "He's a leader. He's leading all of the meetings. He's in and out of everybody's meetings."
The comments alone are encouraging enough. The bigger development, though, is that we're hearing all this positivity about Mayfield despite him barely making a peep this offseason.
In fact, outside of explaining his intentions to kneel during the national anthem this season in order to promote racial equality, Cleveland's QB has been keeping quite a low profile.
Considering the year he's recovering from, the magnitude of this development can't be overstated.
The Browns spent the bulk of 2019 looking unprepared on a weekly basis, often carrying themselves as a team which clearly bought into its own hype. The locker room was a disjointed disaster, with no one present to provide effective guidance.
At the time, Mayfield's response to this was to continue going punch-for-punch with critics in the media. He did so despite his on-field effectiveness cratering after such a strong rookie campaign in 2018.
In the time since, not only has Mayfield admitted his approach was foolish, he's also avoided his trademark Twitter battles.
Said spats are still there to be had. Two months ago, Stephen A. Smith claimed the Browns were wrong to draft Mayfield first overall. Meanwhile, his arch-nemesis — Colin Cowherd — continues to jab at him.
He's referred to Mayfield as "Case Keenum with a better arm."
Baker Mayfield since 2017: 12-17, 49 TD, 35 INT
Case Keenum since 2017: 18-20, 51 TD, 27 INT

"Baker Mayfield is Case Keenum with a stronger arm… It is all lined up for him. He will be a playoff QB this year." — @ColinCowherd pic.twitter.com/mk1FB5I3pF

— Herd w/Colin Cowherd (@TheHerd) May 27, 2020
He's claimed Vegas isn't bullish on the Browns because of Mayfield's maturity issues.
"If Sam Darnold struggles, Adam Gase will be fired. If Cleveland doesn't make the playoffs, Baker Mayfield is getting fired." — @ColinCowherd pic.twitter.com/89kiiL0UHe

— Herd w/Colin Cowherd (@TheHerd) June 11, 2020
However, where these segments would typically be followed by a counter from Mayfield, he's now just letting them slide right by. He keeps getting baited back into his old ways, yet has instead tuned out these distractions.
It's admittedly been quite a refreshing change. Mayfield is still getting noticed, but from the right people this time.
There have been no magazine covers, no featured interviews, no Progressive ads. Instead, Mayfield is making his presence known in the Browns' offseason meetings, through doing everything he can to be a leader when there's more distance than ever between himself and his teammates.
Simply put, he's doing exactly what he said he needed to do back in January.
Granted, he still needs to improve on the field. While his off-field maturity has grown by leaps and bounds, it'll be all for naught if he doesn't bounce back from such a letdown 2019 campaign.
Still, changing up his approach and learning how to ignore the outside noise was a major step required to ensure said bounce back occurs. So far, Mayfield's progress in that department has been undeniable.