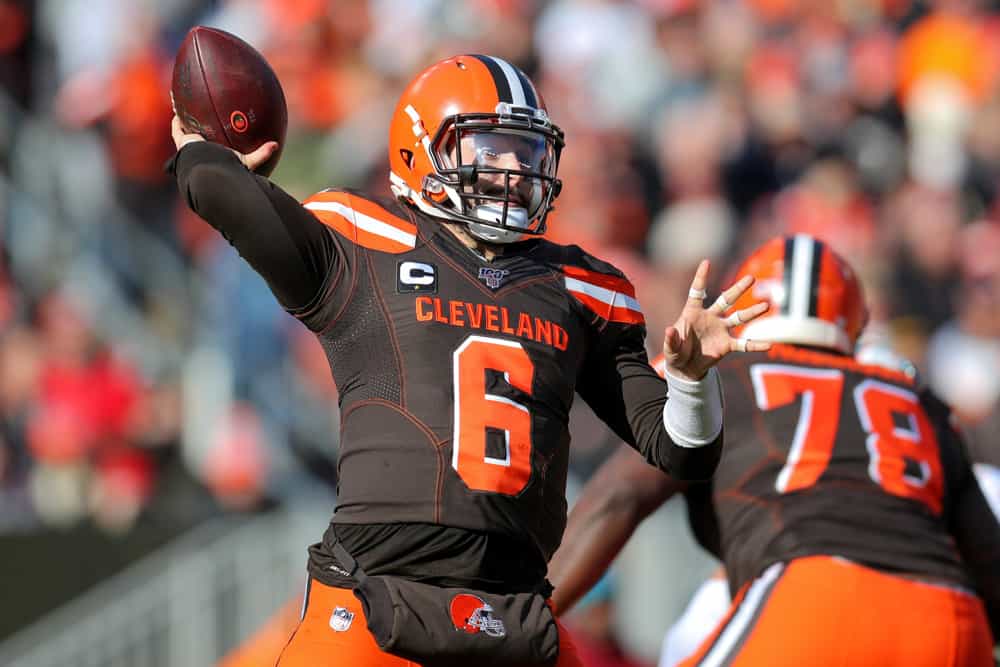 Last season was an absolute dud for Baker Mayfield.
Mayfield was even one of the first to tell you about it.
Baker Mayfield says he will no longer respond to the outside noise.

"Let's be honest, I put my foot in my mouth a lot this last past year, and I'm gonna to internalize that and I think that's the way I need to handle it."

"Rest in peace, Kobe, but that's the way he did it." pic.twitter.com/8hrKzrdxy4

— Sooner Gridiron (@soonergridiron) January 31, 2020

Coming off a stellar 2018 season, many had high expectations for the former No. 1 overall pick.
Instead, Mayfield threw for 22 touchdowns and 21 interceptions and was one of the worst efficient passers in the league.
The offensive line was to blame for much of the offensive line struggles in 2019 and the Browns have made it known they plan to invest heavily in the position this offseason.
But, even with an improved offensive line, should we expect to see a better Baker Mayfield in 2020?
All signs would seem to point to yes, but there still is a major concern with Mayfield.
Even With A Clean Pocket, Mayfield Was Among The Worst Rated Passers in 2019
While Mayfield did have some unlucky interceptions in 2019, his clean pocket presence and decision making became a major concern.
Pro Football Focus released their end of the year quarterback rankings for 2019 and expressed their concern about the issue.
They ranked Mayfield 18th out of the 32 quarterbacks.
"Among the concerns was Mayfield's pocket presence, as he invited pressure and vacated clean pockets much more than what we saw as a rookie."

"Great quarterbacks have the ability to mitigate offensive line issues with pocket presence and decision making. But this season, Mayfield has only made his front-five look worse."
At one point last season, when Mayfield was not pressured, he was the worst quarterback in the league.
Baker Mayfield has the lowest passer rating in the NFL when not under pressure this season per @NextGenStats. He is the only QB with more INT than TD passes when not pressured. pic.twitter.com/OuFERsVDzm

— NFL Research (@NFLResearch) November 5, 2019
No quarterback with at least 200 clean dropbacks in 2019 recorded a lower clean-pocket passer rating than Washington Redskins rookie signal-caller Dwayne Haskins at 81.8.
He completed just 63.2% of his attempts for 1,089 yards, five touchdowns and five picks when kept clean last season.
Haskins, Dalton, and Mayfield were the only three quarterbacks with sub-90.0 clean-pocket passer ratings in 2019.

How bad of a season has it been for Baker Mayfield? Lowest QB rating from a clean pocket this season per PFF…

Haskins 79.5
Dalton 81.7
Mayfield 83.2
Kyle Allen 91.3
D. Jones 94.5
Trubisky 95.2
League average is 103.1.

Mayfield is tied with Jameis with 12 INT kept clean.

— Rich Hribar (@LordReebs) December 16, 2019
And it wasn't just Mayfield's rating that was concerning. Turning the ball over from a clean pocket was also something that hurt the Browns in 2019.
Most interceptions from a clean pocket in 2019, per @PFF
Jameis Winston (16)
Baker Mayfield (15)
Philip Rivers (11)
Kyle Allen (10)
Jared Goff (10) pic.twitter.com/YY1fPPF89u

— Kate Magdziuk (@FFballblast) January 3, 2020
Mayfield May Never Have Consistency
Before the 2019 season began, Kevin Kelly of Sharp Football, a site that uses advanced analytics to evaluate quarterbacks, noted that Browns' fans may never get consistent play out of Mayfield.
Here's what Kelly wrote:
"Consistency is not him and may not ever be. The offensive line cannot always count on him being at a certain spot in the pocket, which can have its positives, but also negatives — cue more holding calls (drive killers). The receivers cannot count on him getting them the ball when they can look at the defense and know it should be coming to him on a given play because of alignment combined with their route, which could upset receivers when the route is run correctly"
Will Mayfield Be Better In 2020?
With new head coach Kevin Stefanski and offensive coordinator Alex Van Pelt, the progression for Mayfield looks bright.
Stefanski already has a solid resume from last year.
Stefanski was an integral part in helping guide Vikings quarterback Kirk Cousins to one of his best seasons.
Cousins finished fourth in the NFL with a passer rating of 107.4 and 26 touchdowns to just six interceptions.
Kirk Cousins and Jimmy G's stats looked eerily similar this season 😳 pic.twitter.com/PreeMTUZNc

— NFL on ESPN (@ESPNNFL) January 11, 2020
More Attention To Detail
Van Pelt has already stated he wants to get to work on Mayfield's mechanics.
Not mention, Mayfield wants to get "slimmer and faster" this season.
New #Browns coordinator Alex Van Pelt said he plans to change Baker Mayfield's footwork. pic.twitter.com/voUCiNtEvq

— Tom Withers (@twithersAP) February 19, 2020
With all of this, we should expect Mayfield to develop.
He wants to work hard and was a proven winner at Oklahoma.
He deserves our benefit of the doubt as he heads into year three.
In Comparison
When we think of quarterbacks who struggled in their first two years, many came into year three with career-years.
Jared Goff: 4,688 passing yards, 32 touchdowns, 12 interceptions, and a Super Bowl appearance
Dak Prescott: 3,885 passing yards, 22 touchdowns, 8 interceptions, and a QBR of 96.9
Matthew Stafford: 5,038 passing yards, 41 touchdowns, 16 interceptions, and a QBR of 97.2
Others have looked at Pittsburgh Steelers' quarterback Ben Roethlisberger.
Ben Roethlisberger entering year three also had:
22-3 record
5-1 playoff record
1 Super Bowl ring
34 TDs
20 INTs

Baker Mayfield entering year three has:
12-17 record
0 playoff appearances
49 TDs
34 INTs https://t.co/Gpvl6dnXGW

— Daniel Valente (@StatsGuyDaniel) February 27, 2020
In year three, hopefully, Mayfield breaks the pattern.