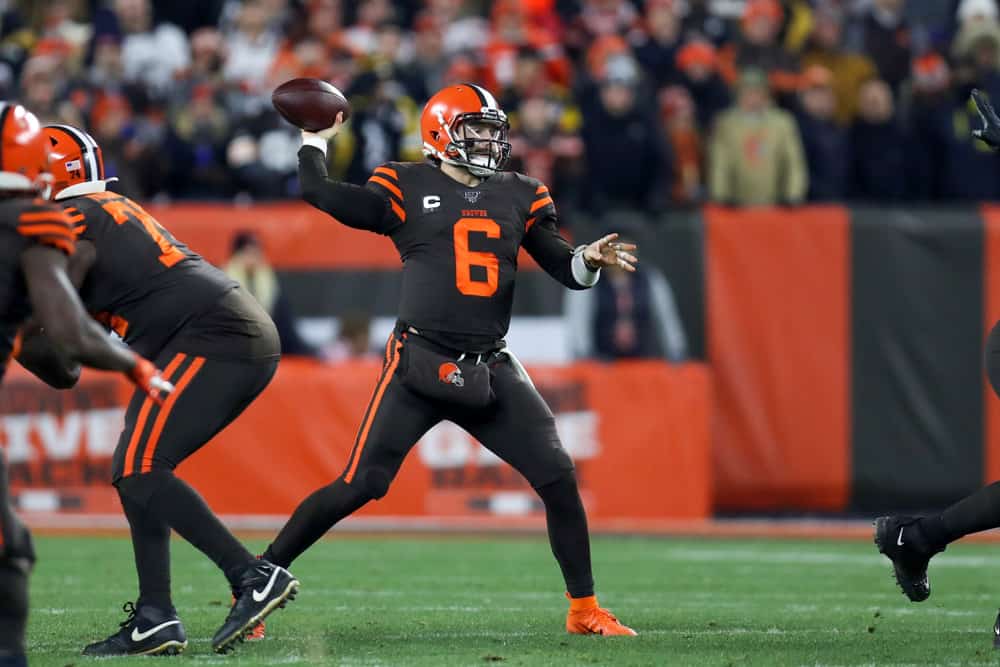 Desperate times come for desperate measures.
After a disappointing sophomore season, Cleveland Browns quarterback Baker Mayfield wants to be "slimmer" and "faster" in 2020 according to NFL Network's Ian Rapoport.
An important focus for the #Browns heading into 2020: QB Baker Mayfield's fitness and body makeup. From what I understand, he put on some weight last year to bulk up and lost some quickness. His plan is to be slimmer & faster this year, with an emphasis on being in better shape.

— Ian Rapoport (@RapSheet) February 26, 2020
Taking It To Heart
It turns out that Mayfield has taken criticism about his play last year to heart.
After finishing as the Offensive Rookie of the Year in 2018, Mayfield's performance dipped significantly in 2019.
In 2018, Mayfield completed 63.8% of his passes for 3,725 yards and 27 touchdowns.
In 2019, Mayfield fell to a 59.4% completion percentage for 3,827 yards and 22 touchdowns to 21 interceptions.
His quarterback ranking of 78.8 was the second-worst in the league.
Baker Mayfield says he will no longer respond to the outside noise.

"Let's be honest, I put my foot in my mouth a lot this last past year, and I'm gonna to internalize that and I think that's the way I need to handle it."

"Rest in peace, Kobe, but that's the way he did it." pic.twitter.com/8hrKzrdxy4

— Sooner Gridiron (@soonergridiron) January 31, 2020
What Is Mayfield Shooting For?
When Mayfield entered the draft, he posted these measurements in 2018.
#NFLCombine Key Measurements thread…

57. Oklahoma QB Baker Mayfield
Height: 6-0 5/8
Weight: 215
Hand: 9 2/8
Arm: 30 2/8
Wingspan: 73 3/8 https://t.co/liN82iQYgu

— Charles Robinson (@CharlesRobinson) March 1, 2018
Going into the 2019 season, Mayfield recorded the same weight.
In comparison to 2019 Offensive Rookie of the Year Kyler Murray and MVP candidate Russell Wilson, this is where Mayfield was in comparison.
KYLER MURRAY
Height; 5-10 1/8
Weight: 207 pounds
Hand size: 9 1/2

RUSSELL WILSON
Height: 5-10 5/8
Weight: 204
Hand size: 10 1/4 inches

BAKER MAYFIELD
Height: 6'0 5/8
Weight: 215
Hand size: 9 1/4

— Adam Schefter (@AdamSchefter) February 28, 2019
It looks like Mayfield has sustained the same weight, which conflicts with Rapoport saying Mayfield has gained extra weight.
However, we do not really know if the weight he has is true muscle mass or not.
All-Around Work
It looks like Mayfield is going to get a lot of attention from all cylinders this off-season.
New offensive coordinator Alex Van Pelt is one of those people ready to work with Mayfield.
The new Cleveland Browns offensive coordinator revealed during his introductory press conference that he wants to "change the footwork" of quarterback Baker Mayfield this off-season.

New #Browns coordinator Alex Van Pelt said he plans to change Baker Mayfield's footwork. pic.twitter.com/voUCiNtEvq

— Tom Withers (@twithersAP) February 19, 2020
Final Thoughts
Losing weight is great and all, but losing a lot of weight may not be the right call for Mayfield.
When looking at some of the best quarterbacks in the league, those guys have about 10-pounds on Mayfield.
Mayfield is listed at 6'1.
Dak Prescott (listed as 6'2) and Aaron Rodgers (listed as 6'2) are both around 225 pounds.
Lamar Jackson (listed as 6'2) is around 212 pounds.
Mayfield may want to spend more time on his fundamentals than his diet.