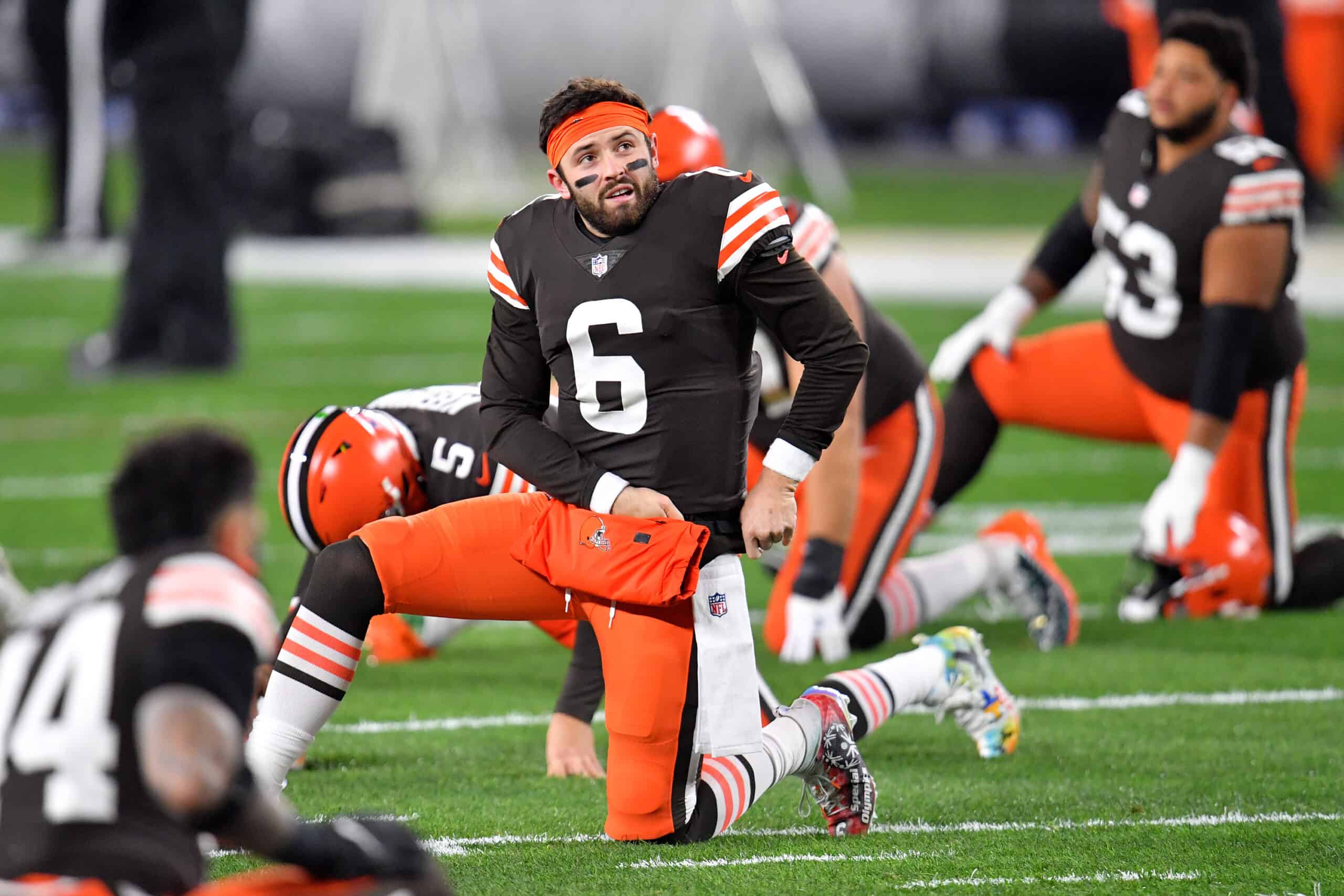 Cleveland Browns quarterback Baker Mayfield tweeted a teaser clip for his upcoming third season of commercials with Progressive Insurance.
These commercials entitled "At Home With Baker Mayfield" are humorous.
The activity revolves around Baker and Emily Mayfield keeping their home in order.
That home is FirstEnergy Stadium.
Here is a sneak peek at the third season teaser; the new ads are scheduled to begin airing on September 9.
There's work to be done. Who's with me? @Progressive #Partner #AtHomeWithBaker #Season3 pic.twitter.com/gRcQYdnEzK

— Baker Mayfield (@bakermayfield) August 13, 2021
"Work To Be Done"
The teaser shows us that we can expect another excellent series of commercials in Season 3.
There is clever use of the phrase, "work to be done" as it has a double meaning.
It points to the challenges that lie ahead for a Cleveland Browns team that has its best roster in years.
The other meaning is one that all homeowners are familiar with; there is always a project around the house that could or should be done.
Progressive Ads Are Very Popular
Given the popularity of the ads and the fact that they air during NFL games, we know Mayfield is being paid well to star in them.
This is a good development as it may make Mayfield a bit more flexible in his salary requirements for his contract extension.
The Bills paid Josh Allen big bucks last week.
Josh Allen has signed a 6-year contract extension worth $258 million, per @AdamSchefter

QB1 just got PAID 💰🤑 pic.twitter.com/vSaMsfIjNd

— PFF Fantasy Football (@PFF_Fantasy) August 6, 2021
Mayfield and the Ravens Lamar Jackson are in the same 2018 draft class and will require contract extensions on or before the end of the 2022 season.
If Mayfield demands less money, it would make it easier for the Browns front office to keep the offensive line and other key components of the team together for the long haul.
Allen's contract took a giant chunk out of the Bills salary cap money.
According to the NFLPA's public salary cap report, as of today, after counting QB Josh Allen's new contract, the Bills have exactly $6,587,729 in available salary cap space for 2021.

— Sal Capaccio 🏈 (@SalSports) August 13, 2021
It is not an impossible thought.
Baker Mayfield has increased his income with endorsements Josh Allen hasn't had.

Baker idolizes Tom Brady who has never been paid his full value.

John Johnson took a discount

Nick Chubb took a discount.

Baker Mayfield will take a discount. pic.twitter.com/30TwC4Okhn

— Nick Karns (@karnsies817) August 6, 2021
Mayfield wants to stay in Cleveland just as Nick Chubb wanted to.
Chubb took less money.
John Johnson III came to Cleveland though he was offered more money to play elsewhere.
Tom Brady has been taking less money than he is worth for years.
Like Mayfield, he has plenty of endorsements and ads to supplement his income.
No one yet knows how all of this will play out so stay tuned.