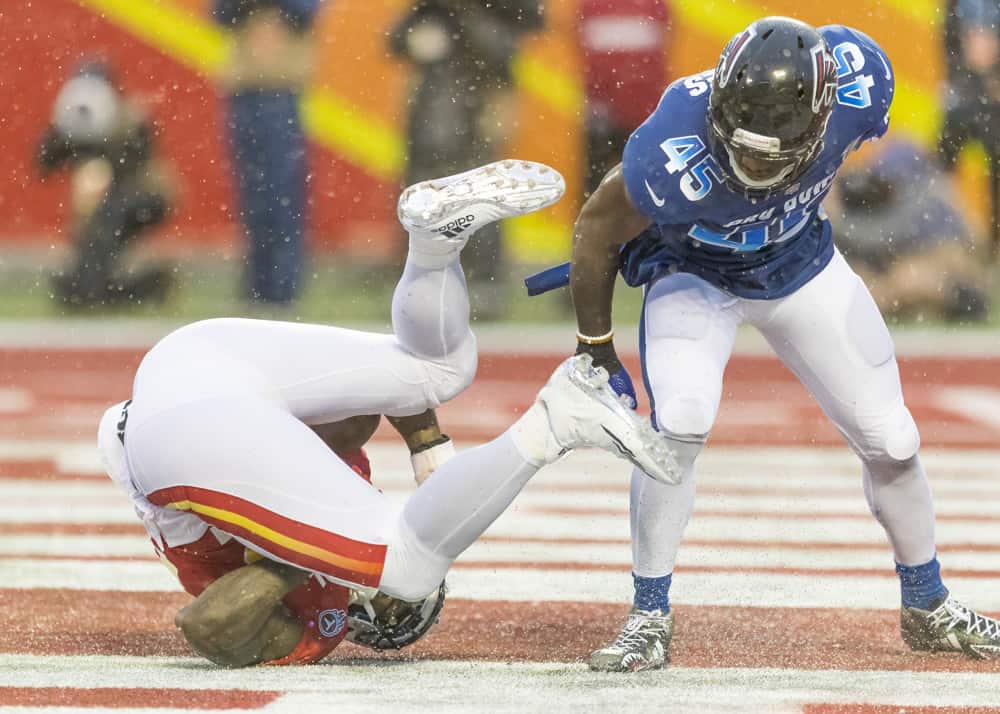 Baltimore Ravens helmets dominated the playing field at the 2020 Pro Bowl.
But at least they made the bright orange of the Cleveland Browns easier to spot.
Pro Bowl time boys!!! ✌️ #ProBowl #ProBowl2020 #Browns pic.twitter.com/khGSrMXuxc

— Mike W (@mweeks910) January 26, 2020
Jarvis Landry, Nick Chubb, and Joel Bitonio didn't have starring roles.
But they logged significant time in the 38-33 AFC victory.
Tragic news from the other side of the country put a damper on the NFL's annual all-star event.
Players paid homage to the late Kobe Bryant several times.
Camping World Stadium took a moment in the second half to request a moment of silence.
The Pro Bowl has a moment of silence for Kobe, and the crowd begins chanting "Kobe, Kobe!" 🙏🏻pic.twitter.com/zpr2ZjWh1g

— NFL Stats (@NFL_Stats) January 26, 2020
After the moment fans broke out into cheers of "Ko-Be" as the NBA icon's photo graced the scoreboard.
But around those tributes, the Pro Bowl was played.
Browns In Position for a Big Start
Jarvis Landry and Nick Chubb saw plenty of field time on the AFC's first drive.
Starting quarterback Lamar Jackson had no trouble hitting Keenan Allen and Mark Andrews twice each.
But he missed an open Nick Chubb and threw a ball too short to Landry.
The drive ended when Jackson's second attempt to Landry was picked off.
Chubb had two carries for 8 yards on the drive.
Referees gave their blessing to the players' half-hearted tackle rules.
There was more contact in a flag football tournament than the Pro Bowl.
I've seen more tackles at Walmart on Black Friday than in this Pro Bowl. Just make it a flag football game or make it a show of competition like the old Battle of the Network Stars was. #ProBowl

— Will Lewis (@WillLew51464805) January 26, 2020
Chubb, Mark Ingram, and the other backs were "stopped" just before serious contact could occur.
Who Wants to Run the Ball, Anyway?
Both offenses seemed more interested in passing than running the ball.
Even Lamar Jackson only took off twice.
Chubb wound up with only 4 carries and 23 yards on the day.
Joel Bitonio on @Browns_Daily talking about Nick Chubb letting loose at the Pro Bowl: "He's still the first one on the bus, the first one on the field. He wears a hat at practice, so I guess that's a little bit more laid back."

— Andrew Gribble (@Andrew_Gribble) January 23, 2020
Landry was targeted 10 times.
He managed to haul in 4 passes for 34 yards.
Neither of the Browns skill players scored.
Ryan Tannehill was intercepted on the final pass to Landry.
Landry did make an important play that led to a score.
With just 8 seconds to go in the first half, he caught a 13-yard pass from Jackson.
The play put Justin Tucker in range for a 50-yard field goal as time expired.
With the lower contact threshold, Joel Bitonio probably found things easy on the offensive line.
Cleveland's left guard played most of the second half.
The AFC Offense was MIA For Much of the Last Quarter
Fans looking for more from their favorite AFC offensive players felt short-changed in the last quarter.
Deshaun Watson led the team on a 13-play drive out of the half.
But the NFC came up with a red-zone interception that the NFC returned for a touchdown.
The last 61 yards of that return came courtesy of 310-pound Eagles Pro-Bowler Fletcher Cox.
Our man Fletcher Cox just scored a 60 yard touchdown on a lateral pass in the Pro Bowl. Something to cheer us up! 😂💪🏾 pic.twitter.com/jKRxPi1ICZ

— Eagles Nation (NFC East Champs) (@PHLEaglesNation) January 26, 2020
Watson and the AFC followed that up with a 3-and-out at the 6:41 mark of the third quarter.
After that, Watson had one 3-play drive that lasted 1:20. (DJ Chark 60-yard touchdown)
Ryan Tannehill was in the game for the next drive.
He threw an interception intended for Landry 51 seconds into that drive.
The defense was on the field until 4 minutes were left, including a pick-six.
When the AFC went into victory formation after the 2-minute warning, fans booed.
But Pete Carroll had them kneel three times to end the game.
Miscellaneous Things About the Game
The NFL tested a new rule to eliminate onside kicks.
The NFC found themselves down by 5 points with just over 4 minutes to play.
Kirk Cousins took the snap from their own 25 as if it were a 4th down with 15 yards to go.
The Vikings' quarterback effectively punted the ball as he threw a long prayer into double coverage.
The NFC defense celebrated big plays by shooting back-foot fadeaways.
The NFC defense paid tribute to Kobe Bryant after a sack at the Pro Bowl.

RIP to a legend. 🙏 pic.twitter.com/F8c7UVGSsF

— Tampa Bay Buccaneers (@Buccaneers) January 27, 2020
Devante Adams flashed 2 and 4 fingers in homage to Kobe Bryant.
Then he followed up a touchdown with a slam dunk layup over the crossbars.
Multiple players reflected on the loss during sideline interviews.
Eight receivers topped 50 yards, led by Kenny Golladay's 109 on 3 catches.
Mark Andrews set a Pro Bowl record for tight ends with 9 catches (72 yards and a score).
Drew Brees says he'll take a month or so to decide on retirement or a 20th season.
Just in case, Russell Wilson opted to decline his starting nod in favor of the Saints' legend.
Our guys ✊🌴#ProBowl | 📸: NFL/Logan Bowles pic.twitter.com/j7CmC1PHAu

— Cleveland Browns (@Browns) January 23, 2020