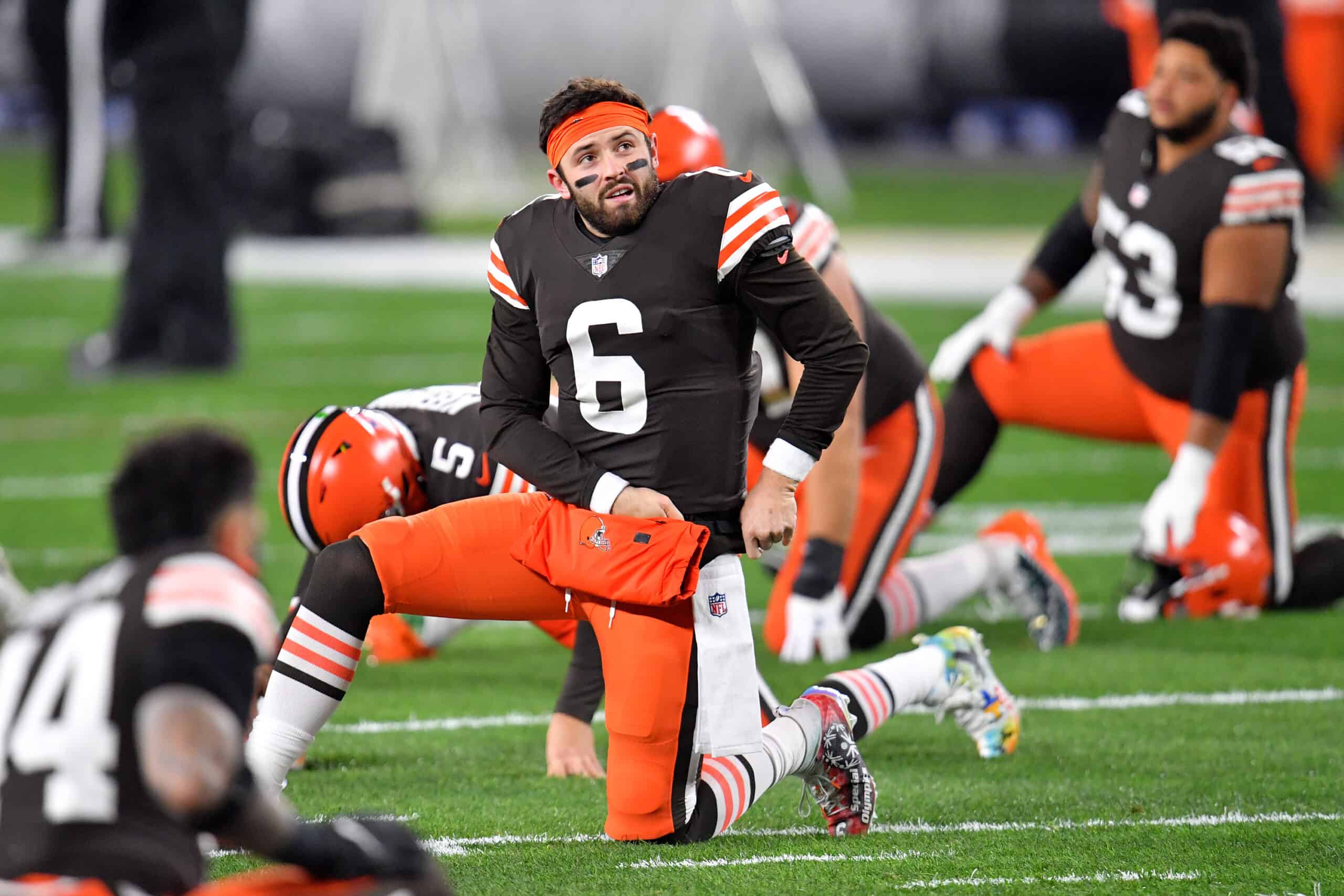 "There's always next year!" was a phrase uttered far too often when it came to describing the Cleveland Browns.
Now, following the team's first playoff appearance since 2002, the Browns are in a win-now position.
Fans don't want to be told that "their time" will come in five years.
But, what if the best of both worlds was true?
It just might be, as Bleacher Report ranked Cleveland 5th in terms of teams that are best set up for the future.
Who you got…in five years? 🧐

7. MIA
6. AZ
5. CLE
4. SF
3. BAL
2. BUF
1. KC

(via B/R's @Kris_Knox)

More 👉 https://t.co/n6TCnI8msk pic.twitter.com/MxbrFYrEN3

— B/R Gridiron (@brgridiron) June 13, 2021
Leaving the Cupboard… Full
It's not often that teams put themselves in a spot to both pursue a championship in the present and after a couple years.
The term "tanking" gets thrown around a lot here.
As most know, it's essentially when a team aims to finish toward the bottom of the standings for better draft positioning.
On the opposite end of the spectrum, most teams looking to contend trade away future assets to acquire guys who can help them immediately.
The Green Bay Packers, for example, fall in the latter category.
With an aging roster and seemingly frustrated quarterback, they may have to have an asset-fire sale of the ages to please Aaron Rodgers.
The line that separates these two roster construction mindsets can, at times, be thin.
Browns General Manager Andrew Berry has done well to toe that line.
He has Cleveland in a spot to both contend for the Super Bowl now while also maintaining assets to help down the line.
The quote that should stick with us all this week for #Browns & #NFLDraft from #Browns EVP/GM Andrew Berry: "It's less about filling a need or some level of instant-gratification on the roster, and more about a longer-term focus on the team"

— Daryl Ruiter (@RuiterWrongFAN) April 26, 2021
Young (Winning) Talent
Having young guys who can make major contributions early is instrumental to piecing together a "win now and later" roster.
Of course, it all starts with getting a franchise quarterback, which the Browns have found in Baker Mayfield.
He's only 26, which keeps him closer to the rookies than it does the Ben Roethlisberger-type QB's who are winding down their careers.
The skill positions offensively are another key component.
Odell Beckham Jr., Jarvis Landry, Nick Chubb, and Kareem Hunt are all under 30.
Not only are they young, but they consistently make winning plays and should continue to do so moving forward.
The difference between making the playoffs or going home was the longest offensive play.

A 47 yard Chubb TD rush.

The difference between sealing a playoff win or opening the door was the longest offensive play.

A 40 yard Chubb TD catch.

The difference is Nick Chubb. pic.twitter.com/ToDLFPpzIc

— Nick Karns (@karnsies817) June 11, 2021
The offensive line is a more experienced bunch, but no one is flirting with retirement quite yet.
Defensively, guys like Myles Garrett and Denzel Ward highlight their youthful stars.
New acquisitions like John Johnson III and Troy Hill are still blossoming but will help the Browns defense immensely in 2021.
Veterans who fill out the depth chart are present on both sides of the ball.
Case Keenum, Malik Jackson, and others who have been around the block will be valued among the young guys.
The Browns bread is buttered through those 20-something year old stars though, which leaves one future issue.
Who Gets Paid?
Unfortunately, this isn't baseball, and the Browns aren't the New York Yankees.
With salary cap limitations, tough decisions will be made. Nick Chubb and Wyatt Teller are two notable contracts that are set to expire after this season.
Veteran receivers Jarvis Landry and Odell Beckham Jr. each command over $15 million per season which could present problems.
Bleacher Report cites the financial situation of the Browns as why they were not higher on their article's rankings.
Andrew Berry has his hands full trying to make all the puzzle pieces fit.
With the Browns in great shape now, will they be flourishing or floundering five years from now?
Only time will tell.