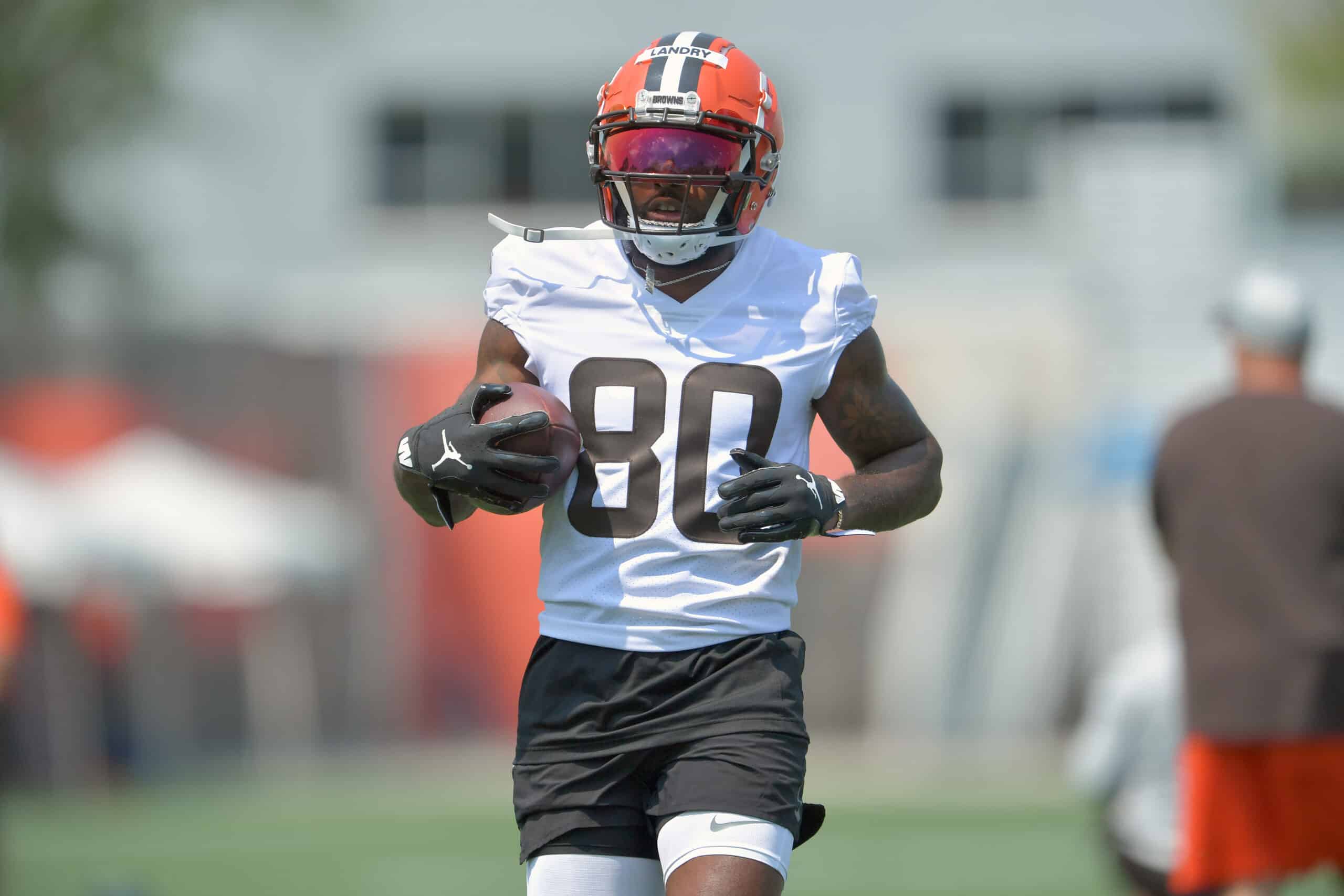 The Cleveland Browns received good news on Friday.
On the eve of their Week 6 game against the undefeated Arizona Cardinals, the Browns are getting back their ace wide receiver Jarvis Landry.
Landry has been on injured reserve and missed three games with a knee injury.
Browns have designated WR Jarvis Landry to return from injured reserve.

— Adam Schefter (@AdamSchefter) October 15, 2021
Landry went on IR before his friend and teammate Odell Beckham Jr. returned after a nearly year-long recuperation from ACL surgery.
Beckham kept Landry with him in spirit and on his T-shirt worn during pregame warm ups.
OBJ is back, and rocking a Jarvis Landry shirt 🔥

— NFL Stats (@NFL_Stats) September 26, 2021
Will He Play Sunday?
Many have said that Landry's veteran consistent presence has been missed in the Browns offensive lineup.
He is coming back at a perfect time.
The Browns offense lost last week's game while scoring 42 points, but if anyone can lift them up, it is Juice.
But first things first, we have to see if he plays on Sunday.
Just because he is activated from IR does not automatically mean he will be ready to play.
He is back at practice which is a good sign.
Browns designate WR Jarvis landry for return from IR. That means he's practicing. Game status for Sunday uncertain.

— Tony Grossi (@TonyGrossi) October 15, 2021
Not sure what to expect, if anything from Jarvis Landry Sunday. This offense has still missed him though, and he'll make Baker, OBJ, the rest of the offense, the defense, the fans, everybody and everything better down the stretch

— Ken Carman (@KenCarman) October 15, 2021
Coach Stefanski did not provide any extra insight on Landry's availability for Sunday.
On Wednesday, he said:
"I think he is going to do some work today and we will see where it goes."
If He Does
If Landry plays, I hope this play is called against the Cardinals.
JARVIS LANDRY THROWS A TOUCHDOWN TO OBJ! #Browns

📺: #CLEvsDAL on FOX
📱: NFL app // Yahoo Sports app: https://t.co/wvEEn0SFTV pic.twitter.com/InkYL6GjVP

— NFL (@NFL) October 4, 2020
Watching this replay never gets old.
It shows how talented Landry is at passing and catching, and it involves his buddy OBJ.
If He Does Not
If Landry cannot go, the Browns need to obviously find the winning combination without him.
Donovan Peoples-Jones, Rashard Higgins, and Odell Beckham Jr. will carry the load along with the tight ends Austin Hooper, Harrison Bryant, and David Njoku who continues to deal with a knee injury.
Hopefully, Landry is back sooner rather than later; however, he will be warmly welcomed whenever he gets back on the field.