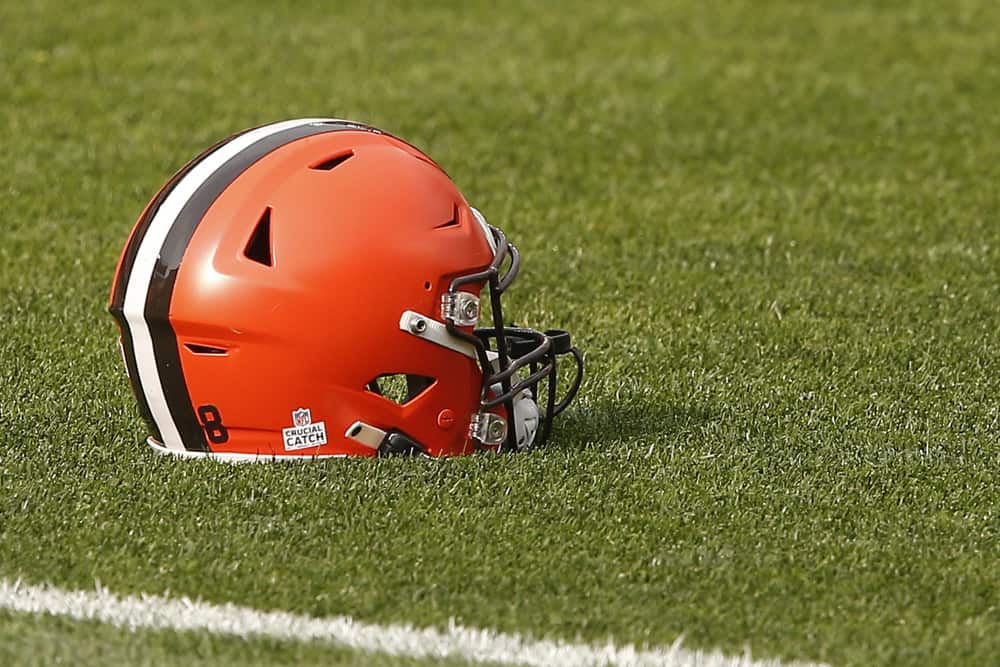 Andrew Berry claimed tight end Kyle Markway off waivers from the Los Angeles Rams today.
Markway spent most of last season on the Cleveland Browns practice squad.
The team signed Markway to a futures contract soon after their season-ending playoff loss in January.
Resigning the 2020 undrafted free agent so quickly prompted speculation Markway could compete for a 2021 roster spot.
We've claimed TE Kyle Markway

📰 » https://t.co/l5wALdFGCV pic.twitter.com/8xLQ37suTp

— Cleveland Browns (@Browns) August 25, 2021
But the Browns released Markway shortly after the 2021 NFL Draft.
He was picked up by the Los Angeles Rams, who released him this week.
Markway was originally signed as a UDFA by the New York Giants and was picked up by the Pittsburgh Steelers in August.
#Browns announced they have claimed TE Kyle Markway via waivers from the Los Angeles Rams. To make room on the roster, the team waived DE Romeo McKnight.

— Nate Ulrich (@ByNateUlrich) August 25, 2021
Cleveland signed him to their practice squad in September, released and re-signed him later in the season.
His practice squad rollercoaster ended with Markway on the active roster for the Browns' AFC Divisional game.
But Markway did not play and reverted to the practice squad immediately after the season-ending loss.
What It Means To The Browns 
Markway could get a chance to play this Sunday, especially if Kevin Stefanski rests his starters again.
Cleveland pressed fullback Johnny Stanton into service last week as the team's third tight end.
Jordan Franks and Connor Davis handled the bulk of the workload as Austin Hooper, David Njoku, and Harrison Bryant sat out.
But the Browns placed Davis on season-ending injured reserve after the game, opening a space for another player.
#Browns Johnny Stanton: "It's always fun to have your number called. They told me this week I'd be a tight end and I said 'Alright let's do it.'"

"I'm willing to do whatever it takes to make this team."

— Camryn Justice (@camijustice) August 22, 2021
Markway's time with the team last season gives him an edge on free agents unfamiliar with the Browns lexicon.
Even if Stefanski plays his top 3 tight ends for a few series, they could press Markway into service later.
Johnny Stanton fans might prefer to see if he can win a role despite Andy Janovich firmly entrenched at fullback.
But Markway's presence doesn't rule out all 3 (Franks, Markway, and Stanton) seeing tight end snaps.
What It Means For Markway 
Opportunity might be knocking for Markway beyond a chance to play Sunday.
Cleveland carried 5 tight ends for most of the 2020 season.
It is no secret Kevin Stefanski loves to use 2 tight ends a lot, although there are rumors that could change.
Jordan Franks is probably a lock for the fourth spot despite an uneven preseason.
Giants UDFA TE Kyle Markway makes the catch v. about 30 defenders and then follows it up with another one on the next play pic.twitter.com/McjkhdEj0L

— Bobby Skinner (@BobbySkinner_) May 3, 2020
Last week, Franks played very solid ball with multiple receptions in the first half.
But he started the second half with a pair of dropped passes, after which Stanton took the field.
At the very least, Stefanski probably has a practice squad spot in mind for Markway.
And he could be the next man up should anything go awry in the tight ends room come September.