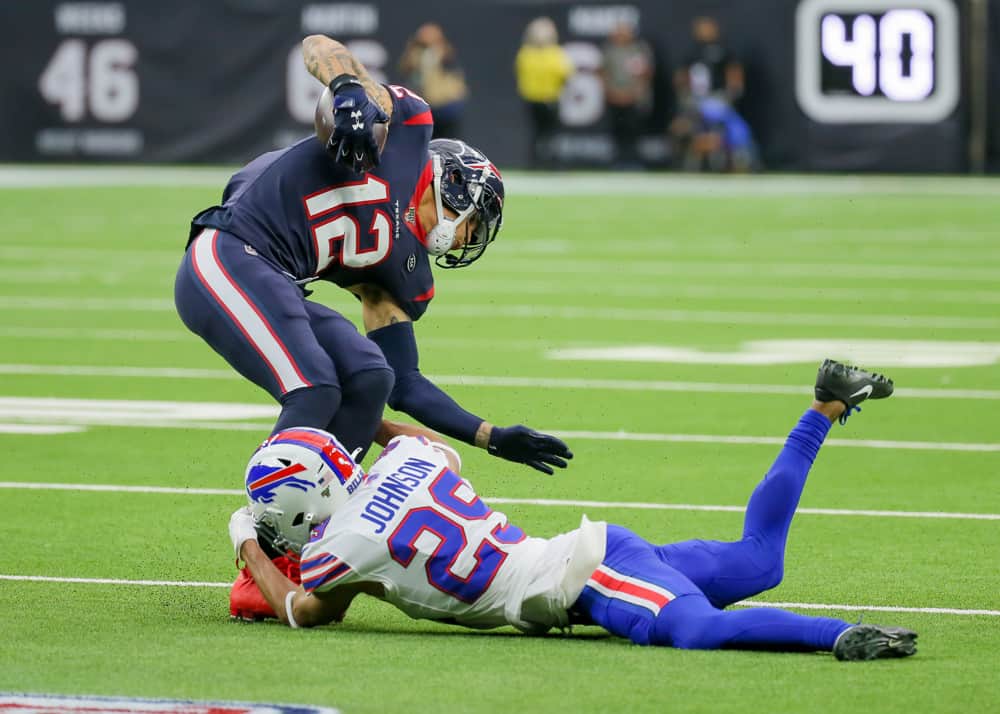 The Cleveland Browns continue to get bad news from training camp, and it's only the first week of practicing with pads.
Today the news is about CB Kevin Johnson.
The Browns released a statement saying that CB Kevin Johnson is in the hospital with a lacerated liver.
"Kevin is resting comfortably and is expected to remain in the hospital for at least another 24 hours for observation."
Though the diagnosis is scary and can be life-threatening, it sounds as though Kevin is doing okay.
The team's full statement is below:
Injury Update: CB Kevin Johnson was admitted to University Hospitals yesterday afternoon after sustaining an abdominal injury when another player landed on him during yesterday's practice. pic.twitter.com/NTBT7iJcBH

— Cleveland Browns (@Browns) August 20, 2020
Recall that Nick Chubb suffered a concussion after a hit from Mack Wilson in Monday's practice.
At Tuesday's practice, Mack Wilson hyperextended his knee.
And now Kevin Johnson suffered a liver laceration in Wednesday's practice.
These are the details that have come out thus far.
#Browns Kevin Stefanski said CB Kevin Johnson suffered lacerated liver while diving to try to break up pass to Harrison Bryant.
He's safe. Want him to get well very soon.

— Scott Petrak ct (@ScottPetrak) August 20, 2020
Harrison Bryant was the one that fell on Kevin Johnson causing him to lacerate his liver. Coach Stefanski said he hasn't discussed IR with Kevin.

— brownscentral IG (@BrownscentralI) August 20, 2020
What is a lacerated liver?
A lacerated liver is a cut or puncture in the liver.
It can vary in severity.
The most severe lacerations result in uncontrolled bleeding and potential surgery while the milder cases are treated with bed rest and other treatment.
Typically the milder cases involve a 2-3 day stay at the hospital for monitoring of vital signs.
Abdominal swelling or pain is the most common symptom associated with a lacerated liver.
This appears to be consistent with what Johnson experienced.
The Browns statement indicated he suffered from an abdominal injury getting tangled up with Harrison Bryant who ultimately landing on him.
Kevin Johnson
In a dose of twisted irony, a few short days ago Kevin Johnson talked about the injuries that hampered his 4 years in the league.
Johnson was the 1st round pick of the Houston Texans (16th overall) in the 2015 NFL Draft.
He spent 2 years in Houston and last season in Buffalo; however, his playing time was minimal.
The injuries have been many and often including 2 broken feet, a torn ACL, a concussion, another torn knee ligament, and a finger injury.
Instead of allowing the injuries to get him down, he said,
"I'm still hungry and I still believe in myself."
And proof that attitude does shape a player, he continued by saying,
"It motivates me every day to continue chasing the dream I had every day when I was a kid."
Injuries
Training camp injuries are always an issue, but they are even more so this year since there were no off season workouts due to COVID-19.
There is also concern that the lack of preseason game play could cause more injuries when the regular season kicks off.
Let's hope there are no more injury reports from Browns training camp.