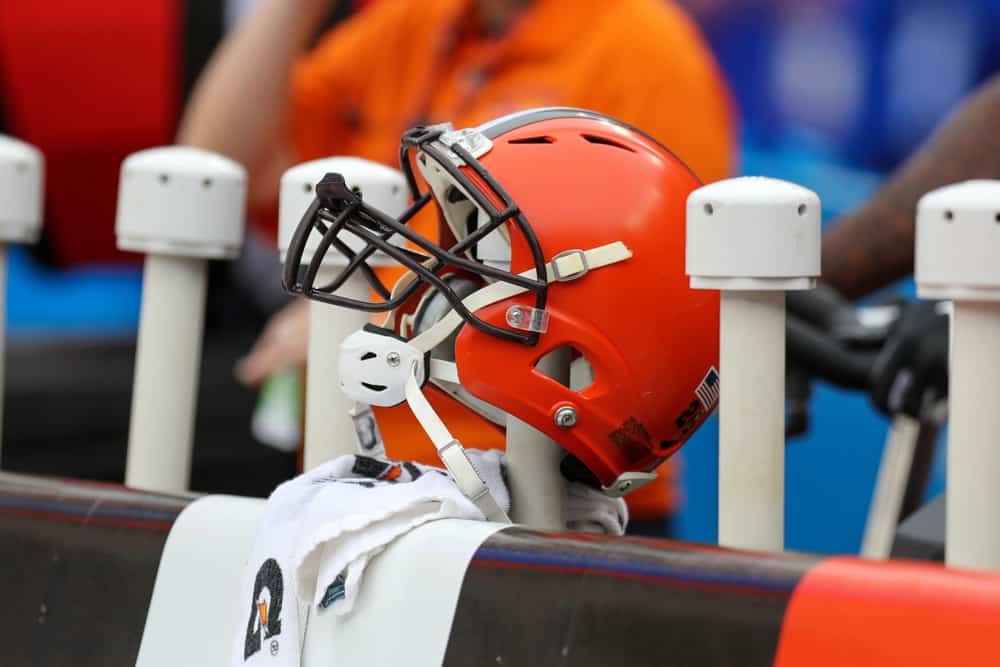 It's not surprising that the Cleveland Browns had 8 players work out with them on Wednesday.
Given the recent injuries and uncertain returns for RB Nick Chubb (concussion) and LB Mack Wilson (knee), it seemed a given.
What is surprising is that 4 of the 8 players are kickers.
Here is the list:
Nick Folk (K)
Cody Parkey (K)
Kai Forbath (K)
Matthew McCrane (K)
Dewayne Hendrix (LB)
Sharif Finch (LB)
Ricky Walker (DL)
Robert Landers (DL)
Kickers
If the 2019 K Austin Seibert didn't know it before yesterday, he is in a battle for his job.
The #Browns brought in 4 kickers for a workout per @TomPelissero
Cody Parkey
Kai Forbath
Nick Folk
Matthew McCrane

Austin Seibert has had a pretty good start to camp so this is probably just for competition purposes.

— clebrownsnetwork (@clebrownsig) August 19, 2020
Seibert was drafted by the Browns in the 5th round of the 2019 draft (170th overall).
He finished his rookie season 25 for 29 in FG attempts and converted 30 of 35 extra points.
The 4 kickers brought in yesterday have considerably more experience than the 23-year-old Seibert.
Nick Folk
The 35-year-old Folk has circulated around the league with stints in Dallas, New York (Jets), Tampa Bay, and most recently New England.
He has an 80% overall conversion rate on field goals in his NFL career.
Cody Parkey
Parkey also has been on many teams in his NFL career.
At 28 years of age, he has been a Colt (practice squad), Eagle, Dolphin, Bear, Titan, and a Cleveland Brown during the 2016 season.
His field goal conversion rate is 84%.
He was 20 for 25 during the 2016 season with the Browns.
All 5 misses were in the 40 to 49-yard range.
Kai Forbath
Kai Forbath went 10/10 on both field goals and extra points through three games with the Dallas Cowboys in 2019.

20/20 on overall kicks. pic.twitter.com/aeFPZlCWUd

— RJ Ochoa (@rjochoa) June 30, 2020
32-year-old Forbath has been on the roster in Tampa Bay, Washington, New Orleans, Minnesota, Jacksonville, New England, and most recently Dallas.
He has completed 86% of the field goal attempts in his NFL career.
Matthew McCrane
Whereas the other 3 kickers are household names, McCrane is not.
He was an UDFA in 2018 and has very limited NFL experience.
McCrane has only kicked 12 field goals in his NFL career so his completion percentage of 66% should be evaluated in the context that he went 8 for 12.
LBs
Dewayne Hendrix
A 2019 UDFA, Hendrix spent last season on the practice squads of the Dolphins, Bears, and Jaguars.
Prior to being signed to the Dolphins practice squad, he played in 2 preseason games where he recorded 3 sacks.
DE Dewayne Hendrix had two sacks in his NFL debut last night.

The undrafted rookie from Pittsburgh became just the third Dolphins player since 2015 to have multiple sacks in a preseason game.

— Matt Cannata (@CannataPFN) August 9, 2019
Sharif Finch
Finch is a 2018 UDFA signed by the Titans.
He had a positive rookie season but was inactive for much of 2019 when he battled ankle and shoulder injuries.
DLs
Ricky Walker
Walker is a 2019 UDFA who spent last season on the Cowboys practice squad.
Robert Landers
Ohio State DE Robert Landers is an UDFA from the 2020 NFL Draft.
Current Roster
The Browns currently have 79 players on the roster.
DE George Obinna was waived with an injury designation.
Status of Injured Players
Mack Wilson suffered a hyperextended knee at Tuesday's practice.
The extent of the injury and his timetable for recovery are still unknown.
One day earlier, Wilson tackled Nick Chubb which put Chubb in the concussion protocol.
With the open spot on the roster, it seems likely that the Browns will attempt to sign a LB.
How the kickers will fare following yesterday's workout is anyone's guess at this point.