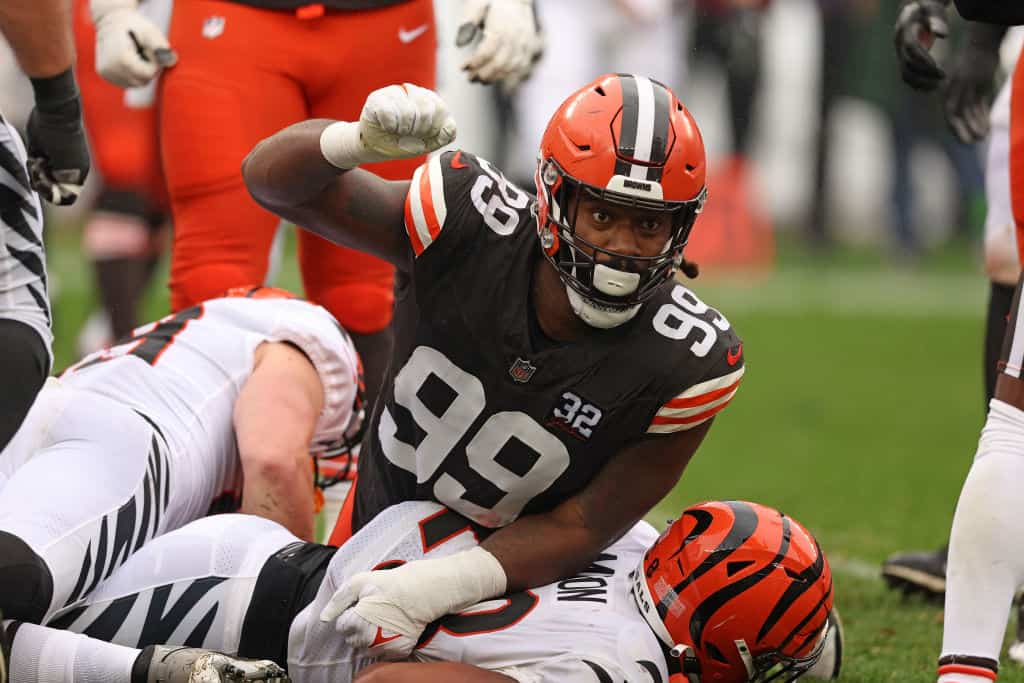 Bookend edge rushers have become a priority for NFL teams building a defensive roster.
And the Cleveland Browns' signing of Za'Darius Smith to play opposite Myles Garrett earned Andrew Berry kudos.
But since hitting Joe Burrow four times in his debut, Smith hasn't registered a sack, hit, or hurry on any passer.
Defensive line coach Ben Bloom recently told reporters not to worry about those measures.
Defensive Line Coach Ben Bloom says the impact of @zadariussmith has been huge for this defense pic.twitter.com/MNnIPFjXS7

— Cleveland Browns (@Browns) October 13, 2023
Bloom explained that looking at the game video reveals more abstract analytics to measure Smith's impact.
Indeed, across four games, Smith has the NFL's 14th-best pass-rush win rate at 23 percent, per ESPN.
That is despite seeing double teams on over 20 percent of his pass rushes.
With Garrett winning 29 percent of pass rushes from the other side, Smith makes a difference for Cleveland.
All eyes might be on Garrett and the Niners' All-Pro tackle Trent Williams this weekend.
But San Francisco fields a first-year starter at right tackle in Colton McKivitz.
McKivitz has played well except for his first-week matchup against the Steelers' T.J. Watt and Alex Highsmith.
#Browns DE Myles Garrett on facing #49ers offense: "As much as they're attacking on offense, we're attacking on defense."

— 92.3 The Fan (@923TheFan) October 13, 2023
And if San Francisco's Super Bowl-favored roster has a weakness, it is their interior offensive line.
Cleveland's tackles should be able to dominate inside.
And when any of the edge rushers flip into the middle over center, the quarterback better be ready.
Because stats or no stats, Smith and his linemates are coming.