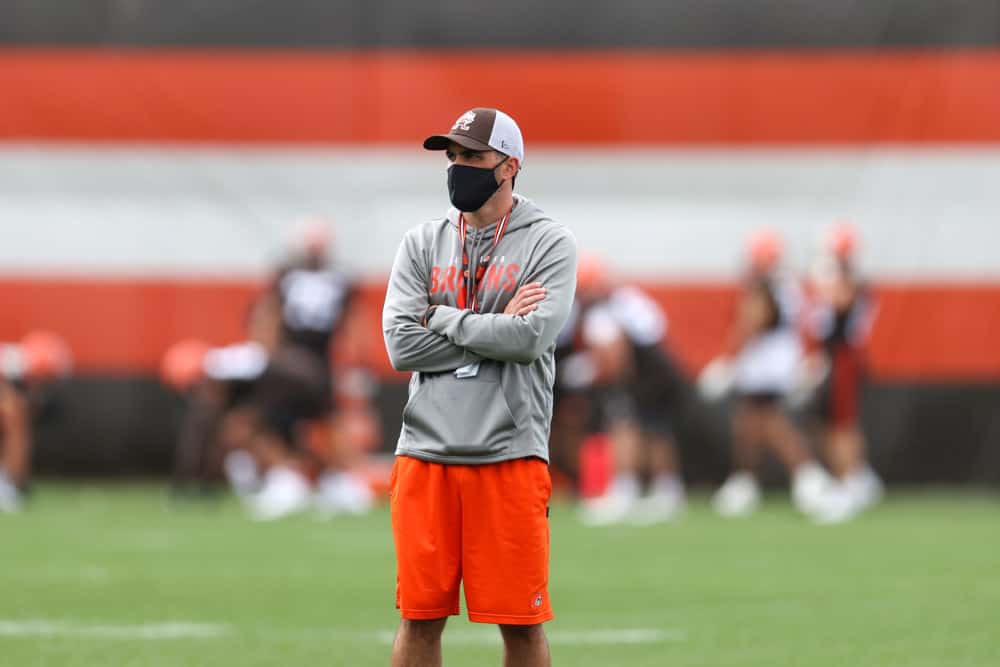 The Cleveland Browns haven't been favored by a lot of people around the NFL.
Just ask any Pittsburgh Steelers wide receiver, or Sammy Watkins, about that.
That doesn't stop fans from believing in their team, however, and it certainly doesn't stop head coach Kevin Stefanski.
Kevin Stefanski on the Browns' Super Bowl odds: "We're one of eight teams. I'm not a math major, but I'll take those chances."

— Ben Axelrod (@BenAxelrod) January 11, 2021
He makes a good point, as it really is "any given Sunday" at this point of the season.

Super Bowl Odds
Vegasinsider.com has the Browns at 25-1 odds to win the Super Bowl this year.
That's the weakest odds of any of the teams left in the playoffs.
It's safe to assume that anything negative regarding the Browns is just motivation to them at this point.
Given their reactions to what Juju Smith-Schuster of the Steelers had to say about them, someone should relay those Super Bowl odds to the locker room.
Those odds make sense though.
From a personnel standpoint, and given what Cleveland has dealt with in terms of COVID-19 in recent weeks, it's tough to put them as favorites to win it all.
Being an underdog is all part of the fun for Stefanski, however.
"This is the fun part about the playoffs", the head coach said in a Zoom call this week. "Every game gets bigger and bigger, and the challenge gets bigger and bigger."
25-1 odds aren't great by any means, but they are far from impossible to overcome.
They are in somewhat lonely territory, however, as the only other team with worse than 15-1 odds left are the Los Angeles Rams.
Every other remaining playoff team has odds of 10-1 or better.
Odds to Win Super Bowl LV

Kansas City Chiefs +200
Buffalo Bills +450
Green Bay Packers +450
New Orleans Saints +600
Tampa Bay Bucs +650
Baltimore Ravens +700
Los Angeles Rams +1600
Cleveland Browns +2500

— BetOnline.ag (@betonline_ag) January 11, 2021
Clearly in Stefanski's remarks, he wasn't referring to the actual betting odds on any particular website.
Stefanski, and the entire Browns organization for that matter, likely doesn't care about what those odds have to say right now.
The head coach is absolutely justified in liking his chances as one of just eight NFL teams left on the dance floor.

Playing With House Money
Like a batter facing a crafty reliever, the Browns have had the kitchen sink thrown at them at the end of this season.
Yet, they looked about as composed as ever in their Wild Card win over the Steelers.
Not only that, but they looked loose and free while doing it.
That's a scary thought for other teams left in the playoffs.
This Browns team is playing with nothing to lose.
Even if Patrick Mahomes and the Chiefs "clap" the Browns as Chase Claypool would say, this season is still deemed a success.
A road win in the postseason against a divisional foe with clear building blocks to move forward on will have this organization in a great place no matter the result in Arrowhead Stadium this weekend.
For the Chiefs, however, they are the heavy favorites.
They have the darling quarterback that hogs highlight reels on major networks throughout the week.
They are the defending Super Bowl champions, expected to take care of an opponent that is seemingly inferior on paper.
At least Chiefs wide receiver Sammy Watkins seems to think so.
We'll see if that works as well if it did for the guys in black and gold.
I wouldn't go that far lol..!

— King me (@sammywatkins) January 11, 2021