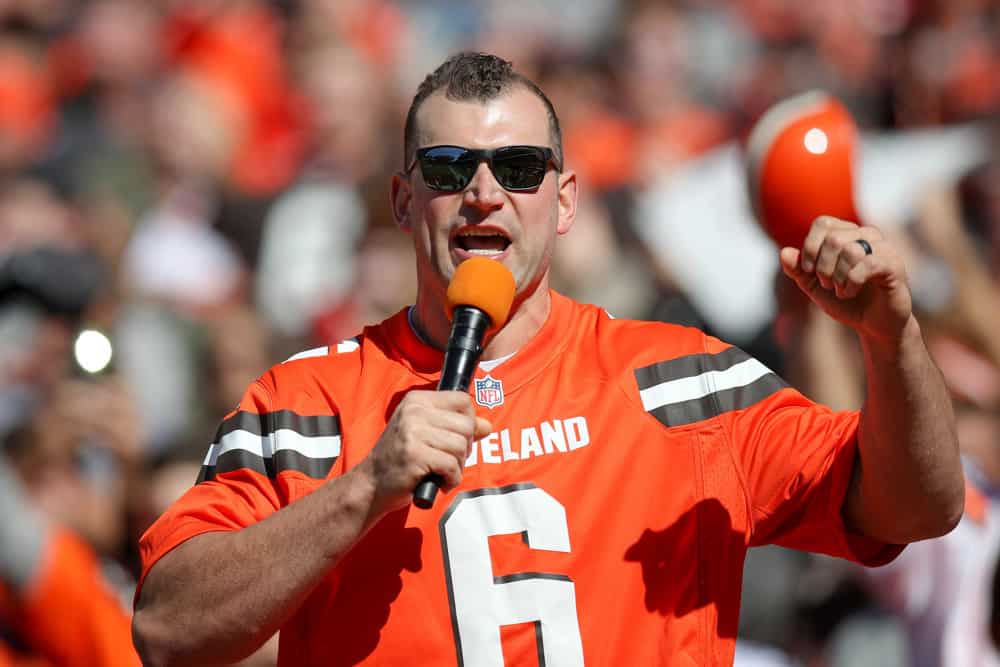 The Cleveland Browns are heading into their Divisional Round matchup against the Kansas City Chiefs as the heavy underdogs.
"We just have to keep on proving people wrong."

We're setting our sights on next week's game at KC after last night's unforgettable Wild Card win

📰 » https://t.co/g4rVdvG5DP pic.twitter.com/E15CAoaF1b

— Cleveland Browns (@Browns) January 11, 2021
They are 9.5 points underdogs as of now, with few people having faith in them to pull off the upset.
However, NFL legend and Brown great Joe Thomas is adamant in his support for the team.
 "I think it's gonna be a close game," Thomas said.
The Browns are just coming off of a shocking blowout of their rival Pittsburgh Steelers on Sunday night.
However, the Chiefs are a different beast.
They entered the playoffs with the NFL's best record (14-2) and are still the defending champions.
Patrick Mahomes also leads the team offensively and is in the midst of another MVP-caliber season.
Despite all this, Thomas still thinks there is room for hope.
"The Chiefs have played a close game just about, well I think a one-score game very game the last half of the season, and I think with the Browns rushing attack and the way Baker Mayfield is playing with that killer mentality, I like the Browns in this one."
Is it reasonable for Thomas to be this confident in the Browns?
How Do The Browns Match Up?
Defensively, the Chiefs are a more average team.
Yes we can beat the Chiefs.

We scored 48 points against Pittsburgh and their defense is much better than the Chiefs defense.

I'm just worried about our defense but this game is totally winnable. #Browns

— Browns Country (@TheFanDomeShow) January 12, 2021
They struggle more with stopping the run, but they are far from the best in limiting opposing team's offenses any way.
This is a big reason that the Chiefs played in a lot of close games down the stretch.
Since Week 9, none of their wins have been by more than six points.
This could bode well for a Browns offense that has shown the ability to score.
They are also able to do it in a variety of ways, whether it be riding QB Baker Mayfield's arm, or on their dual threat rushing attack.
In Week 6, Minkah Fitzpatrick rotated down and robbed Baker Mayfield for a pick-6 that essentially ended the game before it started.

Steelers tried it again last night and Baker threw a dot over his head for a TD pic.twitter.com/G4YIlLkuNC

— Jordan Zirm, but still in the playoffs (@clevezirm) January 11, 2021
It would then set up a shootout with the Chiefs offense.
Of course, the Browns biggest weakness comes on the defensive side of the ball.
They struggle with stopping opponent's passing games.
This was evident as they allowed 501 passing yards and four TDs to Ben Roethlisberger and a dynamic Steelers passing offense.
It will be a tall order to contain Mahomes in the pocket.
However, the Browns have showed up in big moments this season and that will have to continue against the Chiefs.
Browns Odds
With the Browns being nearly 10-point underdogs, there are many believing it will be a victory for the Chiefs.
ESPN's Football Performance Index gives the Browns an 18.7% chance to win.
Meanwhile, analysts across the league are picking the Chiefs to win in a high-scoring affair.
Chiefs WR Sammy Watkins reflected that sentiment in a tweet on Sunday night.
I wouldn't go that far lol..!

— King me (@sammywatkins) January 11, 2021
He insinuated that the Browns wouldn't be much of a challenge, even after handling the Steelers.
Of course, the Browns have shown that they feed off energy like this.
Just ask Steelers WR JuJu Smith-Schuster.
With their gritty, blue-collar mentality, the Browns seem to relish in that role.
Thomas just believes that the NFL should be on notice and not undersell the Browns.
"This is the revival and the resuscitation of the Cleveland Browns franchise. For 17 years, to not go to the playoffs, for a lot longer than that not having won a playoff game and to be able to come back, get that monkey off your back, go to Pittsburgh and beat the Steelers, your hated rival, in a game that nobody gave you a chance in."
For Thomas, someone who has a deep understanding of the Browns struggles, this is a new era.
His message is clear: be cautious in writing-off the Browns even when they're the underdogs.