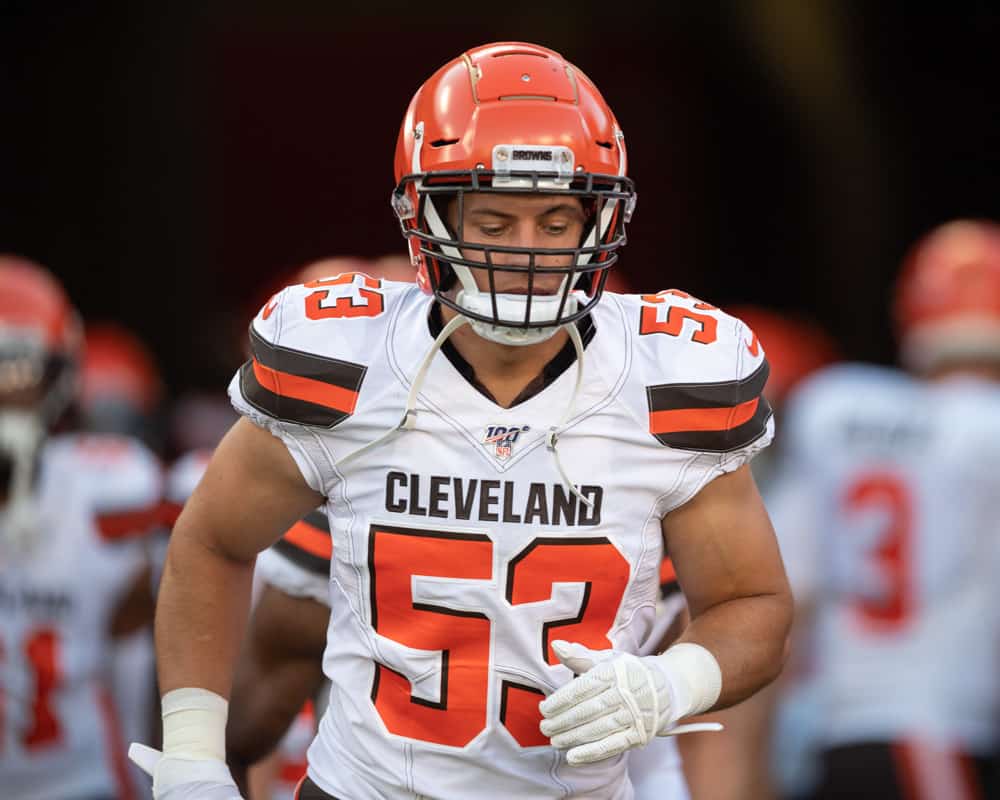 Cleveland Browns general manager Andrew Berry has a tough decision this week.
Thursday marks the time when Berry and the rest of the Browns management can use either the franchise tag and/or transition tag on pending free agents.
Originally, the date was Tuesday, but recent negotiations for a new collective bargaining agreement (CBA) pushed that date back.
NFLPA and NFL Mgmt Council have pushed back the start of the franchise designation period from Tuesday Feb 25 to Thursday Feb 27, and period now will end March 12 instead of March 10, per source. Absent of a new CBA agreement, each team can use a franchise and transition tag.

— Adam Schefter (@AdamSchefter) February 23, 2020
As for now, the only candidate for either tag is linebacker Joe Schobert.
Schobert is one of the most critical contracts Berry will have to figure out, which makes tagging him even more difficult.
With the NFL Combine beginning on Tuesday, talks with the Browns and Schobert's camp will begin soon.
Schobert's future Is up In the air.
The NFL tackles leader in 2017 would be a huge loss.
Joe Schobert (#53) is exceptional in coverage. Whether it's carrying vertical, drifting into zone, or man coverage, Schobert can be relied on to play really good coverage

1. Man on RB
2. Gets wide enough to not collide with DBs
3. Explodes to flat
4. Great openfield tackle

Yes pic.twitter.com/GrYtmgwCkb

— Nate Christensen (@natech479) February 21, 2020
Before Berry was hired, multiple sources said that the Browns were willing to let Schobert walk.
Report: Browns willing to let Joe Schobert leave in free agency https://t.co/9StwRuoWOc

— ProFootballTalk (@ProFootballTalk) December 15, 2019
For the season, Schobert had 133 combined tackles, which ranked 10th overall.
Schobert could be a highly coveted free agent that could be paid greatly, which is a potential reason why the Browns could be letting him walk.
Either way, he is a key piece on defense that would be hard to replace.
What It Would Cost
In general, Schobert is one of the top defensive players to hit the market.
He could potentially be the best linebacker too.
If the Browns used the franchise tag, it would cost the team a little over $16 million for 2020.
That would allow the Browns to keep Schobert for at least one more season.
The deadline on using the tag is March 10th.
Browns can decide to use franchise tag on Joe Schobert this week https://t.co/R14H4SPQAI

— The Browns Wire (@TheBrownsWire) February 25, 2020
The Tag Is Warming Up
As of now, the Browns appear to be leaning towards not giving Schobert a long-term contract.
For now.
Based on how the season ended, and their recent moves, the Browns could be on a path towards tagging Schobert for the approximate $16 million.
A lot of that has to do with the team likely to release defensive end Olivier Vernon.
With top free-agent linebackers on the market, you are not going to get much better than Schobert.
If the Browns want to contend and keep an integral part of their defense, the Browns can afford to use the tag.
Final Thoughts
When head coach Kevin Stefanski and Berry talk to the media at the combine, we might know more.
As for right now, it's going to come to a philosophical approach based on the management's decision.
The Browns have the funds to keep Schobert for at least one more year.
Will they do it?
That's the question we are dying to find out.