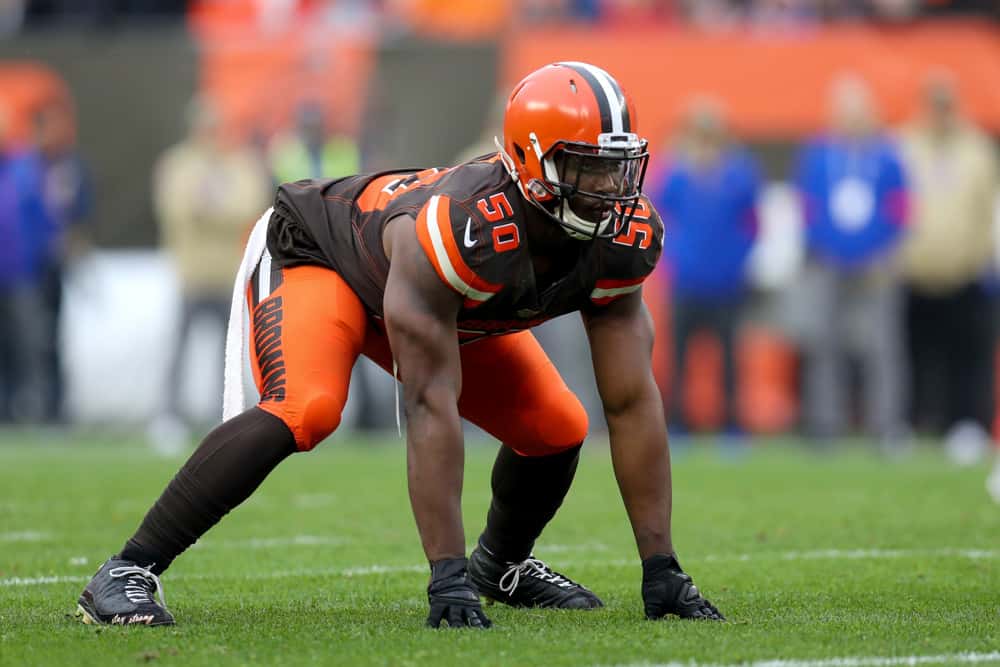 Chris Smith joined the Cleveland Browns in 2018 and played in all 16 games that year.
Then came 2019 when tragedy struck Smith and his family.
Smith's girlfriend was killed after being struck by a car in front of him just days after the start of the season.
This was a senseless tragedy and Smith was able to find some sort of solace in his teammates as the organization rallied around him.
Then he was cut a few months later.
Smith was out of the NFL and is reportedly seeking a return after a difficult 2019.
Former Browns' DL Chris Smith, whose girlfriend was tragically killed in a traffic accident last September, is making a comeback and is looking to sign with an NFL team, per source. He is feeling better and ready to resume his career.

— Adam Schefter (@AdamSchefter) February 24, 2020
This is great news for Smith as he continues the process of moving forward.
Cut in Cleveland
Smith being cut by the Browns last December came as a bit of a surprise.
Even if he was not in the right mindset, the Browns still could have kept him in some capacity through the end of the season.
Such a move by John Dorsey raised eyebrows and more context is needed to know why the organization couldn't just keep and pay Smith through the remainder of the season.
The team initially rallied around Smith and he was released three months later with nothing more than a basic press release to announce the move.
We've signed DT Justin Zimmer to the active roster from the Atlanta Falcons' practice squad and waived DE Chris Smith.

Details » https://t.co/UYhX6wWMlr pic.twitter.com/rYmEN7cbGT

— Cleveland Browns (@Browns) December 3, 2019
This was not the proper way to go about the situation and it is good to see Smith working toward a return.
His release from the Browns being the end of his career would have been a terrible thing to see.
Chris Smith's Career
Smith was drafted in the fifth round of the 2014 NFL Draft by the Jacksonville Jaguars.
He appeared in a total of 19 games over three years before being traded to Cincinnati.
The trade was a good thing as Smith played in all 16 games for the Bengals in 2017.
That led to Smith signing a three-year contract with the Browns before the 2018 season.
He was a regular in the defensive line rotation before he was let go late in 2019.
"We're going to get through it. I promise you that. But we're going to get through it together." – HC Freddie Kitchens on DE Chris Smith 🧡 pic.twitter.com/Ixk7hAxavw

— Cleveland Browns (@Browns) September 12, 2019
Throughout his entire career, Smith has been a backup.
However, he must have done something right to become a regular rotational player with both the Browns and the Bengals.
He has 8.5 career sacks and three career forced fumbles.
At 28 years old, Smith can set himself apart as a veteran who can join any team and provide both guidance and a reliable presence.
He is a bit undersized as a defensive end at 6-foot-1.
Yet, Smith has proven enough throughout his career and won't be relied upon to be a starter.
He can just handle a handful of snaps throughout a game and play when called upon.
Having depth along a defensive line is key and Dorsey dealt with a lack of depth in a rough 2019 Browns season.
Smith likely won't be returning to the Browns considering he was a Dorsey signing in the first place.
But Browns fans should be happy about seeing Smith seek a return to the NFL.
Playing elsewhere could end up leading to a second wind in what has been an up-and-down career to this point.