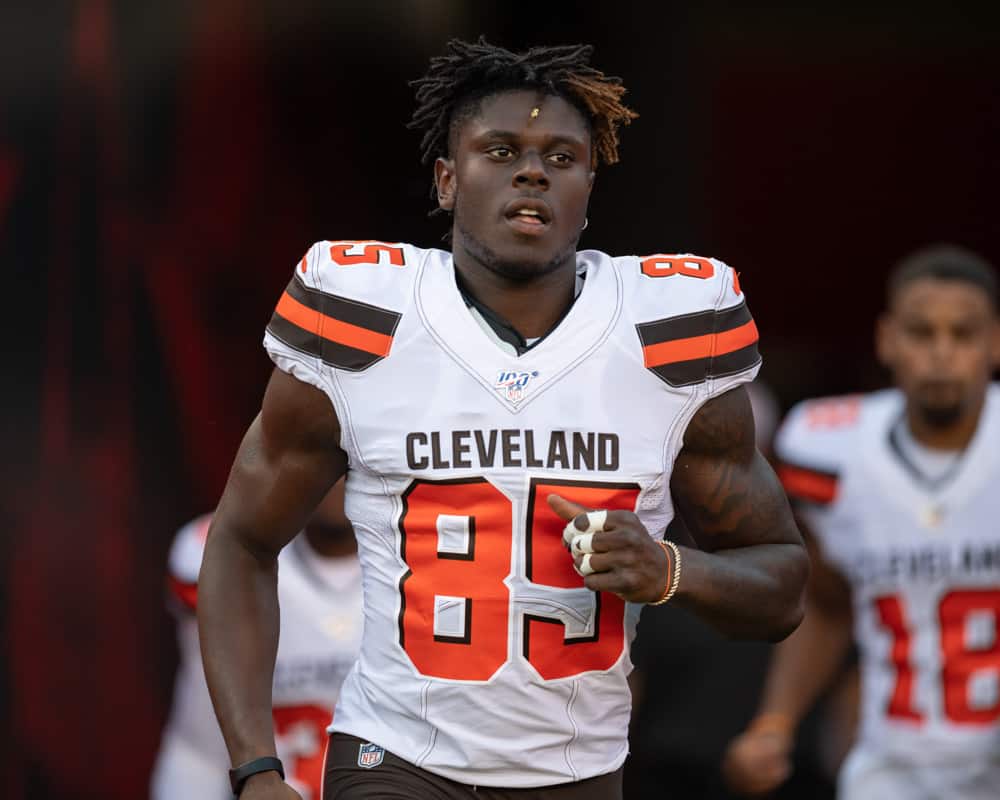 Cleveland Browns tight end David Njoku is excited to get back to work and show what he can do after an injury-riddled 2019 campaign.
Njoku had a breakout season in 2018, but his momentum has stalled after multiple injuries sidelined him last season.
He suffered a broken wrist and concussion on the same play.
In addition to a concussion, Browns TE David Njoku suffered a wrist injury Monday night that could require surgery, per source. Njoku getting additional medical opinions to find out if surgery is necessary and how long he would be sidelined.

— Adam Schefter (@AdamSchefter) September 18, 2019
Njoku was only able to play in four games last season due to those injuries.
Despite not playing much last season, Njoku is still in high spirits and is ready for the opportunity in 2020.
"That's what I'm most excited about, just the opportunity," Njoku said.
What Has Changed for Njoku?
Njoku mentioned in an interview with Cleveland Browns Daily that he spent this offseason getting his body in prime condition.
"I've gained 8 to 10 pounds since I got drafted and it's lean muscle, so I'm moving the same speed, if not faster," Njoku said.
He is entering his fourth season in the league after being drafted in the first round by the Browns in 2017.
Njoku also mentioned that he has been training for five hours a day over the offseason.
He is clearly out to prove a point after he wasn't able to help the team much last season.
During the offseason, Njoku has been working on his technique to become a complete tight end.
That means, improving his receiving, blocking ability, and becoming more athletic.
"Everyone has to earn the credibility," he said. "At the end of the day, we are here to grind it out."
Can Njoku Bounce Back in 2020?
Clearly, the 2019 season didn't go his way, but that doesn't mean it's over for Njoku.
He showed plenty of potential during his breakout sophomore campaign.
Njoku hauled in 56 receptions, 639 receiving yards, and four touchdowns through 16 games in 2018.
Both Njoku and the Browns organization are hopeful that he can get back to that kind of production this season.
He is someone who plays hard all the way through every single snap.
How the heck did David Njoku get in the end zone here!?!? pic.twitter.com/eOjqBIl7nP

— CBS Sports (@CBSSports) November 25, 2018
Njoku has a "never give up" attitude and it seems that has helped him a ton over the course of this offseason.
The talent is there, but it's about getting his mind and body in the right place.
The Browns New Scheme
New Browns head coach Kevin Stefanski has brought along a different scheme that should be a huge benefit.
"This offense is very tight end friendly, so we have a bunch of scenarios where we are all over the place and having a lot of fun on the field," says Njoku.
The Browns offensive scheme will focus on outside zone and play-action.
The tight end position is often times frequently used during his type of scheme.
Njoku has some new bodies alongside him this season with Pro Bowler Austin Hooper and fourth-round pick Harrison Bryant.
Despite the added depth, Njoku is expected to continue to be utilized in the Browns offense.
He might not see 88 targets like he did during the 2018 season, but it sounds like he is putting in the work to show everyone that he can be a reliable option for the Browns going forward.