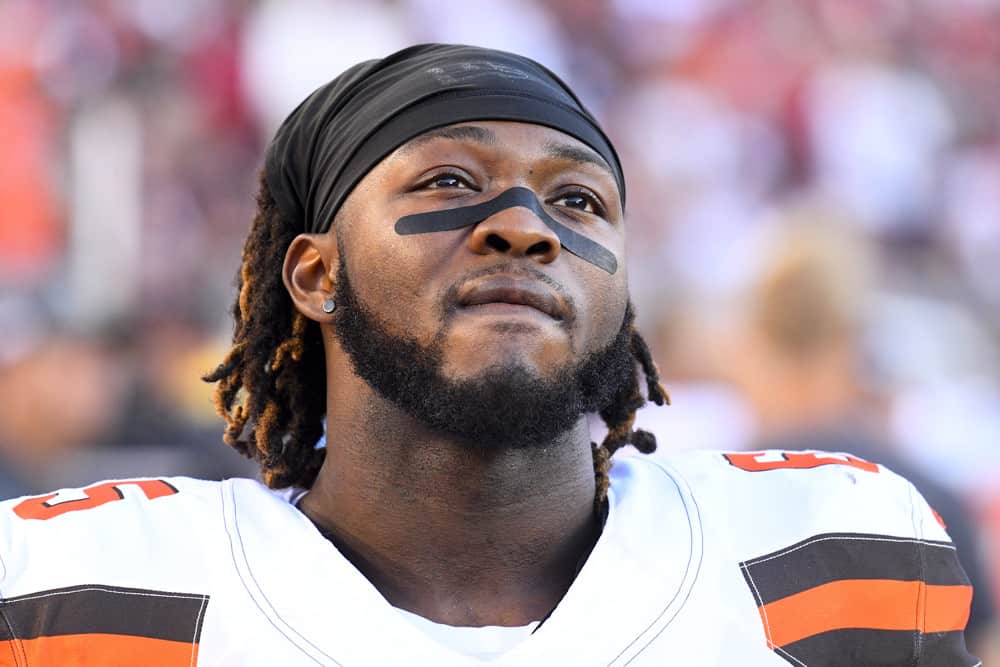 The Cleveland Browns are reportedly in talks with superstar defensive end Myles Garrett on a massive contract extension.
It appears Garrett is asking for upwards of $25 million per season, but has become one of the most dominant pass rushers in the league.
The Browns don't have many players locked up to long-term extensions, but they will have to start making big decisions soon.
Cleveland is going to have Baker Mayfield, Nick Chubb, and Garrett all due for massive extensions within the next few seasons.
They probably won't be able to keep all their young talent, so the Browns need to prioritize which players deserve long-term deals.
Who Deserves An Extension? 
Garret is most likely going to be the first player to receive an extension out of Cleveland's young core.
Both Chubb and Mayfield will likely happen after the 2020 season, assuming they continue to improve.
However, there is a sleeper player that is well-deserving of a long-term deal in Cleveland.
That player is, defensive tackle Larry Ogunjobi who has been with the Browns for each of the last three seasons.
The 26-year-old tackle has been a reliable and trustworthy option since being drafted by Cleveland during the third round of the 2017 NFL Draft.
He often times gets overlooked because Cleveland is stacked with talent, but he has exceeded expectations since joining the team.
Why Extend Ogunjobi?
Since becoming a full-time starter in 2018, Ogunjobi has recorded 68 tackles, 28 quarterback hits, and 11 sacks through 31 games.
He is not quite putting up Pro Bowl caliber numbers, but that doesn't mean he's not deserving of a new deal.
Ogunjobi has been durable and productive throughout his first three seasons in the league.
He is working hard this offseason to get in better shape and hopefully improve his game.
Larry Ogunjobi is going to make some serious noise this upcoming season 💪🏽 pic.twitter.com/FevQffcfHV

— Everything Cleveland (@EverythingCLE_) June 22, 2020
Over the years, the Browns have not found great success at developing young talent on the d-line.
Luckily, they have Garrett and Ogunjobi who will hopefully both get extensions soon.
Reliable options like Ogunjobi don't come around every single season.
Cleveland Needs To Be Smart
As mentioned, the Browns have multiple players of their young core ready for extensions.
The organization has plenty of cap space to get these deals done, but they need to be smart.
A few bad contracts can really hurt an organization in the long haul.
The Browns have seen some bad deals in the past, but luckily those contracts don't haunt them anymore.
Remember Kenny Britt?
A deal that still makes Browns fans cringe to this day.
The Cleveland Browns are expected to sign WR Kenny Britt to a four-year, $32.5 million contract. https://t.co/tFrkHFQ5yd pic.twitter.com/Vesvxzuhig

— NFL on ESPN (@ESPNNFL) March 9, 2017
He played nine games for the Browns, hauling in 18 receptions for 223 receiving yards during his first and only year in Cleveland.
Britt asked for his release and was granted it after his horrendous start to his Browns career.
The point is, the Browns need to make sure the deals they give out are going to benefit the organization in the long term and don't come back to bite them.
What Will Ogunjobi Cost Cleveland?
The 2020 season is Ogunjobi's last year on his rookie season.
As stated before, he is not a Pro Bowl player, but a reliable option on the d-line for Cleveland.
He has earned an extension, but what kind of deal is fair for a player of his caliber?
The superstar-type players at defensive tackle are earning around $16 million per season right now.
A fair deal for Ogunjobi could be somewhere around a four-year $40 million deal.
An average salary of $10 million per season would put Ogunjobi around the top 12-15 for defensive tackles heading into 2020.
That is a reasonable salary for a player like Ogunjobi and it wouldn't be a costly deal for Cleveland.
The organization would still be able to give extensions to their superstar players at the end of the season.
Hopefully, the two sides are able to come to an agreement before Ogunjobi hits free agency.
Vote!
[socialpoll id="2658442″]