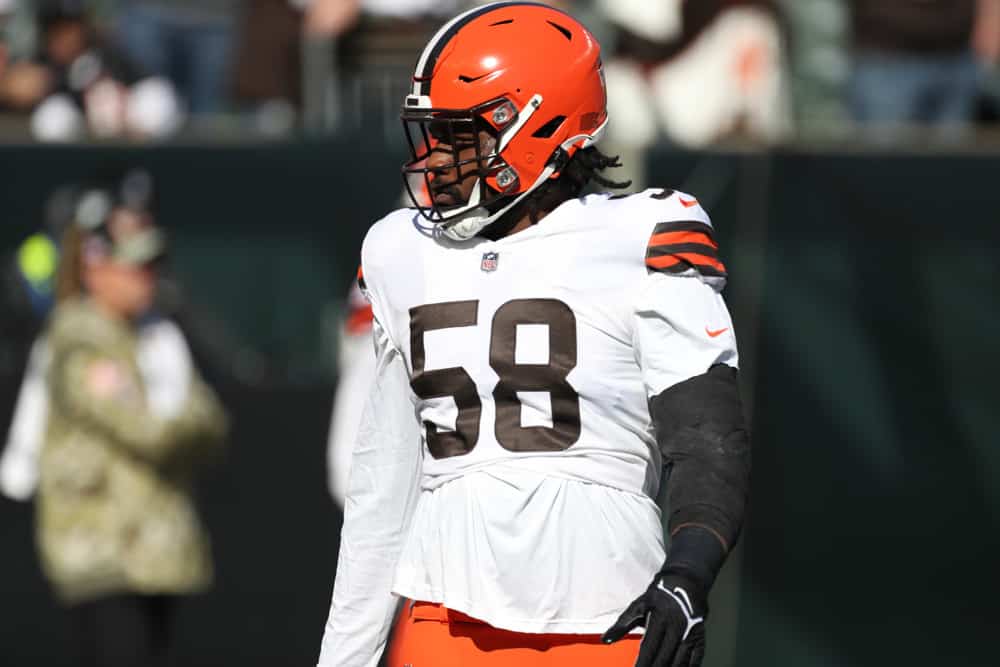 Cleveland Browns defensive tackle Malik McDowell was arrested Monday in Deerfield Beach, Florida, on charges of public exposure and beating a law enforcement officer.
McDowell, 25, is charged with exposing his sex organs in public, aggravated battery of a law enforcement officer and resisting an officer.
Arrest records from the Broward County Sheriff's Office show McDowell's total bond is set at $27,000.
As of 11 a.m. ET Tuesday, the Browns have yet to release a statement about McDowell's arrest.
The South Florida Sun Sentinel reported McDowell is due to appear before a Broward County judge on Tuesday.
BREAKING: #NFL news: Cleveland's Malik McDowell arrested in South Florida on charges of public exposure and beating a deputy https://t.co/rz9Szvd4g2 pic.twitter.com/Yhwnc1VDSz

— South Florida Sun Sentinel (@SunSentinel) January 18, 2022
The publication reported about an incident report it obtained, which stated sheriff's deputies got a call Monday about a naked man walking near a school.
The report states McDowell charged at a deputy, who apparently was unable to avoid the confrontation, and used his weapon or "de-escalation tactics."
According to the report, the deputy fought back, but McDowell ran.
McDowell is listed a 6 feet, 6 inches and 290 pounds.
During the 2021 season, McDowell started 14 of the 15 games in which he appeared for the Browns, compiling 33 tackles, three sacks, seven tackles for a loss, five quarterback hits, one fumble recovery and one pass deflection.
The Seattle Seahawks drafted McDowell out of Michigan State in the second round of the 2017 NFL Draft with the 35th overall pick.
McDowell was part of the Seahawks organization from 2017-2018, but never appeared in a regular-season game for the team.
Weeks before the Seahawks' 2017 training camp, McDowell got into an ATV accident and was put on the injured list for the season.
McDowell has been arrested multiple times: He was arrested in September 2017 on a DUI charge in Michigan; in December 2017 on a disorderly conduct charge in Atlanta related to a nightclub incident and in February 2019 on charges of operating a vehicle while intoxicated, resisting arrest and assault.
In March 2019, the Seahawks released McDowell.
The NFL also issued McDowell a two-game suspension.
According to the Sun Sentinel's report, authorities said McDowell was charged in April 2019 with receiving and concealing stolen property after he was found with a stolen pickup truck.
McDowell was on probation in Michigan when the latest incident happened, according to the Broward County Sheriff's incident report
McDowell is considered an exclusive rights free agent for the Browns in 2022.
The designation is for a player with fewer than three accrued and an expired contract.
If the original team offers him a one-year contract at the NFL minimum, the player cannot negotiate with other teams.
Spotrac.com shows McDowell made $660,000 in the 2021 season with the Browns.