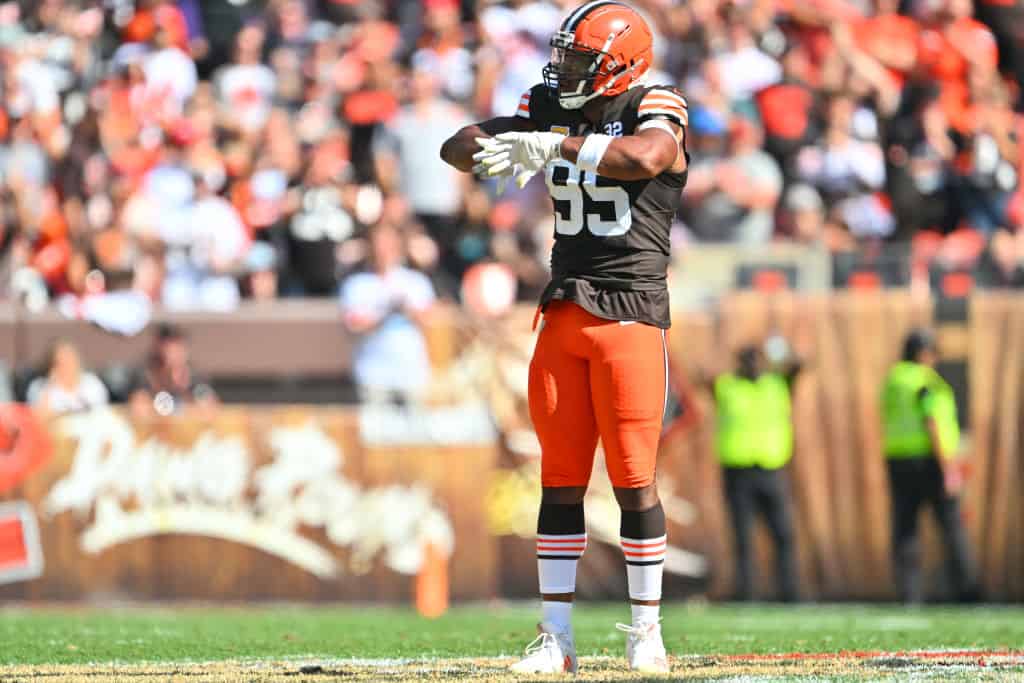 This past Sunday, the Cleveland Browns lost to division-rival Baltimore, 28-3.
The Browns' top-ranked defense allowed Ravens quarterback Lamar Jackson to pass for two touchdowns and run for two scores.
Additionally, Baltimore tight end Mark Andrews was on the receiving end of Jackson's touchdown throws.
During the game, Browns defensive end Myles Garrett sacked Jackson once.
He then went out with a foot injury in the third quarter and was later seen in a walking boot.
#Browns LB Anthony Walker on Myles Garrett leaving the #Ravens game in a walking boot pic.twitter.com/UWdnLnoFPL

— Mary Kay Cabot (@MaryKayCabot) October 2, 2023
As worried as Cleveland fans are for the health of their defensive superstar, teammate Anthony Walker recently told the media he's not worried in the slightest.
"I'm not worried about Myles Garrett ever," Walker said, per Mary Kay Cabot. "So, you guys can worry for us. But I told him he need to take that boot off right now because he's just doing it for show at this point. But, he'll be fine man. I know he'll be fine. He's a warrior. He's a battler. He's going to be ready to go. He's going to do everything to be ready to go in the next game that we have. So, I'm not worried about that at all."
Thankfully, the Browns have a bye this week before facing the San Francisco 49ers on October 15.
#Browns Myles Garrett is in a left walking boot after 28-3 loss to the #Ravens. Says he'll be ready for #49ers after bye pic.twitter.com/Mnp1QJGkij

— Mary Kay Cabot (@MaryKayCabot) October 1, 2023
That will give Garrett and other injured teammates time to heal before taking on the Niners offense.
Without Garrett on the field, Cleveland had its hands full with Jackson and the Ravens.
However, without starting quarterback Deshaun Watson, the team was hampered by three interceptions tossed by backup rookie QB Dorian Thompson-Robinson.
His mistakes led to short field position for the Ravens and relatively easy touchdowns for Jackson.
Despite the lopsided score, the Browns defense still caused a fumble and sacked Jackson three times.
The unit also forced seven Baltimore punts and forced the Ravens into six three-and-outs.
Although Cleveland is now fifth in the NFL in points against, they continue to lead the league in opponent completion percentage with 53.8%.
The Browns are also in the top five against the run by only allowing 3.2 yards per carry to opponents.