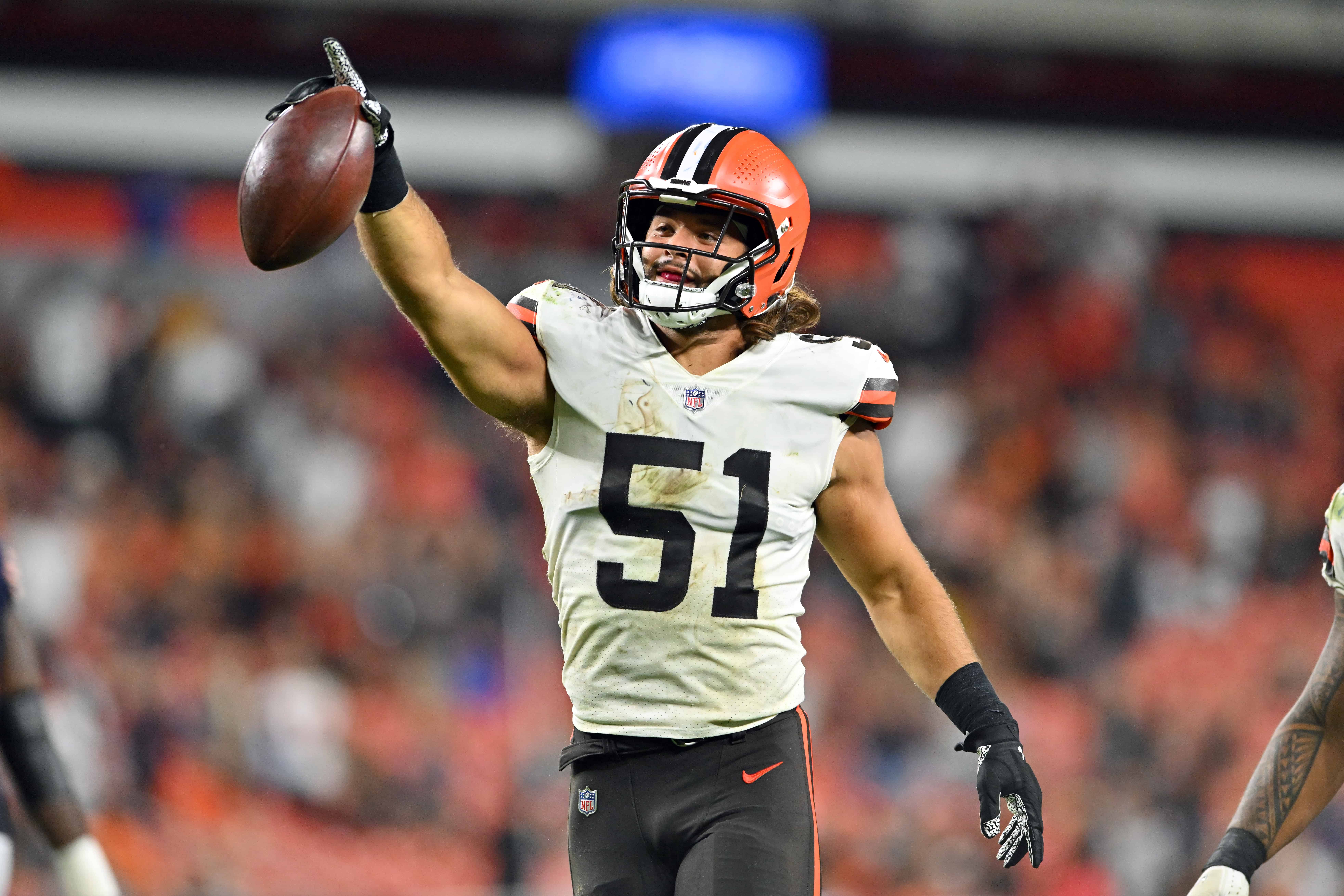 The dream of playing in the NFL has been shared by untold numbers of children throughout the decades.
Of course, realizing that dream is something only a select few get to experience.
That's why athletes that make it to the league can appreciate the hard work and dedication it takes to make an NFL roster.
Jordan Kunaszyk is one such player for the Cleveland Browns.
We have re-signed LB Jordan Kunaszyk.

📰 » https://t.co/uw6jqKHWXH pic.twitter.com/Fq29gA3gpS

— Cleveland Browns (@Browns) March 20, 2023
Kunaszyk is about to embark on his second season in Cleveland and the linebacker's journey to professional football has been inspirational.
Humble Beginnings
Kunaszyk enjoyed playing football as a youth and that love translated into a productive prep career at Roseville High School in Roseville, California.
During his senior year for the Tigers, Kunaszyk was chosen as a first-team All-Sierra Foothill League when he netted 101 tackles, a pair of sacks, and an interception.
Even with lofty numbers and accolades, Kunaszyk received exactly zero offers to play college ball.
However, he believed in himself, and Kunaszyk enrolled at American River Junior College in Sacramento, California.
"Going that route [junior college], it doesn't really matter where you start, but it matters what you are doing along the process to get to where you desire to be," Kunaszyk said during a recent interview.
The Juco decision paid off as Kunaszyk played lights out and accumulated 118 tackles (the most in California Juco ball) and three sacks.
He received numerous honors including CCCAA NorCal Division Defensive Player of the Year.
JUCO All-American MLB Jordan Kunaszyk has tough decision on horizon between #Buffs & #Cal: https://t.co/tcOJ6Gvsea pic.twitter.com/dO5riCwgxT

— Adam Munsterteiger (@adamcm777) March 15, 2016
After the year, he had offers from several colleges including Colorado, Iowa State, and Cal.
Kunaszyk decided to stay close to home and matriculated to play for the Golden Bears.
Improving at Cal
Kunaszyk may have started at the bottom of the linebacker depth chart at Cal, but he climbed it quickly.
During his first season as a reserve, Kunaszyk had 51 stops followed by 74 tackles, 3.5 sacks, and two picks his junior year.
2018 Pac-12 Football – Total Tackles per Game

1. Adarius Pickett, UCLA, 13.3
2. Ben Burr-Kirven, UW, 13.2
3. Evan Weaver, Cal, 13.0
4. Nate Landman, CU, 11.3
5. Colin Schooler, UA, 11.0
6. Cameron Smith, USC, 10.0
7. Jordan Kunaszyk, Cal, 9.3
8. Chase Hansen, Utah, 9.0 pic.twitter.com/aqFZXZPYSS

— SuperWest Sports (@SuperWestSports) September 27, 2018
That led to an outstanding senior year in which he tallied 148 tackles, four sacks, one interception, three passes defended, and five forced fumbles.
Those numbers were hard to ignore and Kunaszyk was named a second-team All-American by Sports Illustrated and first-team All-Pac 12.
No love for Kunaszyk in the Draft
Apparently, it didn't matter much to NFL scouts how well Kunaszyk played at Cal.
He went undrafted during the 2019 NFL Draft but received a free-agent offer from the Carolina Panthers.
The #Panthers have officially announced the signings of these four undrafted free agents:

RB Elijah Holyfield, Georgia
S Corrion Ballard, Utah
WR Damion Jeanpiere Jr., Nichols State
LB Jordan Kunaszyk, California pic.twitter.com/D7RE6GLMZ9

— CarolinaPanthersCanada (@PanthersCanada) April 29, 2019
In order to make the Panthers' roster, Kunaszyk had to become a demon on special teams.
"It was a new game for me," Kunaszyk explained. "I've labored and I've studied film and I've worked on my craft and just worked on so many things in my game relating to special teams. It's beginning to pay off. I'm beginning to see results that I've always aspired to have when it came to playing special teams. I genuinely love playing special teams. It is fun."
It didn't matter if he wouldn't get a lot of playing time during games, Kunaszyk was going to show the Carolina coaches that he belonged.
"I'm not the most talented person, I'm not the biggest, I'm not the fastest, I'm not the strongest, things don't always come easy to me but what I do is I work hard," Kunaszyk said. "I put my head down, I'm diligent in my work, in my studies and over time things end up working out."
Kunaszyk had seven tackles during his rookie year before being waived in September 2020.
He was then signed by the Washington Football Team and spent most of the next two seasons on and off the organization's 53-man roster.
We have signed LB Jordan Kunaszyk from the practice squad and elevated T David Steinmetz from the practice squad. pic.twitter.com/WUdx617dAP

— Washington Commanders (@Commanders) November 25, 2020
At the end of the 2021 campaign, Kunaszyk had totaled just seven combined tackles for Washington before being released in the spring of 2022.
Signed by Cleveland
Normally, such instability in one's career would cause most people to give up.
Kunaszyk's outlook on his life and career, however, changed for the better in 2019.
"It wasn't until 2019 when God saved me and I gave my life to Jesus that my identity switched from football to who I am in Christ," said Kunazyk. "Now that whatever happens along my journey I could rest in the fact that God is good and I'm grateful for everything that I have in my life."
Before the 2022 NFL season, Kunaszyk was signed by the Browns and made the team.
"Cleveland calls in training camp and I make the initial 53-man roster, which I wasn't supposed to make, I was really coming in as a camp body. But by God's grace, I ended up playing really well."
Kunaszyk had his best year yet as a pro when he started two games and had 22 combined tackles, one pass defended, and one forced fumble in '22.
LB Jordan Kunaszyk returns to the #Browns, re-signing on a one-year deal worth a reported $1.2m ($347,500 fully guaranteed) as per @AaronWilson_NFL. pic.twitter.com/kXtSro5MJ8

— Browns fan UK (@brownsfanuk) March 19, 2023
During the most recent offseason, Cleveland re-signed Kunaszyk and he is excited to work with new special teams coach Bubba Ventrone, himself a former Browns player.
"It really matters a lot just to have a coach who has been there and has done that and a coach who has been in a similar situation as me," Kunaszyk said.
Giving His All
Kunaszyk doesn't know quite what to expect in his fifth NFL season.
However, his work ethic has already been noticed by Cleveland's coaches and fellow players.
For some reason, DC Jim Schwartz is wearing a No. 51 jersey at OTA practice. For the record, that's LB Jordan Kunaszyk's number. pic.twitter.com/tMVAznJCGW

— Tony Grossi (@TonyGrossi) May 24, 2023
Kunaszyk plans to keep bringing his 'A' game every day.
"Ideal 2023 for me just looks like me just doing the best that I can every single day, being the best player that I can be, impacting my teammates in a positive manner and living my life devoted to Jesus and honoring him on the field in everything that I do," Kunaszyk said.