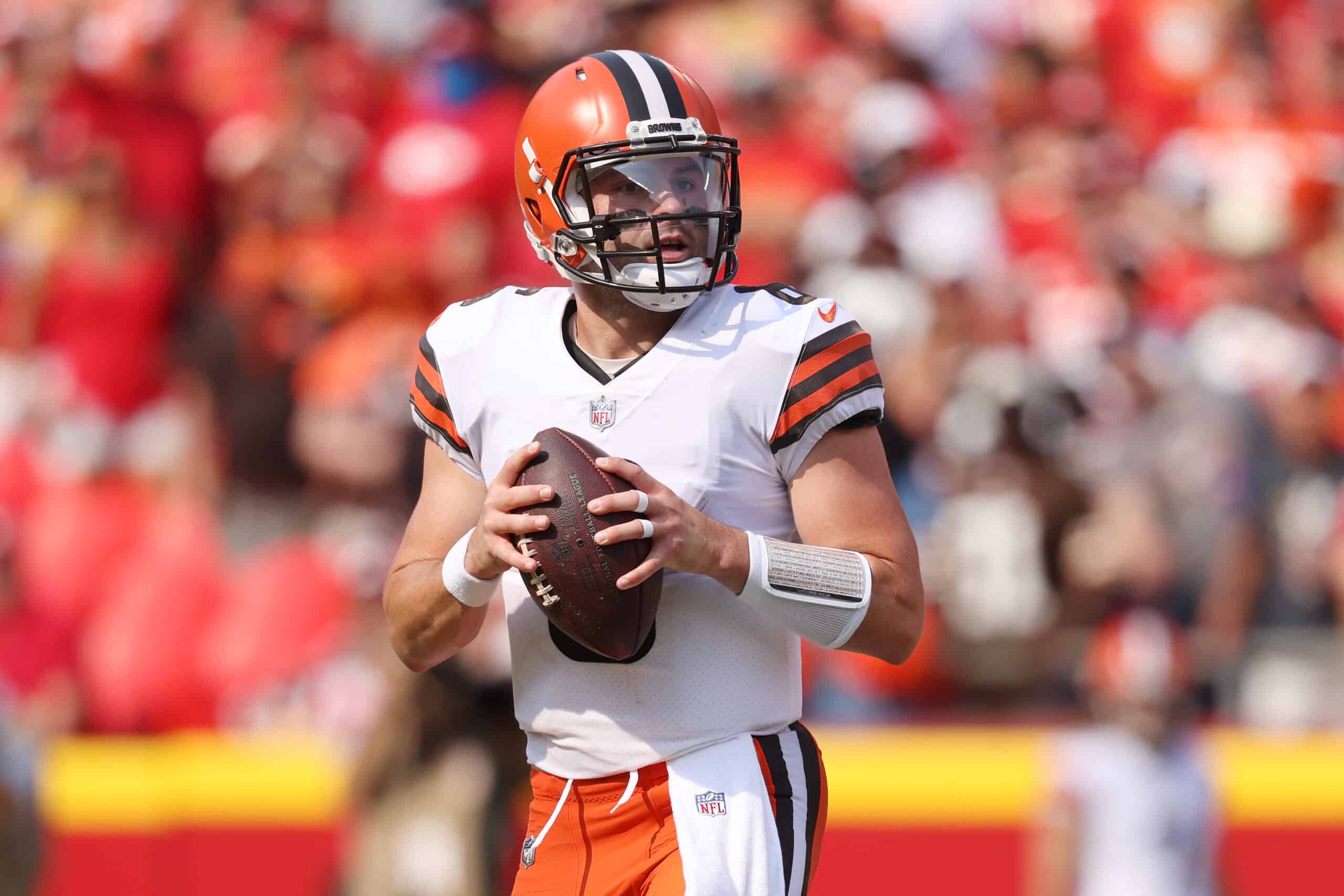 Cleveland Browns quarterback Baker Mayfield is a durable guy.
His durability was put to the test yesterday in the Houston Texans game when he was tackling Justin Reid who had intercepted his pass.
hopefully.. baker mayfield's career as a defensive back is officially over…

— BrownsFreak51 (@BrownsFreak51) September 19, 2021
Mayfield got up from the play obviously shaken up.
His left shoulder was hurting.
He ran into the locker room, and no one was sure when he would return.
Baker Mayfield sprinting out of the locker room now, and he is on the sidelines #browns

— Jake Trotter (@Jake_Trotter) September 19, 2021
Sure enough, he came out and started throwing before the Browns got the ball back.
Though Case Keenum was ready, the fans were jubilant to see Mayfield back in the game relatively unharmed.
After the game, Mayfield gave his account of what happened.
In Mayfield's Words
"Obviously, not an ideal situation. Trying to force him back inside. I think he realized it was me standing right there so he put his head down and ran right after me. It kind of popped in and out, but I will be good. Nothing too serious."
Mayfield was fortunate that the injury was to his left shoulder and not his throwing shoulder; things may not have turned out as well for him in that case.
#Browns Baker Mayfield on his shoulder injury: "It's my left. God gave me two."

— Camryn Justice (@camijustice) September 19, 2021
Mayfield's Grit
Not only did Mayfield come back in the game, but he also played even better when he returned.
His completion percentage was perfect after the injury.
Since the first half interception, which led to the injury that forced him briefly to go to the locker room, Baker Mayfield is 10 of 10 passing for 103 yards and two TDs (one rushing) #Browns

— Jake Trotter (@Jake_Trotter) September 19, 2021
Mayfield was not going to be deterred and ran for a touchdown also.
He showed how competitive he is and how much heart he has yesterday.
The hometown crowd appreciated his leadership and ability to play through the injury.
Mayfield in 2021
He should be quelling the naysayers with his play through two games in 2021.
In both games, he played great.
If the Browns offense continues to play like this and the defense gets on the right page, this team will hopefully win easier and less competitive games as the season rolls on.