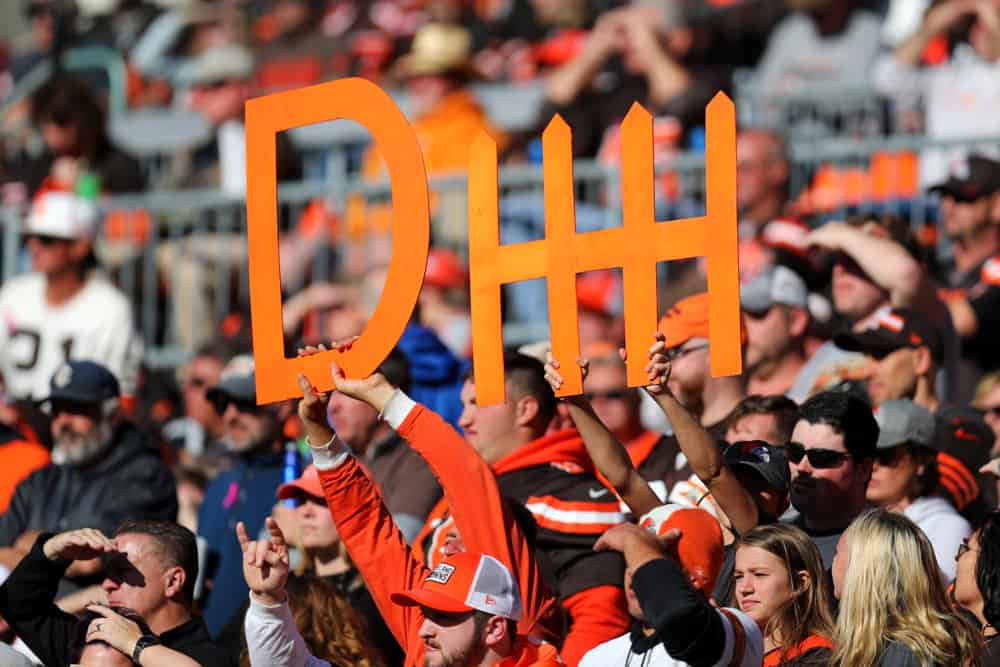 Much is expected from the Cleveland Browns´ offense this season.
But it takes more than that to win a championship.
Kansas City boasts one of the best offenses of the past decade.
But Andy Reid didn´t win a Super Bowl until the Chiefs put a top-ten scoring defense on the field.
Since 1993, only six top-ten offenses won the big one without a top-ten defense.
Only a pair took the trophy with a defense ranked 21 or lower- where the Browns ended up last year.
Cleveland hired one of the hottest defensive coordinator candidates this offseason in Joe Woods.
The #Browns announce the long-awaited hire of defensive coordinator Joe Woods. He said in a release: "Just from tradition, pride and the fanbase, I know they're craving for a winner and I know we're very close. I feel like if we can get it done, the whole city will erupt."

— Ian Rapoport (@RapSheet) February 7, 2020
But will he have enough weapons to build a top-ten defense in Cleveland?
Will his unit be good enough to at least earn a playoff appearance and salvage 2020?
During a recent phone call with Browns writers, Woods gave some clues about his vision.
Important details regarding who does what and how were definitely lacking.
But that won´t stop us from predicting how the Browns defense might shape up this season.
Everything Starts Up Front 
Joe Woods´ coaching background focused on the defensive backfield.
But he comes from a team that used a monstrous front line to set the tone.
Fans can expect front line dominance to be one of Woods´ key tenets in Cleveland.
Myles Garrett´s sack-per-game average of 2019 helped him earn PFF´s top pass disruption rate.
That advanced stat looks at sacks, hurries, and knockdowns per play- with only one counting per rush.
DC Joe Woods eager to work with @MylesLGarrett, sees him stepping up as a leader

📰 » https://t.co/mL2BPlk3wb pic.twitter.com/TTKrSAydu0

— Cleveland Browns (@Browns) May 29, 2020
But Browns fans might have missed who came in at number 9 among the top pass disruptors.
That was Adrian Clayborn, signed by the Browns to a multi-year deal.
Cleveland also returns Olivier Vernon, who played to a high level when on the field, including 17 QB hurries.
Throw in the promising Chad Thomas, and one would think the Browns are set on the edge.
But Andrew Berry is still the favorite to land Jadeveon Clowney or Everson Griffen.
Meanwhile, interior lineman Sheldon Richardson was arguably the Browns' best run defender in 2019.
But Larry Ogunjobi should be on notice following the addition of Andrew Billings.
Billings provides quality depth after two years as a starter in Cincinnati but will challenge for a starting role.
Could Cleveland go with a fifth defensive lineman in spots?
That´s possible, as is dropping Vernon or Thomas back as a second line pass rusher, because …
Linebackers are Definitely Lacking 
One thing most fans and writers are sure of is that Woods is not big on linebackers.
In fact, there are exactly zero outside linebackers on the current roster.
Incumbent Sione Takitaki and third-round draft pick Jordan Elliott play the WILL position.
Free-agent BJ Goodson is a run-stopping specialist with one half-sack in his career.
Mack Wilson could spell Goodson on passing downs but potential is still his highest-ranked quality.
Woods said Takitaki and Wilson "look like" what he wants in a linebacker- mainly speed and versatility.
But Goodson´s experience, solid tackling, and lateral speed give him a shot at a starting position.
One thing you can say about new Browns linebackers BJ Goodson and Jacob Phillips: They're not afraid to play downhill and take on blockers. Both are secure tacklers, too.

Should help in a division that features the greatest ground attack in NFL history.

— Brent Sobleski (@brentsobleski) April 27, 2020
In fact, there might only be one starting linebacker some games.
Woods expects to start with a nickel package (with two linebackers).
But he told reporters he hopes to get a third safety on the field in a dime set as much as possible.
Another linebacker, Tae Davis, could win a roster spot due to his special teams' play.
But with every linebacker learning how to play each of Woods´ linebacker roles,
It will not be surprising if fewer than 4 are active each Sunday.
Filling Out in the Rear 
Cleveland invested heavily in their defensive backfield this season.
Free-agent safeties Karl Joseph and Andrew Sendejo signed with the club.
That was before the Browns landed Grant Delpit in the second round of the draft.
Delpit played through a high ankle sprain for much of 2019, affecting his play and his draft position.
His best performance came in the championship game after a few weeks of rest.
If Delpit plays to expectations, he is the steal of the draft.
Cleveland's pass defense adds a playmaker

The Browns draft LSU safety Grant Delpit with the No. 44 pick in the #NFLDraft pic.twitter.com/0Ts9tivkMh

— B/R Gridiron (@brgridiron) April 25, 2020
Joseph is considered more of a free safety, too.
But he sported one of the highest 2019 PFF grades when playing in the box.
Sendejo will likely compete with Sheldrick Redwine for the third safety role in the dime.
Redwine was forced into action by injuries last year, which serves him well in 2020.
Woods noted how Redwine played in the slot as well as safety, versatility that is key to his defensive scheme.
Berry also picked up cornerback Kevin Johnson in free agency.
Johnson provides experienced and quality backup on the outside.
But he will get a shot at the slot ahead of a group of young prospects including UDFA  AJ Green.
Green received an NFL record signing bonus for an undrafted free agent.
But he is a step or two slower than Denzel Ward and Greedy Williams, who will man the flanks.
Williams started his rookie season with a pair of 90+ PFF game scores before suffering a hamstring injury.
Tackling was a major concern for Greedy Williams coming into his rookie season. He responded well.

▪️70.9 PFF tackle grade: 5th best among all rookie corners (T-25th in NFL).
▪️ 8 "stop" tackles (constitute a "failure" for the offense) 2nd among all rookies. (First in stop %) pic.twitter.com/jQqrxOxWIB

— OBR Film Breakdown (@TheOBRFilmBDN) June 9, 2020
He wasn´t the same when he returned, but he wasn´t as much of a liability as one might expect of a rookie.
Ward graded out as the second-best man-to-man coverage corner.
Williams´ scouting report out of college said man-to-man was his strong suit, too.
But defensive coordinator Steve Wilks used zone coverage more often than not as injuries took their toll.
How will Joe Woods Put it Together?
Even without offering many details, it appears Joe Woods is in sync with Kevin Stefanski and Berry.
The players acquired and released offer significant insight into the Woods defensive scheme.
The coach is committed to nickel and dime sets by his personnel.
And that personnel matches up well to some of the better units in the league.
Adding a Clowney or Griffen provides ridiculous depth to a position of strength.
Whether such an acquisition means the end of Olivier Vernon or not.
"What I am really putting together is a combination of what I feel like has been the top defenses of the last 10 years."

DC Joe Woods confident our defense will cause problems for opponents » https://t.co/GhLMlQT3Ht pic.twitter.com/IvvchWs6SH

— Cleveland Browns (@Browns) May 28, 2020
But as good as the roster looks, big questions remain.
There are many players returning from last year´s squad.
That squad missed a league-high 140 tackles, and their 119 defensive penalties ranked 27th.
But… there were signs of promise.
With only 37 sacks, the defense managed to rank 7th overall in QB hurries and completion percentage.
They had the fifth-most tackles for a loss and ranked fifth in QB Rating Against.
Woods is similar to Stefanski in how he adjusts the defense to his players´ strengths.
We expect he´ll maximize his linebackers´ talents versus the run, which includes containing Lamar Jackson.
Woods appears to be counting on a formidable pass rush as he builds his defensive backfield.
Until Woods gets his players on a field, he probably has as many questions as we do.
But for now, there is enough reason to be optimistic the Browns defense will hold up their end.
So, what do you think? Will the Browns defense improve as much as the offense in 2020? Tell us in the comments below.