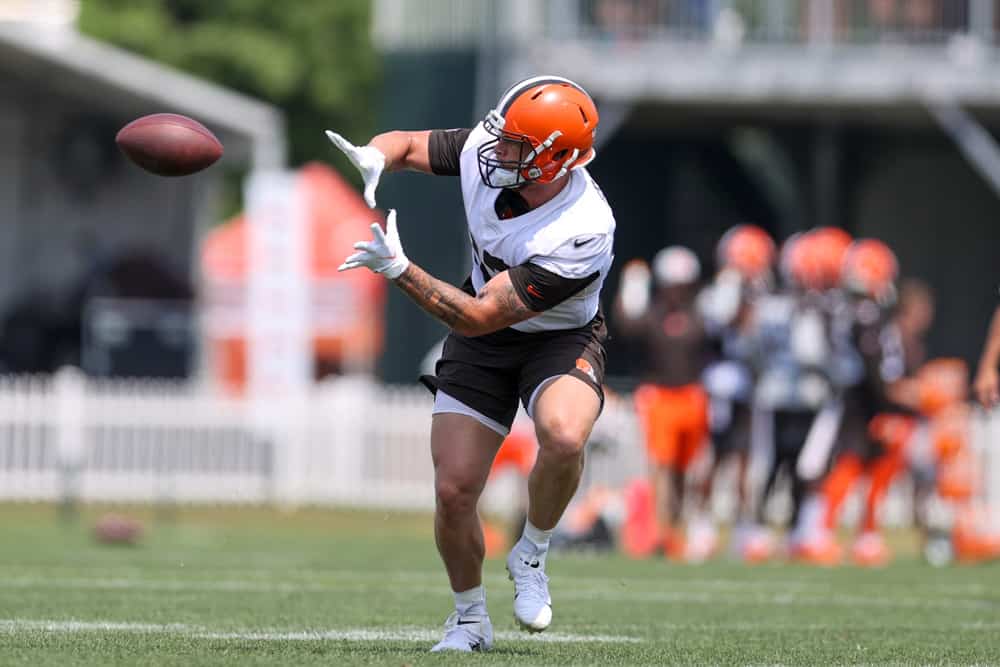 It appears the Cleveland Browns want to add an extra body at tight end.
They've decided to elevate tight end Jordan Franks from the practice squad on Saturday.
#Browns elevate TE Jordan Franks to active roster

— Fred Greetham (@FredGreetham9) September 25, 2021
The second-year tight end will be on the active roster for their Week 3 matchup with the Chicago Bears.
Franks initially joined the Browns practice squad in 2020, but hasn't seen any action with Cleveland.
It'll be interesting to see how the Browns decide to utilize Franks' talents on Sunday.
Frank The Tank
The big tight end was originally signed by the Cincinnati Bengals as an undrafted free agent in 2018.
Franks spent four seasons at UCF, but never really made a significant impact.
His best season was in 2015 where he hauled in 20 receptions for 246 yards and two touchdowns.
He played in six career games with the Bengals and hauled in two receptions 37 yards during his time in Cincinnati.
We see you, Jordan Franks 🙌🙌

First-career catch goes for 32yds! #BuiltByUCF

🎥 @Bengals pic.twitter.com/PWPCuvmFP2

— UCF Football (@UCF_Football) October 28, 2018
To be honest, Franks is mostly depth for the organization in case one of the other tight ends gets injured.
Cleveland already has three tight ends on their active roster and have involved all of them in the gameplan.
Franks should get a chance to play on Sunday, but will be reverted right back onto the practice squad following the contest.
Too Many Tight Ends?
It seems odd that the Browns would elevate a tight end right now.
Cleveland could certainly use a wide receiver or linebacker heading into Sunday's game.
Instead, they decided to bring Franks onto the active roster.
A position where he'll be the fourth-best option and probably won't line up as a tight end at all.
This move is most likely the Browns adding another body for their special teams unit.
The injuries have piled up and they could use another player or two on special teams.
Right now, Cleveland has Austin Hooper, David Njoku, and Harrison Bryant all healthy heading into Week 3.
All three of them have been involved in both games to begin the season.
Head coach Kevin Stefanski has found a way to use them all and he'll likely do the same with Franks on Sunday.