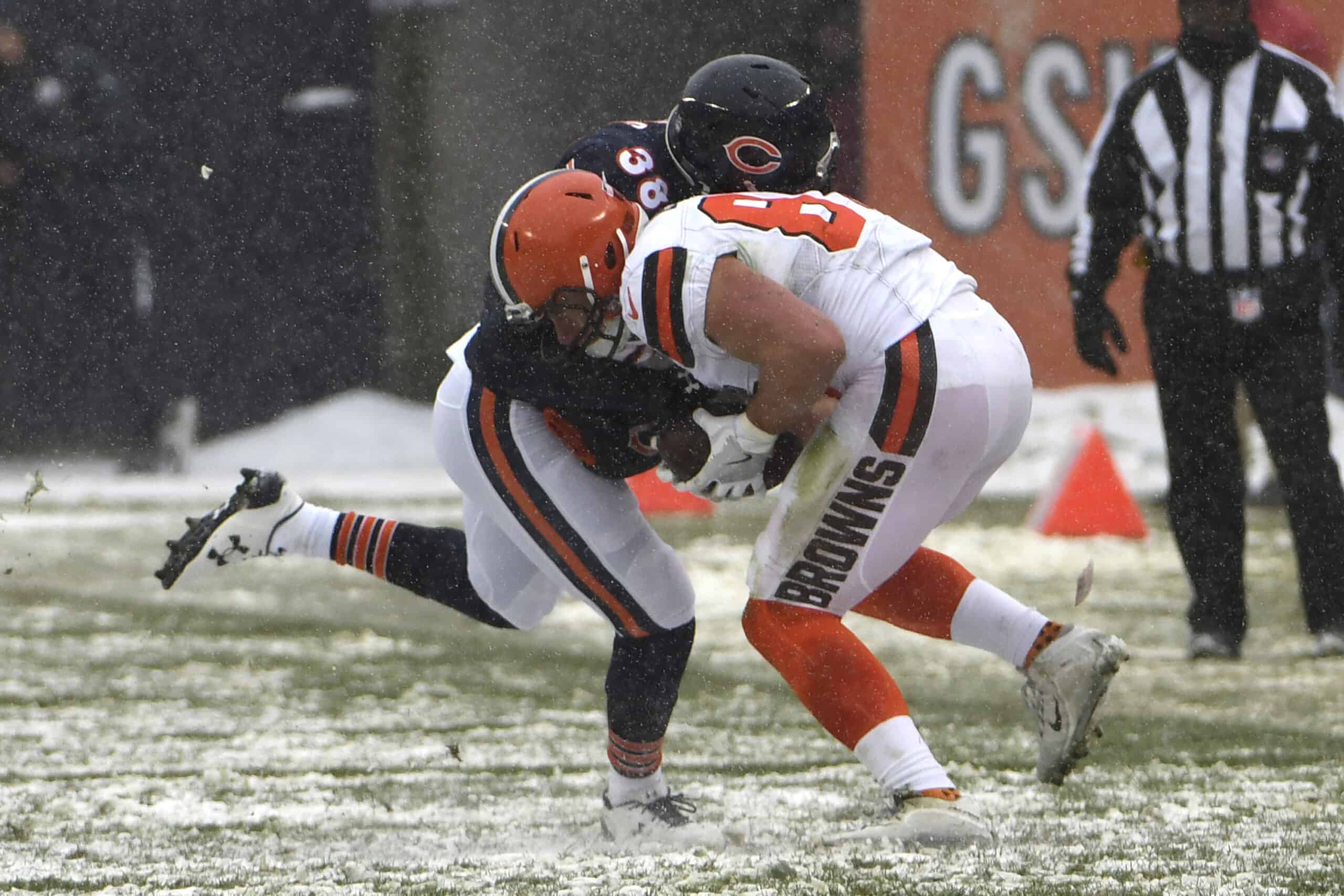 With Andy Dalton sidelined with an injury, Justin Fields will make his first start for the Chicago Bears.
The Cleveland Browns are looking to put together a complete game after a few shaky defensive performances.
Who will prevail in week 3?
Let's take a look at our writer's bold predictions for this Sunday's matchup.
Writer: Rocco Nuosci

The hills have eyes, or rather, the fields have eyes.
Former Ohio State quarterback Justin Fields will get the start for Chicago on Sunday against the Browns and has his eyes set on logging his first professional victory.
Fields took snaps against the Bengals in a loss last week and understands he'll need to perform much better as the starter.
Justin Fields: "I'm not pleased with how I played at all. There's a lot more in me that I need to show … Whatever happens, I'm meant for this. I'm meant to be here."

— Adam Hoge (@AdamHoge) September 19, 2021
Outside of Fields, there's not much excitement for football in Chicago.
The Browns are the much better team on paper, no way around that.
However, we've seen a vanilla defense from Joe Woods so far.
With a rookie quarterback on the other side, hopefully Woods pins the defensive ears back a bit and brings pressure.
If not, Fields could get comfortable and end up having a decent day.
My Prediction: Browns 31, Bears 20
Writer: Wendi Oliveros

The Browns come into this game 1-1, and in typical Browns fashion, there are many storylines accompanying this game.
We know that Mayfield's shoulder hurts a little though he does not admit it, and we think OBJ might play, albeit on a limited basis, in his first game back in nearly a year.
As for the Bears, they bring their own Ohio spin to this game with the decision to start Ohio State star quarterback and rookie Justin Fields over the injured Andy Dalton.
This is the game where the Browns turn into the Browns I hope and expect we will see a lot of through 2021.
Led by a strong running game and a defense that blitzes and forces Fields to make quicker decisions than he wants to.
My Prediction: Browns 24, Bears 14
Writer: Ben Donahue
The Browns win last Sunday against the Texans was actually a little concerning.
For the first two quarters, Houston was keeping pace with Cleveland.
Quarterback Tyrod Taylor looked too comfortable in his return to Ohio.
One wonders what more he could have done had he not exited the game due to injury.
It's with this backdrop that I have concerns regarding this weekend's match-up versus the Bears.
On Wednesday, Chicago announced that they would be starting rookie quarterback Justin Fields.
The Ohio State product looked fairly decent in his relief of injured starting quarterback Andy Dalton last weekend.
In the game against Cincinnati, Fields completed six of 13 passes for 60 yards and a pick.
He also gained 31 yards on 10 carries.
Nothing special, but that's not what concerns me.
For the third week in a row, the Browns will face a dual threat quarterback.
Fields is a rookie and the Cleveland defense on paper should eat him up.
The problem is, that same defense has looked like paper Browns the past two weeks.
They are currently ranked 21st in the league.
Here's hoping that Baker Mayfield can get through the game without aggravating his shoulder.
He is without Jarvis Landry (although it looks like OBJ will return), so Anthony Schwartz and Demetric Felton (among others) will have to step up.
My Prediction: Browns 28, Bears 17
Writer: Pat Opperman

Well, I have to admit I expected a far more convincing victory over Houston.
But, this is the NFL and any team can beat any other team in any given week.
And after Week 2, the Cleveland Browns have the record even the most optimistic analysts expected.
They will stay on track for a playoff appearance and possible division title with a solid win this week.
Justin Fields will be better,  but he is still a rookie with tendencies that haven't been coached out of him yet.
I expect Joe Woods to amp up the pressure and unleash his pass rush.
And when the dust settles, a few defensive stats will start trending back toward where we expected.
My Prediction: Browns 31, Bears 16
Writer: Mark Bergin

A key to Sunday's game against the Bears is whether Browns defensive ends Myles Garrett and Jadeveon Clowney can contain rookie Justin Fields in the pocket to prevent him from extending plays with his legs.
Fields is due to make his first NFL start, and can fly, having run the 40-yard dash in an unofficial time of 4.44 seconds at the Ohio State Buckeyes Pro Day.
The Browns should try to force Fields to make throws from the pocket.
If the Browns can establish Nick Chubb and Kareem Hunt offensively, the Bears are in trouble.
The Bears limited Bengals Joe Mixon to 69 yards on 3.5 yards per carry in Week 2.
Once getting the running game going, look for Cleveland to utilize play action.
Entering Week 3, quarterback Baker Mayfield leads the NFL in completion percentage (81.6%) and he completed passes to 10 different players in the Week 2 win over the Houston Texans.
Jarvis Landry is out with an MCL injury, but Odell Beckham Jr. is set to make his 2021 debut.
I'll pick the Browns to win, but the Bears barely cover the 7.5-point spread.
My Prediction: Browns 27, Bears 20