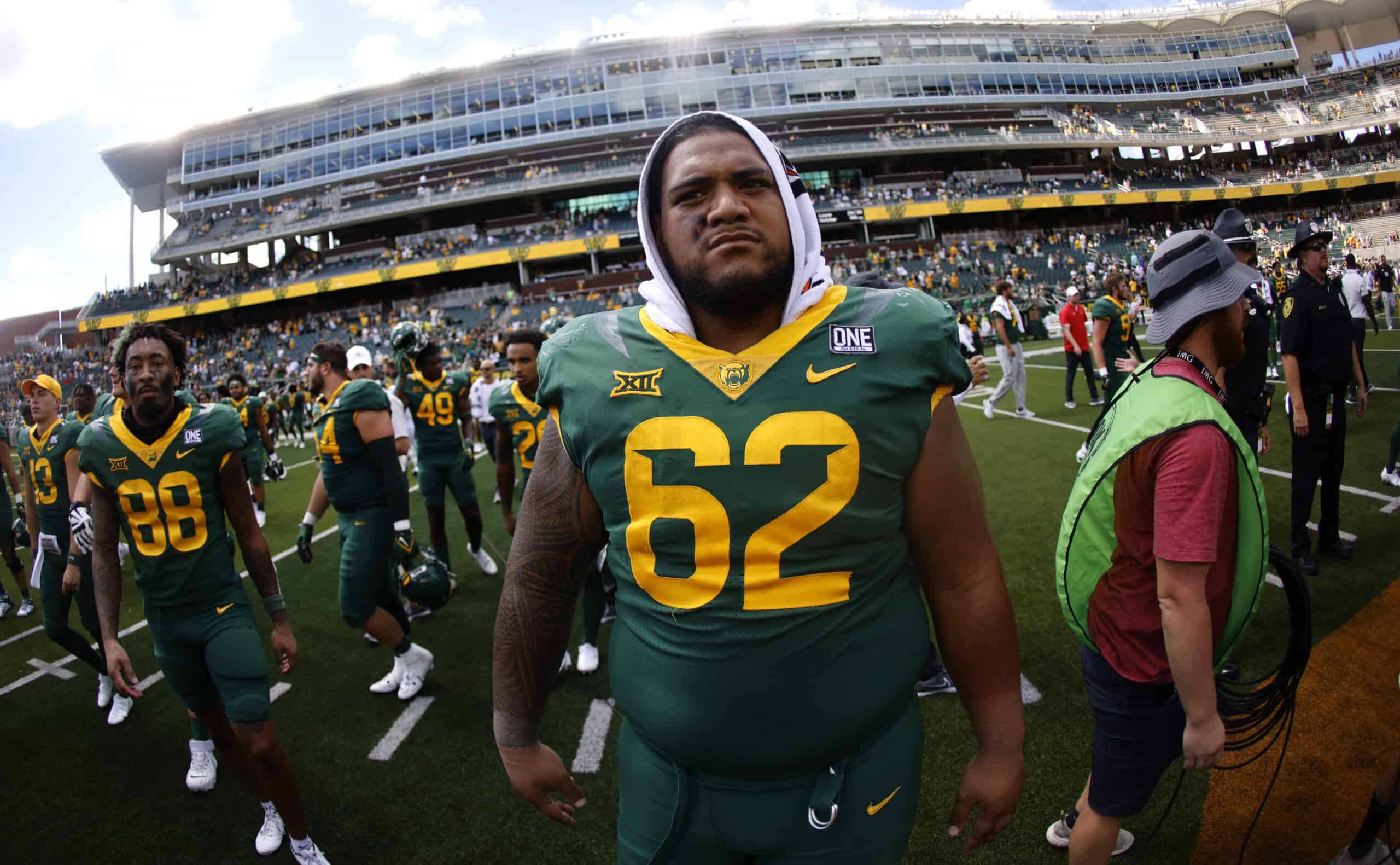 Andrew Berry selected Baylor's Siaki Ika, a 358-pound nose tackle, with the 98th pick in the NFL Draft.
It was no secret the Cleveland Browns needed interior line help to improve their run defense.
Maybe that is why the Detroit Lions gave up 3 picks to snag Western Kentucky's Brodric Martin at #96.
That made 11 defensive linemen selected before the Siaka heard his name called.
Siaki!! Let's get to work!#NFLDraft | #DawgPound pic.twitter.com/KV4DkANDjp

— Cleveland Browns (@Browns) April 29, 2023
But judging from how fast they submitted their pick, the Browns got a player they coveted.
Subpar NFL Combine numbers might have pushed Ika further down the draft than he hoped.
There were definitely mixed reviews on the interior lineman's NFL potential.
But at least one entity, CBS Sports, gave Ika a First Round grade.
Scouting Reports Debate Role
There is no doubt that Ika's Combine performance missed the mark.
But if you watch the player on the field, it is easy to see why CBS and others discounted those numbers.
Ika commanded double teams and adeptly got his hands on the ball carrier more often than not.
He moves blockers backward and creates havoc in the pass rush.
Really like Siaka Ika. Not a great tester, but functionally quick on tape. Crazy power. Good run stuffer. Some shocking moves as a pass rusher – spins, swims….he's a good pickup for the #Browns.

— Jon Ledyard (@LedyardNFLDraft) April 29, 2023
The big man is developing some moves, but statistically, it's hard to call him a pass rusher.
Several scouts project Ika to be a situational member of the rotation.
He also has some technique flaws that allowed some offenses to neutralize him.
But that is why the Browns hire coaches, and they are probably anxious to work with an athletic big man.
What It Means To The Browns 
Cleveland's run defense was among the worst in the NFL last season.
They signed 3 tackles in free agency, all of whom are sure tacklers with good lateral movement.
Schwartz likes a lot of space between his linemen, so a big bodied-player who moves fits right in.
Cleveland's new defensive coordinator will make the most of his front 7.
6'3", 358 lb. Humans shouldn't be able/allowed to move the way that Baylor NT Siaki Ika does. A literal mammoth-sized DT with a fairly refined pass rush repertoire at 22 years old? YES PLEASE. The #Browns should be praying that he's available in round 2.
pic.twitter.com/L5W7pvYMyp

— Matt Wilson (@CoachWilson66) December 9, 2022
And if his reputation is fair, Schwartz will find a way to make his interior players pass-rush threats.
Ika will do well working alongside Dalvin Tomlinson as he develops his NFL identity.
Berry is probably not done loading up his defense.
But he might have found another third-round gem in Siaki Ika.