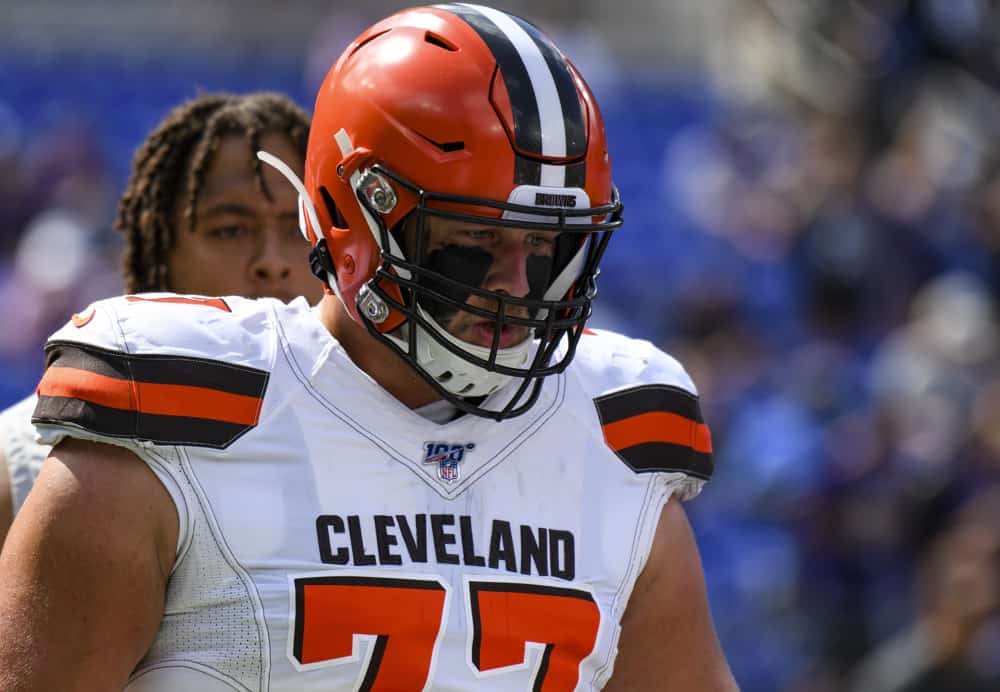 On Tuesday, Cleveland Browns right guard Wyatt Teller joined Nathan Zegura on the YouTube video series Cleveland Browns Daily.
Before getting into the details of the interview, let us begin with some background on Teller.
He was selected by the Buffalo Bills in the fifth round of the 2018 NFL Draft, but he played just eight games for them in his rookie season.
However, in the second halves of both his 2018 and 2019 seasons, he was a starting guard.
The Browns traded for Teller just before the 2019 season.
Cleveland acquired him and a seventh-round draft pick in next year's draft in exchange for 2020 draft selections in the fifth and sixth rounds.
If Teller ends up starting for the Browns at right guard again this upcoming season, the Browns will be looking very smart.
Although Teller played left guard in Buffalo, he was able to make the adjustment in Cleveland.
Would like to see more playing time for #77 Wyatt Teller. This was a pretty athletic play 👀

— Everything Cleveland (@EverythingCLE_) November 3, 2019

During Baker Mayfield's tremendous November of 2019, Teller started each of the Browns' three victories.
Teller knows that a strong team effort is important for a bounceback season, and he discussed this along with other offseason topics with Zegura.
Teller is Trying to Use His Intelligence to Succeed
Teller is projected to be the starting right guard for the 2020 Browns, and he thinks it will be because of his intelligence:
"Trying to be the smartest player out there, but that's hard with JC [Tretter] next to me, so the second-smartest player out there as well as tough-minded guy, too."
Tretter, who has started at center for all three of his seasons with Cleveland, played more than 1,000 snaps each of those three years.
While Tretter has made a name for himself, Teller is doing everything he can to do the same:
Introducing the Somersault Block…👀👀 @Browns

(h/t blessembaker/reddit) pic.twitter.com/kJ6t6llPfw

— The Checkdown (@thecheckdown) November 21, 2019
Teller, who played 557 snaps in 2019, showed off his athleticism in this acrobatic move against the New England Patriots.
The third-year offensive lineman also discussed the important mentorship he has had along the way:
"The room opened their arms to me, which was an absolute blessing because it would have been 10 times harder if I had to learn it all by myself. I had great guys around me in JC and Joel and not only that, they're great competitors."
Does Teller have What it Takes to be a Superior Offensive Lineman?
Teller's Pro Football Focus player profile shows two impressive statistics from last year: he allowed just one sack and was called for just two penalties.
"The biggest thing with me is the technique and fundamentals. Having seven to eight times out of 10, that's 70 to 80 percent. That's really good, but that will get you cut. For an offensive lineman, that will get you cut. You need to be at 90 percent or 10 times out of 10, 90 to 100 percent."
Teller understands what it takes to be a superior offensive lineman in the NFL.
"That's why when you see people like Jack (Conklin) or Joel (Bitonio) … they do it every time and they do it consistently and that's why they're an All-Pro. That's the biggest thing to me."
Teller seems to be an intelligent player who is ready to make an impact on the 2020 season.
While he may not be a Pro Bowler this upcoming season, he has the chance to be one down the road.