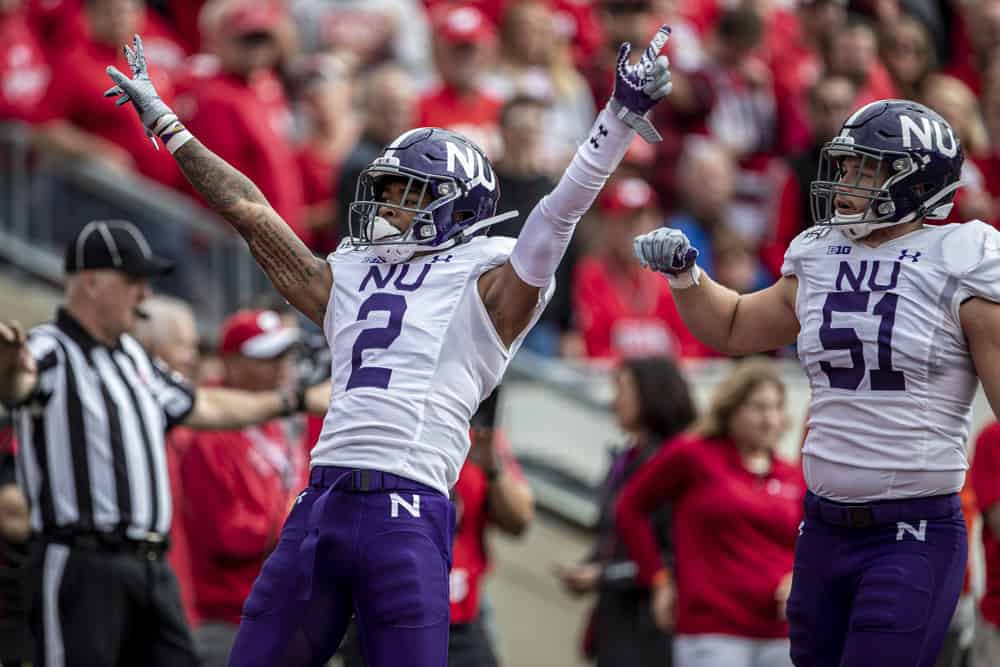 Normally, this is around the time where all the teams get together for the NFL combine.
Sadly, due to the ongoing pandemic the NFL has decided to cancel the event.
Teams have decided to get creative and are doing interviews with prospects virtually.
Recently, the Cleveland Browns held a meeting with Northwestern defensive back Greg Newsome II.
A lot of you are already hitting me up and asking why Greg hasn't met with your favorite team 🤣

Adding the following to this list: #Colts, #WashingtonFootballTeam, #Jets, #Browns, #Broncos, #Seahawks & #Cardinals https://t.co/SAMAZEA0Jw

— Justin M (@JustinM_NFL) February 26, 2021
The promising corner has been projected to be taken around the Browns first pick, which is No. 26.
Cleveland is obviously in need of help in the secondary, so Newsome could be a fit.
Newsome At Northwestern
It was an injury-plagued career for Newsome during his time at Northwestern.
He only played in 17 games during the course of his three years in college.
Despite that, Newsome performed well enough that he put himself in the first round conversation.
During his three years at Northwestern, Newsome recorded 71 tackles, one interception, and 20 passes defended.
Don't be surprised at all if Northwestern CB Greg Newsome II is a first-round pick.

Super fluid corner whose route recognition skillls are simply impeccable. Would be NU's first Round 1 pick since 2005. pic.twitter.com/gAMKae9Diz

— Jacob Infante (@jacobinfante24) February 23, 2021
He only played in three games during the 2020 season, but earned himself first-time All-Big 10 honors.
Newsome has the size, athleticism, and versatility to be successful at the professional level.
There are not too many areas of concern when looking at Newsome's game.
He has quickness, above average coverage ability, and an excellent football IQ.
Northwestern CB Greg Newsome II declared for the draft today, and I love what I've seen from him.

The Glenbard North alum has great route recognition, ball skills and fluid hips. #Bears don't need much CB help, but he's a local guy worth watching. pic.twitter.com/JP4YlUhTZW

— Jacob Infante (@jacobinfante24) December 21, 2020
The biggest concern is the fact that Newsome has a tough time staying on the field.
He suffered significant injuries during all three of his seasons at Northwestern.
All the attributes are pointing to Newsome being ready for the next level, but does he have enough experience to play a significant role in the NFL?
Should The Browns Roll The Dice?
There is a ton of upside with Newsome, but it's hard to ignore the injury history.
It's easy to fall in love with Newsome from watching his tape because he is tremendously talented.
Sadly, he could very well be a boom-or-bust type of prospect, which might not be the best move for the Browns.
This team needs a reliable option to play alongside Denzel Ward in 2021.
There is plenty of potential with Newsome, but it's unknown if he can be a significant contributor from Day 1.
Watching some late night film of junior #Northwestern DB Greg Newsome II (#2). This is from the 2019 Iowa game.

The way he breaks on this out route, without a speed turn, is impressive. His closing speed, and ability to mirror a receiver is special. pic.twitter.com/31HEfYGKKe

— Devin Jackson (@RealD_Jackson) December 17, 2020
It really depends on how the draft plays out because Newsome might fall out of the first round.
There is no doubting that Newsome has first-round ability, but the injury concern might drop him into the second or possibly the third round.
The Browns have concerns at linebacker and safety as well that need to be addressed this offseason.
Newsome is a talented prospect, but it seems risky to spend a first-round pick on him.