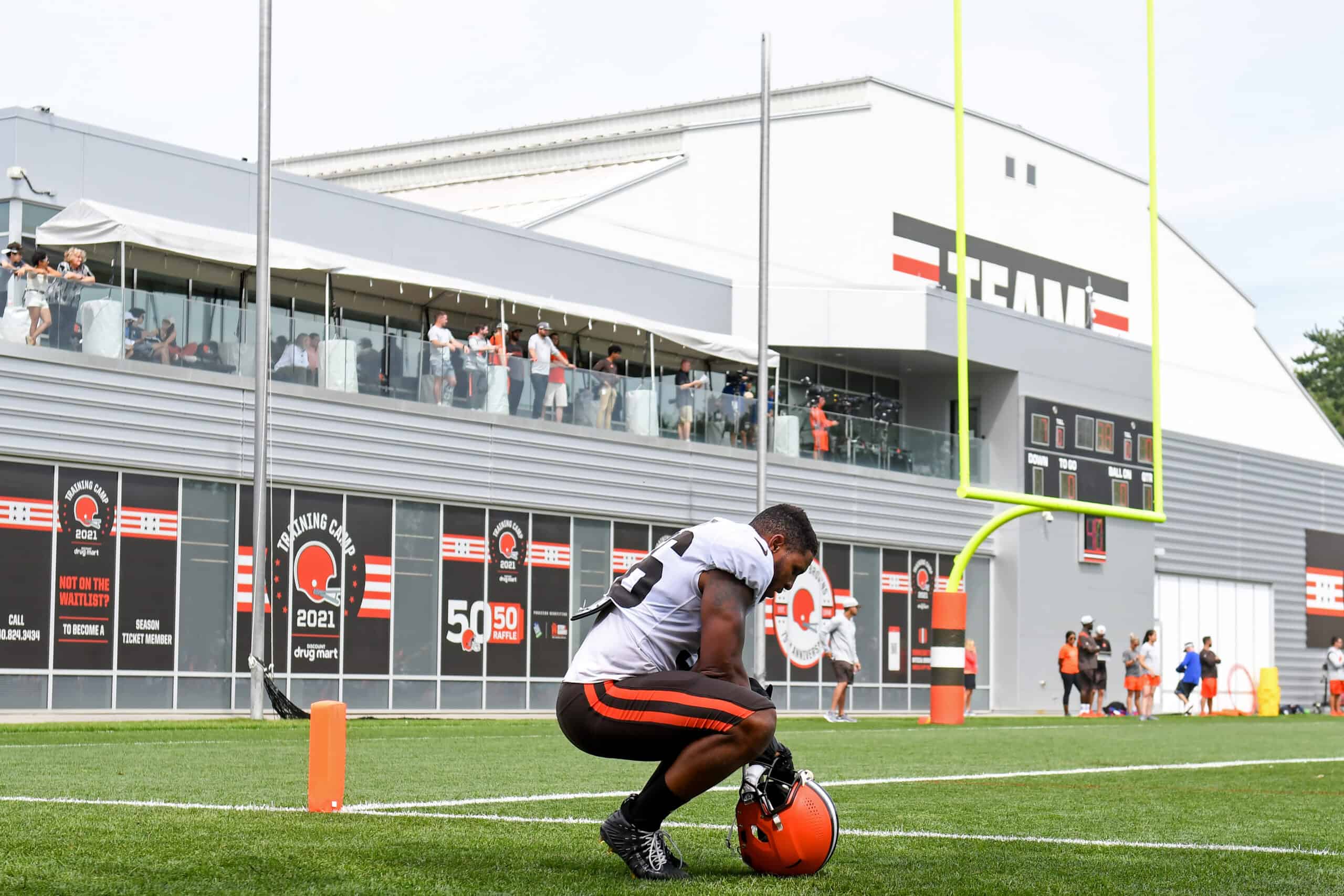 By all appearances, the Cleveland Browns have a major problem with its strength and conditioning program.
It is really hard from the outside to diagnose the actual problem.
This part of the organization seems to operate behind a curtain much like the Wizard of Oz.
Of course, football is a tough physical sport so injuries are a byproduct.
However, the Browns in 2021 have listed between 15 and 19 players on an injury report in any given week.
With 53 man roster, that is nearly 1/3 of the players who are injured beyond the bumps and bruises of a typical season.
Strength and conditioning cannot prevent all injuries, but it seems like they could and should prevent some of them.
Also, older players are more prone to injuries; however, the Browns have a relatively young roster so age has nothing to do with their issues.
Serious question @Browns – do we need a new strength and conditioning staff? We should not have this many injuries. Do we need to rethink our off-season and pregame prep? What is going on?!#Browns great W tonight! Loved watching @DernestJohnson2 all night

— Eric Turner (@emturner0704) October 22, 2021
What The Browns Strength And Conditioning Program Cannot Prevent?
Contact injuries like Baker Mayfield's shoulder injury cannot be prevented by the strength and conditioning program.
Bone injuries affecting knees and ankles are going to happen regardless of strength and conditioning.
What The Browns Strength And Conditioning Program Can Prevent?
@DustinFox37 Why isn't anyone talking about the #Browns strength and conditioning program/staff? All these soft tissue injuries. Gotta look at the program.

— LFG Hats (@let_ing) October 22, 2021
It seems like soft tissue injuries like hamstring and groin issues and even the ever present calf sprains should be minimized by adequate strength and conditioning.
The Browns have many of those injuries.
Perhaps the most mind-boggling is wide receiver Donovan Peoples-Jones who injured his groin so severely in a pregame warmups against the Denver Broncos that he missed the game and more playing time after that.
More troubling is that he reaggravated the injury in Wednesday's practice and may not be available to play against the Lions.
It was in fact a groin injury for Donovan Peoples-Jones. He was added to the injury report as limited. #Browns https://t.co/Ftq6dcedRR

— Camryn Justice (@camijustice) November 17, 2021
These are the types of injuries that seem as though they should be preventable.
Serious question for the @Browns front office:

Who is running our strength and conditioning program?

The sheer amount of lower-body injuries is staggering. There has to be enough data right now to change something.#Browns #AZvsCLE

— C4 (@c4men) October 17, 2021
Should The Strength And Conditioning Program Get All Of The Blame?
Just putting this out there, I'm wondering – Did the #Browns decide to save money on staff by getting rid of their Strength and Conditioning Coach?

— Bruce Hicks 🌊 (@oldst1x) October 28, 2021
Again, we do not know how these people are held accountable within the Browns organization.
Are these people assigned to work on flexibility, cardio, diet and nutrition with every player on the roster?
The other thing we don't know is how much the players are required to listen to these people.
Modern day football players have their own trainers whom they use in the offseason.
It is unclear if they use their people during the season at the expense of the in-house people.
Some have said the Browns' soft tissue injuries are related to players not playing any preseason snaps.
I am not sure if there is a connection there; the Browns were not the only team who chose that strategy.
Not Just A Browns Problem
Looking outside the Browns organization, there are other teams who may have problems also.
The New York Giants, San Francisco 49ers, and Carolina Panthers immediately come to mind.
Worst NFL strength and conditioning coaches of all time? Idk if that's a stretch either https://t.co/nrMbFF7Zz1

— dude (@killasiiwila) October 23, 2021
Maybe it is more of a league-wide problem, but this year it seems like the Browns are the flag bearer for worst injuries.