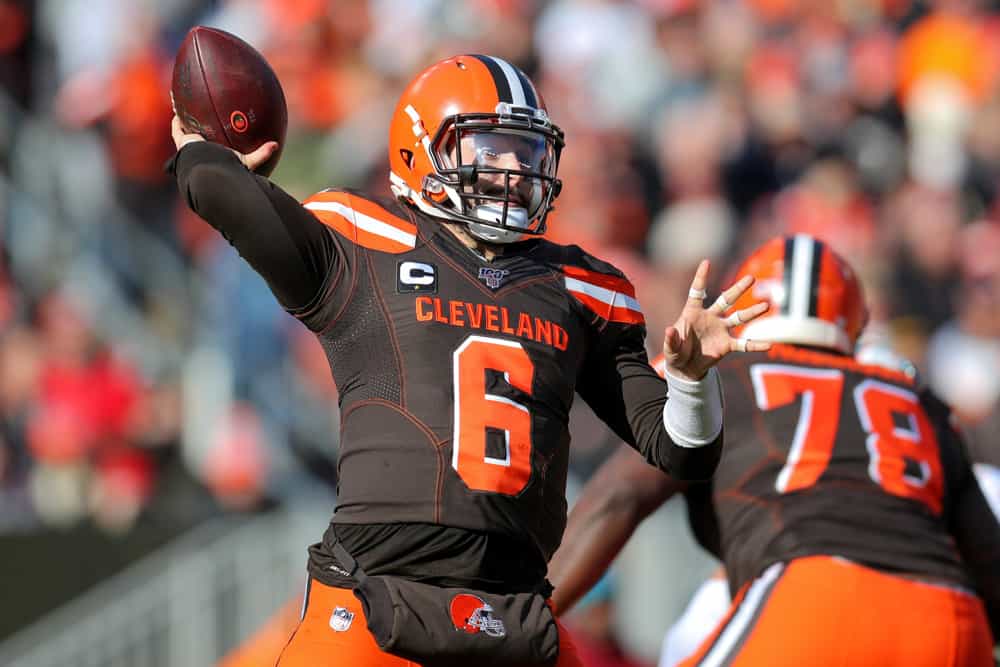 On Friday, the Cleveland Browns exercised the fifth option year of QB Baker Mayfield's contract.
That action keeps Mayfield with the Browns through the 2022 season; his 2022 salary will be $18.8 million.
With Mayfield in the QB1 spot for the next two seasons, it begs the question of when the Browns would begin negotiating a long-term deal with Mayfield.
Naturally, GM Andrew Berry did not want to entertain that question at a Friday pre-draft press conference.
Berry's Position
"I think you know me well enough that I'm not going to talk on that in this setting. I just don't think it's appropriate…But obviously you know both of those players are extension-eligible."
Berry is only as forthright as absolutely necessary to address a question.
When he was asked what impact there will be if Mayfield's 2018 first-round draft peers, specifically Lamar Jackson and Josh Allen, get extensions, Berry said:
"Across all player markets, yes certainly external factors may impact, to some degree what you do with players on your roster, but by and large, we'll make those decisions independently of what other teams do, . . . and we won't feel any pressure either way."
This makes sense.
Every team has different positional and situational needs, and of course, every team also has different financial constraints.
What Does This Mean?
One week from the NFL Draft, the fact that extension talks have not started with Baker Mayfield is really not a big deal.
The option has been exercised so the talks can happen later in the off-season.
Some point to Kansas City Chiefs QB Patrick Mahomes as an example.
His fifth-year option was exercised on April 30, 2020; he signed his massive ten-year deal on July 6, 2020.
No one knows if Mayfield's process will work like this.
Another point of reference with Mahomes is that he already restructured his contract in March 2021 which gave the Chiefs an extra $17 million in salary-cap space to work with.
Tom Brady isn't the only QB providing cap relief to his team; Patrick Mahomes is expected to do the same. Chiefs are expected to convert Mahomes' $21.7 million roster bonus to a signing bonus in the coming days, which would save KC $17 million against the cap, per league sources.

— Adam Schefter (@AdamSchefter) March 12, 2021
Dallas Cowboys QB Dak Prescott is another recent example.
He was not a first-round draft pick, so his was a four-year contract.
In the fifth year (2020), the Cowboys put the franchise tag on him and then negotiated with him after the season.
He got his huge payday after an injury-shortened season when he was franchise tagged.
Dak Prescott's contract numbers…

▫️ 4-years, $160M (max of $164M)
▫️ 2nd highest paid QB annually ($40M)
▫️ $66M signing bonus (most ever)
▫️ $75M in year one (most ever)
▫️ $126M guaranteed pic.twitter.com/BItwUaG8Gh

— NFL Stats (@NFL_Stats) March 9, 2021
The franchise tag is a tool the Browns traditionally use, but it seems like Berry is creative and open to anything.
Other Pending Free Agents
With Mayfield and Denzel Ward (whose fifth-year option was also exercised) in a Browns uniform through the 2022 season, the focus turns to two free agents at the end of the 2021 season.
Those are running back Nick Chubb and guard Wyatt Teller.
There is a lot of current business the Browns are handling so it doesn't really seem to be a big deal that long-term contract negotiations have not started.
Andrew Berry is not going to tell us when it will happen, but we can trust that the man definitely has a plan.
Obviously, the immediate priority is the 2021 NFL Draft starting on Thursday, April 29 and running through Saturday, May 1.