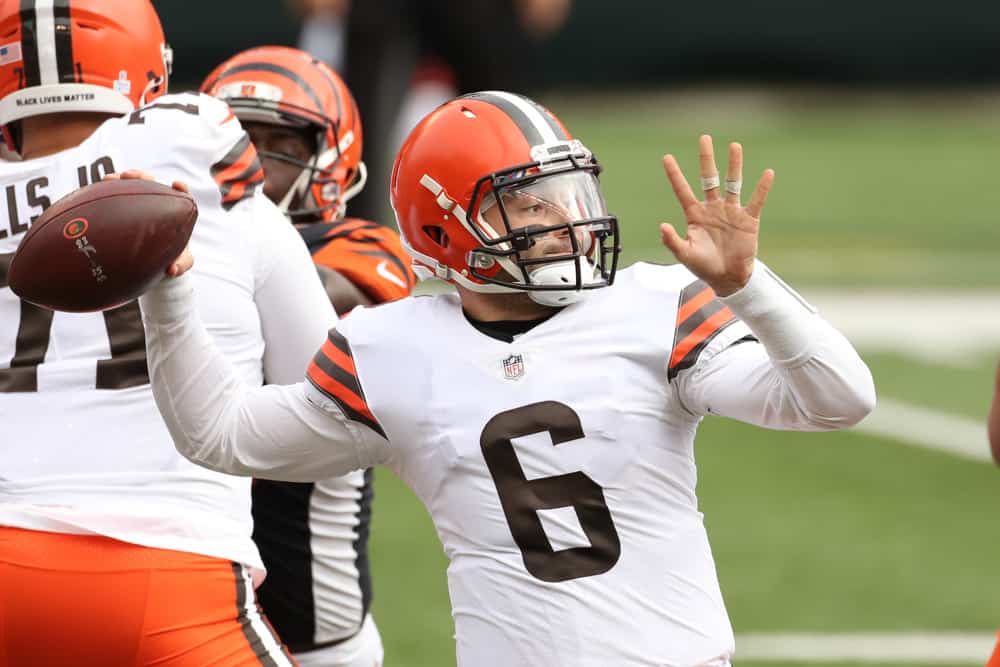 The Cleveland Browns made the expected decision of exercising the fifth year option of QB Baker Mayfield's rookie contract.
GM Andrew Berry did not wait until the league-mandated deadline of May 3 to make this decision; he did it on April 23.
Mayfield is now under contract with the Browns through the 2022 season; his fifth year option is valued at $18.858 million.
The Browns have exercised the fifth-year option on QB Baker Mayfield, per source

— Jake Trotter (@Jake_Trotter) April 23, 2021
Of course, Colin Cowherd could not let this event go unnoticed or not commented upon.
Cowherd's Take
As expected, Cowherd did not have much positive to say about it.
Describing the relationship between the Browns and Mayfield in the "dating" phase and not yet a marriage, Cowherd drew comparisons to previous quarterbacks who had their fifth-year options exercised in lieu of a long-term deal.
Those names include Blake Bortles, Jameis Winston, and Robert Griffin III, to name a few.
Cowherd is implying that the Browns still could easily move on from Baker after the 2022 season.
He also says more than once that the projected 2022 NFL draft class of quarterbacks is weak so essentially the Browns are better off with Baker than starting over again.
Then, Cowherd mentions the fact that the Chiefs hopped right over the fifth-year option and negotiated a long term deal with Patrick Mahomes.
Somehow that is supposed to mean that Mayfield is not worthy of being the Browns starting quarterback?
It would have been more shocking if the Browns negotiated a long-term deal than took the fifth-year option route.
GM Andrew Berry is among other things an excellent manager of money, evidenced by the Browns favorable financial position.
How Do The Browns Feel About Mayfield?
GM Andrew Berry alluded to the fact that they want to see Mayfield grow this season but admit that he has handled the challenges of his turbulent early years with the Browns pretty well.
Andrew Berry on Baker Mayfield: "He's endured an enormous amount of adversity in his young career just quite honestly with the changes that he's gone through with the coaching staffs, front offices, offensive systems, and he's risen above it all."#Browns

— Tom Withers (@twithersAP) March 3, 2021
Coach Stefanski has praised Mayfield's efforts through the 2020 season.
Baker Mayfield's 'We'll be back' should be Browns' offseason mantra.

"He fought like he always does. That's what he has done all season long steering this ship, being out in front and leading this group." — Stefanski on Mayfield#OUDNA | #Browns https://t.co/PmZf4X3Sfp

— Sooner Gridiron (@soonergridiron) January 19, 2021
No Comment On Baker Mayfield's Contract Extension
The media will make this newsworthy, but it really isn't newsworthy at this point in the 2021 offseason.
Andrew Berry was asked about a potential Baker Mayfield extension: "Not gonna talk on that…" #Browns pic.twitter.com/cVRp4LTvxg

— Jake Trotter (@Jake_Trotter) April 23, 2021
Baker Mayfield's contract extension is not the highest priority right now; that is precisely why his fifth-year option was exercised.
There are some critical decisions coming for this team, first and foremost, running back Nick Chubb could potentially be a free agent after the 2021 season.
He is a priority.
Then, there is guard Wyatt Teller who could also be a free agent at the end of the 2021 season.
This is like the chicken and egg argument.
The running game without Teller on the field is not as formidable, and everyone knows what Chubb can do.
Back To Cowherd
Colin Cowherd has admitted that the Browns are stacked this year.
He believes Baker can hinder them.
Cowherd has never been a Baker Mayfield fan so any rants of his directed at Mayfield are likely to have a negative spin.
Many wonder what he will say if Mayfield experiences extreme success in 2021 in leading the Browns to the postseason.
Hopefully, we find out.