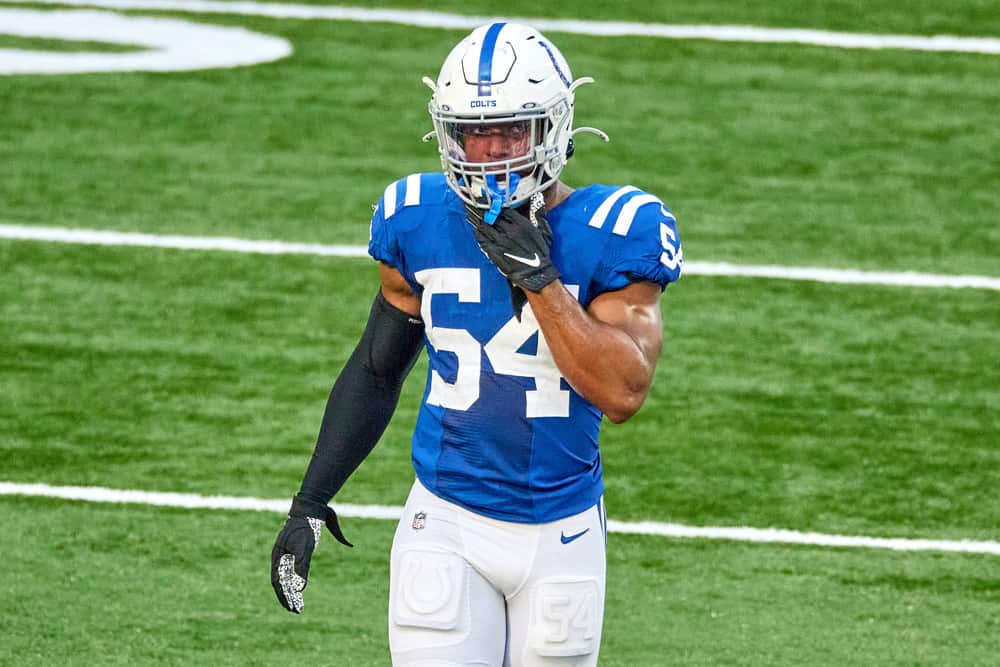 Cleveland Browns linebacker Anthony Walker is a new face in Berea.
Coming over from the Indianapolis Colts, many expected him to wear either the number 54 or number 50 since he wore both with the Colts.
However, the NFL has changed the rules so that defensive players can wear numbers below 50 so Walker is taking advantage of the new policy.
At minicamp, he was spotted with his new jersey, number 4, better known as former placekicker Phil Dawson's old number.
Appears Anthony Walker has changed to No. 4. Was 54. pic.twitter.com/eB2I8e4wvH

— Tom Withers (@twithersAP) June 17, 2021
Walker's Many Jersey Numbers
Anthony Walker is certainly not a superstitious player who needs to wear the same number.
He has been switching numbers throughout his career.
Besides wearing 50 and 54 in the NFL, he wore the number 18 for two seasons at Northwestern.
In his final season at Northwestern, Walker switched to number 1.
Walker's Role With The Browns
The Browns signed Walker to a one-year $3.5 million contract in the offseason.
Walker, 25, is in the prime of his career, and the Browns hope he continues the success he had with the Colts.
He is replacing B.J. Goodson whom the Browns chose not to re-sign after spending one season (2020) with the team.
Ex-Colts teammate Darius Leonard will miss his teammate and friend.
Leonard described Walker on Twitter as follows:
"Amazing player man, he does everything the right way! It sucks that he's leaving but Cleveland is gaining a Dawg! He's a great leader and he's going to lead your defense to be great! I will truly miss him! I give him a lot of credit for my success! I wouldn't be me without him!"
Walker comes to Cleveland with high goals.
#Browns LB Anthony Walker on @BullandFox on why he came to Cleveland: "I just wanted to be a small part of something that's bigger than myself. To be a No. 1 defense. To be a Super Bowl champion. I want to be part of something special like that."

— Keith Britton (@KeithBritton86) June 17, 2021
The Browns Revamped Defense
There are so many exciting players on the Browns 2021 revamped defense.
Anthony Walker is just one piece of the puzzle that defensive coordinator Joe Woods is weaving together to form a cohesive defensive unit.
That defense does not have time to get acclimated; its Week 1 test is against the Kansas City Chiefs, Patrick Mahomes, and the upgraded offensive line.
Are you ready for some Browns football?