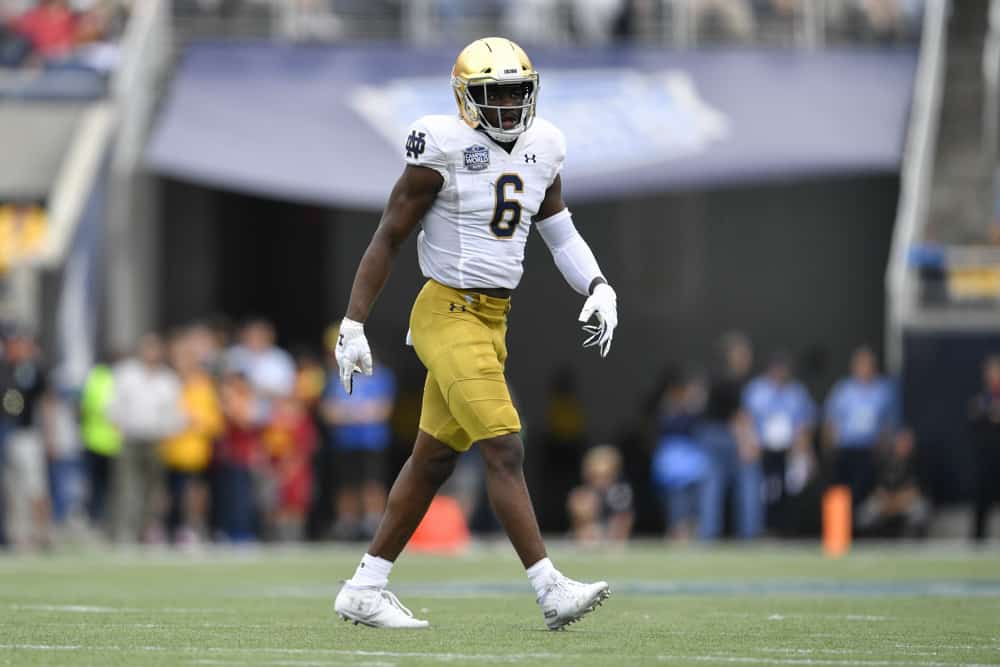 Cleveland Browns defensive coordinator Joe Woods is the beneficiary of GM Andrew Berry's hard work in the offseason.
With the goal of upgrading the defense, Berry used free agency and the draft to accomplish the task.
As a result, Woods has started the job of bringing together this talented group of rookies and veterans in minicamp this week.
#Browns JOK getting some instruction on final day of minicamp pic.twitter.com/7LkZutiKGO

— Fred Greetham (@FredGreetham) June 17, 2021
Woods was recently asked about the development of rookie, second round draft pick, Jeremiah Owusu-Koramoah (JOK), the linebacker from Notre Dame.
JOK Is A "Very Smart Player"
#Browns Joe Woods on Jeremiah Owusu Koramoah pic.twitter.com/aeNfrIf601

— Mary Kay Cabot (@MaryKayCabot) June 17, 2021
He had plenty of positive words to describe JOK.
"Very smart player, very athletic.  You can see the speed, the quickness, the change of direction.  He will be able to match up well against tight ends."
Words Of Caution
Woods tasks himself and the Browns staff with developing JOK appropriately.
He does not want to do too much too quickly because of JOK's abilities.
"The thing we have to be careful of, I have to be careful of, is you know you look at him, and you want to do a lot, but coming in as a rookie, you don't want to put him in situations, You want to gradually bring him along and as he gains experience, understands the defense more and more, then you will start to expand it. So there are some things drawn on the white board I want to do, but we probably won't get to all of them this year."
Elated To Draft Him
Browns snag JOK at FIFTY TWO?

OK, wrap the draft up, they win.

— Sam Monson (@PFF_Sam) May 1, 2021
From the time that JOK fell to the second round and the Browns were able to trade up from 59th to 52nd to get him, the organization has been nothing short of elated to have him on the roster.
He is perceived to be a first-round pick that dropped fortuitously into the Browns' hands.
JOK is just one of the exciting new players to watch in 2021 in Joe Woods' defense.