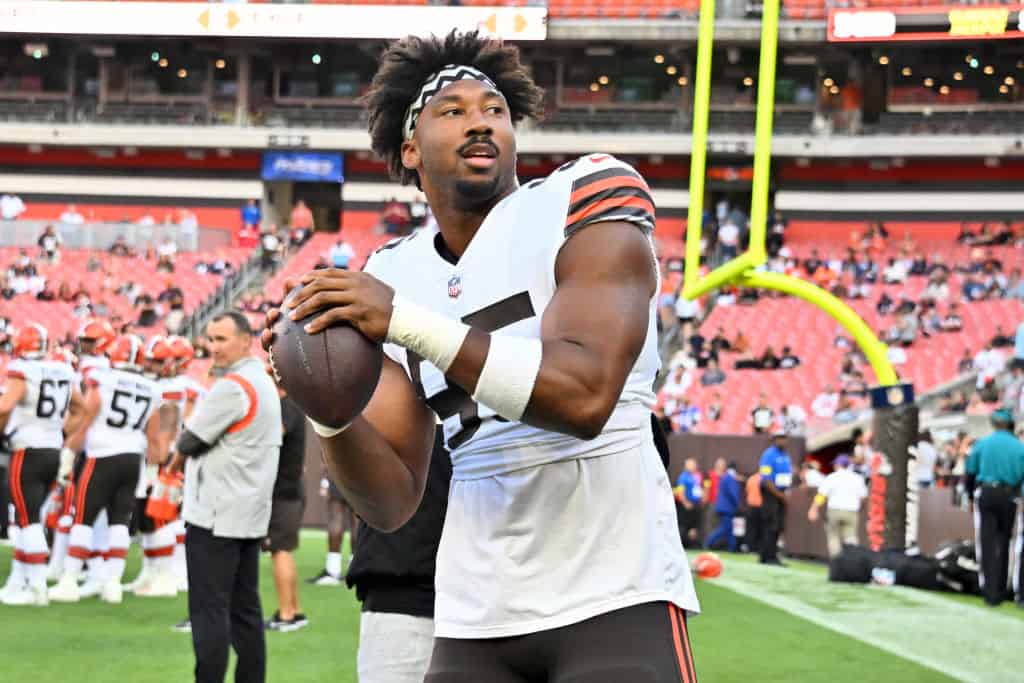 Just days after reworking Joel Bitonio's contract, Cleveland Browns GM Andrew Berry was at it again.
This time it was Myles Garrett shifting salary into various bonuses, clearing almost $13 million in cap space.
That leaves the Browns with $34 million under the 2023 salary cap, the most in the NFL.
The Browns have restructured the contract of DE Myles Garrett, creating $12.868M in 2023 cap space, per source.

Cleveland now has close to $34M in cap space, easily the most in the NFL.

— Field Yates (@FieldYates) August 21, 2023
Field Yates of ESPN broke the news on Monday.
Although the restructures open a lot of possibilities, there are no rumors of signings or trades making the rounds.
Even if fans get their way and get a new kicker, that wouldn't warrant the moves Berry made this week.
Amari Cooper now has the Browns' biggest salary cap hit at just under $24 million.
Neither Bitonio nor Garrett limited their restructures to this season.
They also allowed Berry to shift some future salaries into bonuses that will clear more space in 2024.
On top of that, Cleveland can roll over any unused portion of its 2023 cap to buffer next year's cap challenges.
Deshaun Watson accounts for $64 million of cap space each of the next few years.
Over the past few days the #Browns have opened up some salary cap space, restructuring the contracts of G Joel Bitonio and DE Myles Garrett, source confirms.

Bitonio's restructure creates around $7.8M in cap space. Garrett's restructure creates around $12.8M in cap space.

— Camryn Justice (@camijustice) August 21, 2023
And while he is likely to restructure each season, minimizing that need will help future dead cap concerns.
Cleveland has almost all of their core players locked up through 2024 or beyond.
But clearing 2024 cap space lets them entertain contract extensions for others before the end of this season.
And it could also set Berry up for another quick splash in free agency come March.