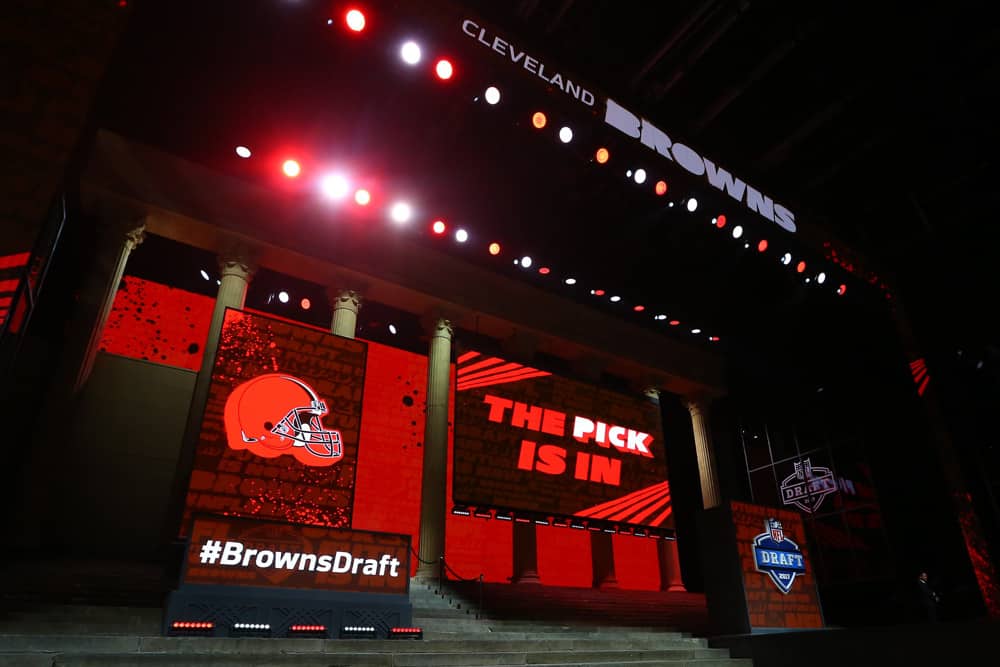 The Cleveland Browns ended their 2021 season on a high note, defeating division rival Cincinnati.
However, the victory was only the team's 8th of the year, far below preseason projections.
Injuries, Covid protocols, and inconsistent play doomed the Browns for most of the year.
Cleveland now enters the offseason with a number of positions that must be addressed for 2022.
Specifically, the organization needs to add help with receiver, interior defensive line, edge rusher, safety, interior offensive line, offensive tackle, linebacker, and quarterback.
Free agency may help with some of the positions.  However, the following is an early mock draft for the Browns.
The mock does not take into account any possible free-agent deals or trades.
Round 1, pick 13: Garret Wilson, WR, Ohio State
Odell Beckham Jr. was waived by the Browns in November after two and a half years with the team.
Quarterback Baker Mayfield's injuries and lack of consistency in 2021 didn't help Jarvis Landry or Donovan Peoples-Jones.
Landry is repeatedly discussed as possible trade bait for another veteran receiver and draft picks.
Any way you look at it, Cleveland must have receiver help.
Although, even if the Browns get help through free agency, they need a pro-ready pass catcher in the draft.
Wilson will provide the skill set needed to start on Day 1.
Big play to Garret Wilson! #gobucks #OhioState pic.twitter.com/jcYawQv39x

— Ryan Tabor (@lowliferyan) November 20, 2021
The 6'0, 188-pound receiver starred at Ohio State and set himself apart from the rest of the receiver class in 2021.
This season, Garret caught 70 passes for 1,058 yards and 12 touchdowns.
He is a natural at his position and loved universally by scouts.
Garret's strengths are his route running, hands, separation from defenders, yards after the catch, versatility, and football IQ.
He is projected to play in the slot in the NFL, but Garret's versatility means the Browns can put him anywhere and he will thrive.
Round 2, pick 44: Malik Willis, QB, Liberty
I planned on taking a defensive lineman with this pick.  However, I was shocked to see that Willis was still available.
I simply couldn't resist selecting him based on his past two seasons at Liberty University.
Willis is actually projected as a late first-round/early second-round pick.
He originally went to Auburn and spent 2017 and 2018 with the Tigers.  After receiving little playing time, he transferred to Liberty.
Finally seeing the field in 2020, Willis completed 64.2% of his passes for 2,260 yards, 20 touchdowns, and six interceptions, and rushed for 944 yards and 14 touchdowns.
In 2021, he completed 61.1% of his passes for 2,857 yards, 27 touchdowns, and 12 picks.
For those keeping an eye on the 2022 NFL Draft, Liberty QB Malik Willis is on your radar.

And it's impossible to throw this ball any better.

(🎥: @LibertyFootball) pic.twitter.com/GlYEM1EsQE

— Field Yates (@FieldYates) October 30, 2021
He added 878 rushing yards and 13 touchdowns on the ground.
The 6'1", 215 pound Willis is a dual-threat quarterback who helped lead the Flames to bowl victories the past two seasons.
He has a powerful arm and quick-twitch ability as a runner.
For all his strengths, Willis will need to work through a number of issues in the pros.
Namely, cut down on risk-taking, work on accuracy, and focus on mechanics.
Willis is an exciting prospect and should take the NFL by storm in a year or two.
With the Browns, he could learn from Mayfield for a year or challenge for the starter spot immediately.
Round 3, pick 78: John Ridgeway, IDL, Arkansas
Ridgeway is in the top 10 of almost all NFL talent evaluators for interior defensive linemen.
He initially played at Illinois State before transferring to Arkansas.
From his tackle position, Ridgeway made 39 total stops and two sacks in 2021.
In 2020, he deftly intercepted a pass at the line.
At 6'6" and 320 pounds, Ridgeway eats up space and occupies blockers.
He uses his hands well and gets into his man with plenty of power.  Ridgeway moves well and is flexible for someone his size.
Illinois State transfer John Ridgeway has been a huge reason Arkansas has owned the trenches this season. Lined up at NT here, he shows off his power and relentlessness for a sack. pic.twitter.com/XhtLj4nH0Q

— Bobby Football (@Rob__Paul) September 24, 2021
With his length, Ridgeway can easily shed blocks and make tackles.
He does stand a little too tall when engaged and can get thwarted in double teams.
Ridgeway will be a good rotational piece, especially if the Browns don't keep Malik McDowell.
Round 4, pick 103: Sam Williams, DE, Ole Miss
Cleveland may or may not keep Jadeveon Clowney, which means they will need to add edge help.
Williams is a powerful 6'3", 265 pound beast from Ole Miss.
His speed and quickness at the snap are obvious.
Highest pass rush grade among SEC EDs in Week 10:

1. Sam Williams, Ole Miss: 91.1 💥 pic.twitter.com/RfSyWvToqU

— PFF Draft (@PFF_College) November 11, 2021
After compiling 10 total sacks in 2019 and 2020 combined, Williams collected 12.5 sacks in 2021.
He also racked up 57 total tackles, four forced fumbles, and a fumble recovery in '21.
Williams' ability to defend the run has improved from 2020.  His ability to rush the quarterback is without question.
Scouts like that he is flexible and maintains good pad level for someone his size.
Sam Williams just threw a 300+ lb man to the ground like he was a tackling dummy.@TheRebelWalk #HYDR #OleMiss pic.twitter.com/qwhdlaS2Uw

— T.J. (@TJOxley1) November 28, 2020
Williams' hips and hands are solid and he uses a rip and push/pull to disengage from blockers.
Scouts note that Williams will need to be less tentative and react quicker to certain plays, such as misdirection.
Williams also had some off-the-field trouble in the summer of 2020.  However, since then, he has thrived.
Williams can work and learn from one of the best in Myles Garrett.
Assuming the Browns replace Clowney in free agency (if he isn't re-signed), Williams will add depth to the position.
Round 4, pick 114: Bubba Bolden, S, Miami
Browns' safety Ronnie Harrison didn't exactly set the world on fire in 2021.
If he isn't re-signed, the team will need more depth in the position.
Bolden is a 6'2", 202-pound safety from the University of Miami.
He initially went to USC out of high school, got in trouble at a party, and left the school for a fresh start.
For the past two years, Bolden has been a defensive linchpin for the Hurricanes.
In 2020, he made 74 total tackles, one sack, forced four fumbles, three passes defended, and had an interception.
This past season, Bolden had 42 total tackles, one sack, and two passes defended.
Bolden is quick and will shift gears quickly to track down the ball.
Thank you, senior Bubba Bolden!

Forever a Miami Hurricane. pic.twitter.com/I2zVsRqTc2

— GO 'CANES! (@83_87_89_91_01) November 18, 2021
He defends against the pass well and plugs holes in the run game.
Bolden is also agile and is a good communicator in the secondary.
Scouts note that Bolden will need to be more aggressive in his tackling and must get better at shedding blocks.
Working with John Johnson and Grant Delpit will only enhance Bolden's game.
Round 5, pick 153: Brian Asamoah, LB, Oklahoma
There are question marks regarding whether the Browns will retain Anthony Walker, Jacob Phillips, or Malcolm Smith.
Should the team release one or two of their linebackers, Asamoah will help lessen the blow.
He is a three-year contributor and two-year starter for the Sooners.
The 6'1", 228 pound Asamoah had 66 total tackles, two sacks, one forced fumble, and a pick in 2020.
In 2021, he had 80 total tackles, one sack, and two forced fumbles.
Asamoah was one of the best athletes on the Oklahoma roster during his collegiate career.
He is fast, agile, and athletic.
Brian Asamoah is having a great day for Oklahoma! Uses his range and physicality to generate this turnover.

Another high-upside LB in the 2022 NFL Draft.

— PFN Draft (@PFNDraft) November 13, 2021
Asamoah thrives in straight-ahead contact but can move laterally with ease.
He can chase down the ball carrier from behind and does well in zone coverage.
Asamoah has a strong upper body which translates to good, solid tackling.
From his spot, Asamoah watches the quarterback's eyes well and takes good angles to track the ball.
Scouts note that Asamoah will have to work on keeping his feet active and work on shedding blocks.
He also needs to work on his lower body strength and balance.
Overall, this is a good pick for this position.  Asamoah will add solid depth to Cleveland's linebacker room.
Round 6, pick 192: Matt Waletzko, OT, North Dakota 
The offensive tackle spot was an issue for the Browns this season.
In Week 1, Jedrick Wills injured his ankle and was replaced by Chris Hubbard.
Hubbard, in turn, missed the rest of the season with a triceps injury.
Then, the Browns lost right tackle Jack Conklin in November for the remainder of the season with a patella tendon tear.
Blake Hance, Michael Dunn, and James Hudson filled in when and where needed in 2021.
However, Hudson struggled mightily against NFL talent.
The 6'7", 305 pound Waletzko will help add depth to the tackle position.
He has started games in each of the four years he played at North Dakota.
7 FCS Players Accepted Invitations To The 2022 @seniorbowl.
Braxton Jones, Southern Utah OL
Trevor Penning, Northern Iowa OL
Cole Strange, UT-Chattanooga OL
Matt Waletzko, North Dakota OL
Nick Zakelj, Fordham OL
Troy Andersen, Montana State LB
Zyon McCollum, Sam Houston DB pic.twitter.com/OKTIv5j2ts

— LIGHT ON S🅿️ORTS (@LightOnSports) January 4, 2022
Waletzko has a good, long frame that enables him to reach opponents quickly.
He is a solid athlete who excels in pass protection and doesn't get beat often.
In run blocking, Waletzko is quick and explosive at the snap.  He overpowers his man and can get to the second level quickly.
Scouts love Waletzko's hand technique and recovery from initial engagement with his man.
Those same scouts also note that Waletzko will need to add weight to his tall frame.
He is a tad light, which can lead to him getting forced off his block by larger opponents.
Waletzko will also have to get quicker feet to contain blocks.
The offensive line group for the Browns is solid and Waletzko will have a great teacher in coach Bill Callahan.
Round 7, pick 219: Nick Ford, IOL, Utah
Speaking of depth along the offensive line, Hubbard is an unrestricted free agent.  He may or may not return in 2022.
With multiple injuries along the Cleveland line this past season and the potential loss of Hubbard, the Browns need versatile backups.
Ford is such a player.
He is 6'5", 315 pounds, and has played, and started, at every offensive line position during his career at Utah.
Ford is also a two-time All-Pac 12 athlete who made First-team All-Conference in 2020.
#Pac12FB Offensive Lineman of the Week, presented by @Nextiva : Nick Ford.

Full release ➡️ https://t.co/z8lzRTI9xY@Utah_Football | #GoUtes pic.twitter.com/YgylTjKUYP

— Pac-12 Conference (@pac12) December 21, 2020
Ford is good as a run blocker with a non-stop motor and a willingness to engage with opponents.
He can also pull for blocks efficiently and pass blocks well.
Scouts note that his hands need to be quicker and his pad level and body positioning need work.
They also point out that Ford's versatility in college means he may need to practice and develop a specified position (or two) in the pros.
The addition of Waletzko and Ford will ensure that the Browns line continues its dominance in the NFL.