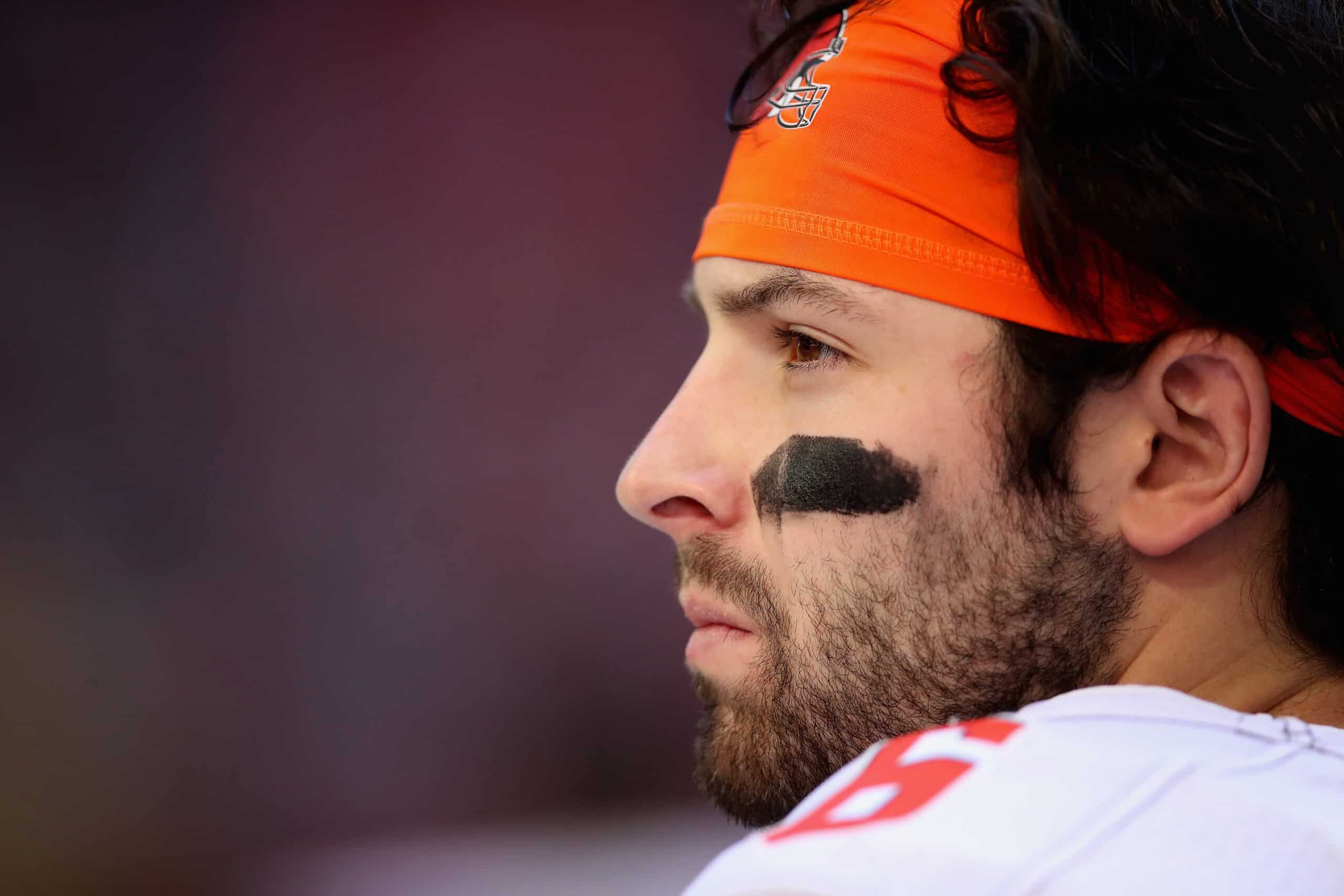 The scrutiny has always been on Cleveland Browns quarterback Baker Mayfield.
The Heisman Trophy winner, two-time walk on (Texas Tech and University of Oklahoma), and first overall pick of the 2018 NFL Draft has learned to thrive from it.
He uses it as a motivation to work hard to be the best possible leader for the Browns, an attribute that Coach Stefanski admires about Mayfield.
Kevin Stefanski on @KenCarmanShow on what separates Baker Mayfield:,

"He's so competitive. He's a gym rat. He works his butt off. I think, as you know about Baker, he hasn't been given a lot of things. He has to go earn it. That's what I appreciate most. He wants to earn it." pic.twitter.com/6YlvI2MTlC

— Nick Karns (@karnsies817) August 18, 2021
Mayfield recently spoke with Nate Ulrich of the Akron Beacon-Journal.
Here are some of the takeaways from the interview on how Mayfield deals with the scrutiny, pressure, detractors, and the limelight that is finding its way to the 2021 Cleveland Browns team.
1. Maintains Self Confidence
While some perceive Mayfield as cocky, he has confidence in his abilities.
He has to; otherwise, he would not accomplish anything.
Mayfield described it best when he said:
"I don't care what the doubters say. You have to have self-confidence. You have to trust the people in your corner. It goes along with setting expectations. You set your own. You live up to that standard. You have to hold yourself accountable to that every day. That's the key to it."
2. Limits The Outside Noise 
Mayfield is only human so he does hear the outside criticism, but he does not let it affect his training and preparation.
His focus is on doing his job; that is what is within his control.
"I'm able to internalize that and realize I have to have an edge every single day to be the best version of me for these guys and be a leader of this franchise, but at the same time, do my job first."
3. Measures Himself Against His Own Expectations
Mayfield discussed how this applies to the Browns team when interviewed by Charles Barkley during July 6's Celebrity Match golf tournament.
His words sounded eerily similar to things Coach Stefanski would say.
#Browns QB Baker Mayfield spoke on The Match broadcast about the teams chemistry and expectations this season: pic.twitter.com/8aRqb5iVWC

— Baillie Burmaster (@bayburmTV) July 7, 2021
Mayfield Sees Consistent Coaching As A Big Bonus For 2021
Mayfield talked about the ability to work on more intricate things because the personnel and the playbook are the same.
This is the first time in his NFL career he enters the second season with the same coaching staff.
He admitted that this has already helped with the 2021 season preparations.
"That makes life a whole lot easier right now.  We're trying things that are pretty challenging offensively — how we want to run routes, certain looks and formationally how we're setting things up. So we're trying to challenge ourselves each practice. Our guys are handling it correctly, and we're just getting better."
"Right now, we're overemphasizing communication on certain looks and adapting on the fly, taking care of the ball and no pre-snap penalties. That's the biggest thing going in.  [The key to] knocking the rust off the early weeks of the regular season is don't beat yourself. That's the important part, and we're focusing on that right now."
#Browns Kevin Stefanski announces that Baker Mayfield and the majority of the starters will rest again in the 2nd preseason game, Sunday vs. #Giants at FirstEnergy Stadium.

— Mary Kay Cabot (@MaryKayCabot) August 20, 2021
It is unclear if we will see Mayfield before Week 1 against the Kansas City Chiefs, but rest assured he will be ready to go on September 12.