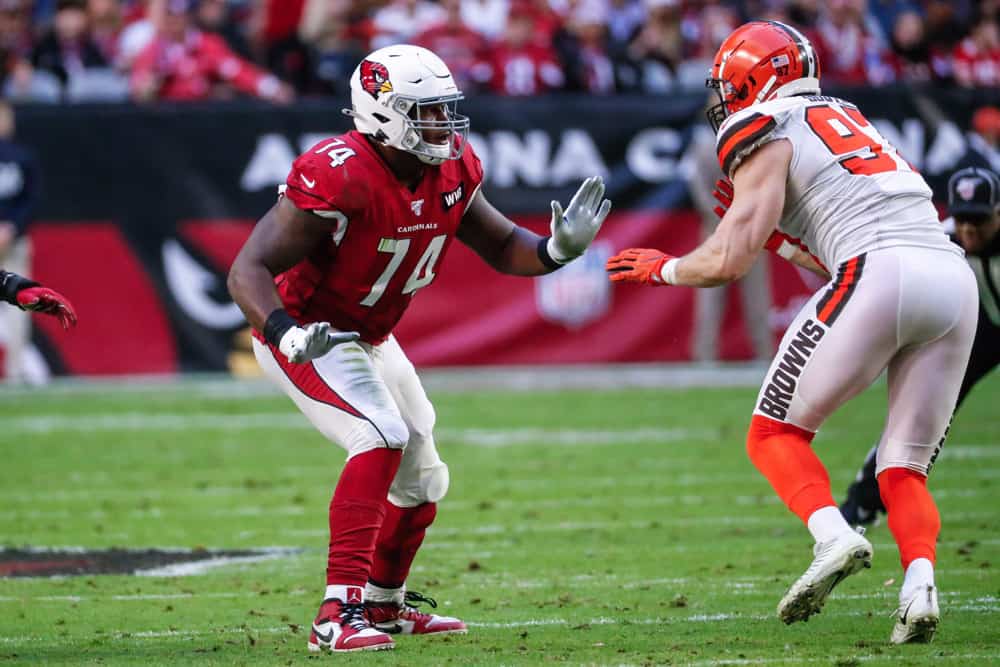 Another defensive end was signed by the Cleveland Browns this week in addition to free agent Jadeveon Clowney.
Porter Gustin is returning to the Browns in 2021.
The 24-year-old Gustin has been with the Browns 2019.
Congratulations to our newest #TeamDEC veteran client @PorterGustin on signing his tender with @Browns pic.twitter.com/VhdUtSuInq

— DEC Management (@davidcanter) April 15, 2021
Porter Gustin
Gustin is 6'5″ and weighs 257 pounds.
He was an UDFA in 2019 that was signed by the New Orleans Saints.
The Browns picked him up in 2019 after the Saints waived him.
He spent some time on the Browns practice squad before being promoted to the active roster in 2019.
Gustin appeared in 6 games in 2019 and recorded 7 solo tackles.
In 2020, Gustin played in 14 regular-season games and both playoff games.
Despite spending time on the COVID-19 list, Gustin had 13 solo tackles, 17 assists, and 2 quarterback hits in 2020.
Gustin made the highlight reel in the playoffs too.
He intercepted a Ben Roethlisberger pass in the wildcard playoff game for his first career NFL interception.
BEAUTIFUL BIG MAN INT 🔥 @PorterGustin #WeWantMore

📺: #CLEvsPIT on NBC
📱: NFL app // Yahoo Sports app: https://t.co/1RAy8atRT2 pic.twitter.com/WapcJYgmeh

— NFL (@NFL) January 11, 2021
Coach Stefanski On Porter Gustin
Stefanski has been a fan of Gustin since the beginning of last season.
"With Porter you know you are going to get an honest day's work. Effort is there from whistle the whistle, snap to whistle, I should say. He is a very diligent worker. He is going to be where he is supposed to be…He just kept making plays every chance he was out there, and I think it is starting to show up a little bit in these games."
Gustin's Contract
Porter Gustin was an exclusive rights free agent.
Exclusive rights free agents have two or fewer seasons with the team and an expired contract; both conditions applied to Porter Gustin.
Because Porter Gustin was an exclusive rights free agent, the Browns were only required to offer a one-year contract at the league minimum salary.
The NFL established the league minimum salary for 2021 to be $660,000.
Cleveland Browns Defensive Ends
The Browns keep adding depth to the defensive end position.
This was a necessity as Myles Garrett cannot do it alone.
Signing Jadeveon Clowney and Takk McKinley and keeping Gustin makes the Browns defensive ends more formidable in 2021 than in previous years.
Sundays this fall are going to be fun for Browns fans with all of this talent on the roster.