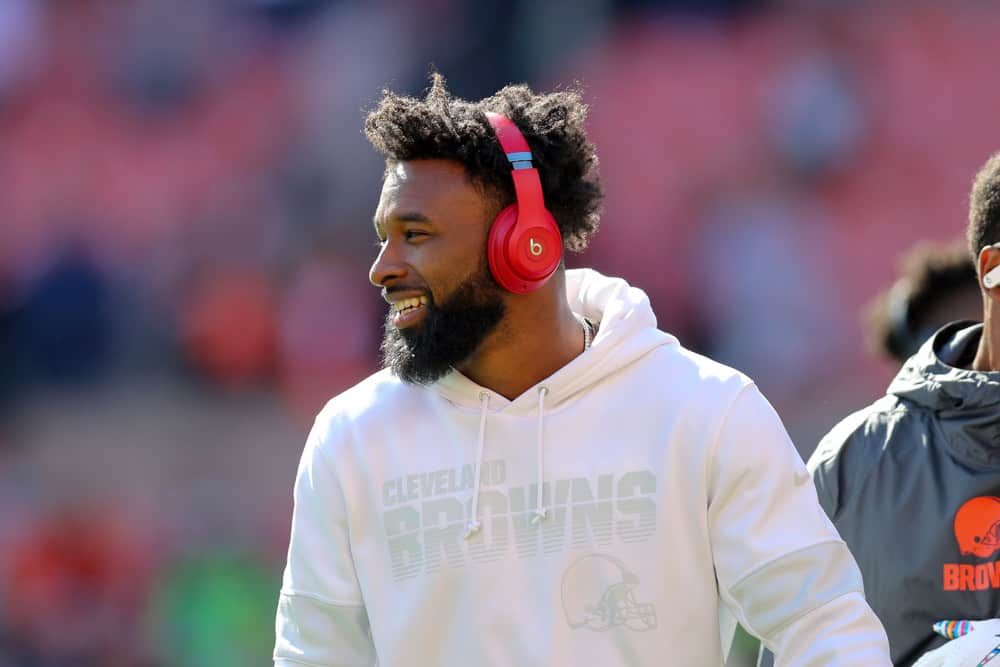 Cleveland Browns wide receiver Jarvis Landry said he plans to start a podcast.
Landry, 27, tweeted Monday night, "I'm going to start my own podcast," with a wolf emoji.
The Browns' receiver suggested on his Instagram story that the topics could be related to personal improvement.
"Let's grow together, let's heal together, let's uplift each other," Landry wrote in a post.
I'm going to start my own podcast🐺

— Jarvis Juice Landry (@God_Son80) February 10, 2020
In a separate post on his Instagram story, Landry wrote, "Podcast!!! Alert 🚨🚨🚨 I want all my fans to send to questions to this email ⬇️ ⬇️ ⬇️ the [email protected]."
Landry also plans to post a call-in number when it gets closer to the first episode comes out.
No word yet on when the podcast will come out, what it will be called or the specific subject topic.
"This is going to be a great one," quarterback Baker Mayfield tweeted in reply to Landry's tweet.
Landry replied, "My boy you know you got a chair in here."
My boy you know you got a chair in here

— Jarvis Juice Landry (@God_Son80) February 11, 2020
Global Head of Gaming and Virtual Reality at YouTube Ryan Wyatt tweeted, "Ninja and I are coming on for a state of gaming review with you, Juice."
Wyatt is from Canton, Ohio, although he currently lives in Los Angeles.
"Ninja," whose real name is Tyler Blevins, replied with "Confirmed."
Blevins is an American streamer, YouTuber, professional gamer and internet personality.
Confirmed

— Ninja (@Ninja) February 11, 2020
Former NFL defensive tackle Anthony "Spice" Adams replied, "Do it!!!!"
Do it!!!!

— ANTHONY ADAMS (@spiceadams) February 11, 2020
Earlier this month on Complex Sports' "Load Management" podcast, Landry talked about when he knew the Browns' 2019 season was going downhill.
Landry specifically mentioned the losses to the Denver Broncos on Nov. 3, the Pittsburgh Steelers on Dec. 1, and the Arizona Cardinals on Dec. 15.
"I'll say this, the first 20 plays of a game are scripted calls," Landry said. "The first 20 plays of the game are calls that come from a team's tendencies of how they approach the game in the first quarter or the first drive, so it can be predictable, what the defense is going to do. After that, it's just kind of off of play-calling. Obviously, it comes down to execution, it comes down to making the throw, making the catches, making the blocks, but I just don't know what the plan was [after the first 15 plays]."
The Browns extended their playoff drought to 17 seasons after posting a 6-10 record in 2019.
The team fired head coach Freddie Kitchens at the end of the season.
Jarvis Landry knew when the Browns' season was going downhill.

"I just don't know after those 15 plays, what the plan was."

Listen🎧: https://t.co/ec3udlVTEy pic.twitter.com/qNQL5p5xf4

— Complex Sports (@ComplexSports) February 4, 2020
Landry is coming off his fifth consecutive Pro Bowl appearance after posting 83 receptions on 138 targets for 1,174 receiving yards and six touchdowns.
His impressive on-field production came even despite playing the 2019 season with a hip injury.
Last month, Landry helped the AFC claim victory in the annual Pro Bowl Skills challenge.
Headed into his seventh season, Landry is due to make an average of $15.1 million for the next three years.
Landry is not due to become an unrestricted free agent until the 2023 season.