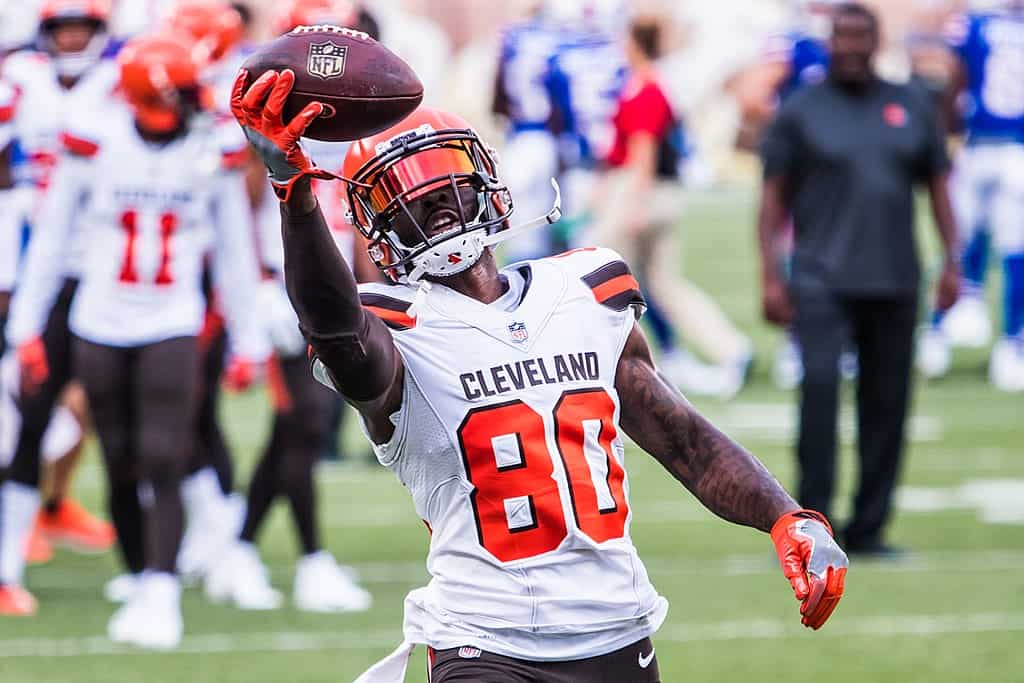 Cleveland Browns' teammates Jarvis Landry and Nick Chubb helped the AFC claim victory in the annual Pro Bowl Skills Challenge Thursday.
The competition features five events alleged to replicate various football skills.
Each division puts forth ten of their most skilled players to bring the title home.
If a Most Valuable Player was named, it would have been Landry.
Nah Jarvis is a first ballot HOFer based of his skills challenge performance today

— damn that's crazy (@vintagesole) January 24, 2020
He had the top "best hands" performance and outscored teammate and presumed 2019 MVP, Lamar Jackson, in the precision passing challenge.
But the AFC didn't win the title until Landry caught a rocket from the Cowboys' Jaylon Smith in the deciding dodgeball game.
Here is a challenge-by-challenge breakdown of how the Browns helped win the contest for the AFC.
Precision Passing
Lamar Jackson and Deshaun Watson didn't bring their "A" game to the first contest.
Two quarterbacks and one non-quarterback were tasked with hitting as many receiving targets as possible in a 60-second window.
The NFC's Kirk Cousins (18) and Russell Wilson (19) led their side to an overwhelming 43-17 victory.
It was humiliating for the AFC quarterbacks.
But at least Watson wasn't outscored by the non-quarterback member of the team.
Pro Bowl skills challenge precision passing scores
Lamar Jackson: 2
Kirk Cousins: 18
Jarvis Landry: 6
That is all.

— Jake Donavan (@Jdon_12) January 24, 2020
Jarvis Landry tallied 6 points compared to Jackson's 2 points.
Gridiron Gauntlet
The AFC charged right back in the next competition.
The Gridiron Gauntlet is a relay race requiring participants to move a sled, recover fumbles, push tackling dummies, race over walls and under tables, and finally, sprint through a foam block wall to the finish.
The NFC fell hopelessly behind when a loose ball squirted through the legs of Shaq Barrett.
They lost more time in the tackling dummies, but it was the Steelers' Minkah Fitzpatrick who sealed the deal.
He coasted over the walls and under the tables like a gust of wind.
Cleveland's Nick Chubb could have walked to the finish, but he chose to sprint and take a flying leap through the blocks that secured the victory.
.@NickChubb21 smashing through the finish line to get Team AFC the W!!!! #Browns | #ProBowlSkills

— BrownsAccess (@BrownsAccess) January 24, 2020
Best Hands
Landry rose to the occasion in the Best Hands competition.
The competition consists of a series of catching stations where players have to complete a certain type of catch before they can move on.
First, one receiver runs the course and tags the second to run it to its diving conclusion.
Cordarelle Patterson and Cousins needed almost 30 seconds to complete an over-the-shoulder grab.
Davante Adams missed five passes, including the diving catch.
When Mark Andrews and Jackson needed several extra throws, NFC hopes rose.
But Watson wasted only one pass and Landry missed only one catch in a smooth final leg.
Jarvis Landry owns the Pro Bowl skills challenge

— Jakob Katz (@KatzWriteSports) January 24, 2020
Thread the Needle
In this new addition to the Skills Challenge, two defensive backs try to prevent passers from hitting targets.
None of the Cleveland Browns were involved.
Minkah Fitzpatrick and Stephon Gilmore picked off Wilson early.
But Wilson came back strong, zipping throws past the duo to rack up 16 points.
Cousins added 12 points.
The NFC couldn't intercept any passes, but Jackson and Watson only scored a combined 21 points.
That meant the title would come down to the final event.
Pro Bowl Dodge Ball
Dodge Ball might not have much NFL skill involved, but it is definitely the fans' favorite event.
Every player is involved.
Players hit with a thrown ball are out of the game.
If someone catches a ball thrown at them, the passer is out.
Last team with a man standing wins.
It came down to the last of the best-of-three game.
The last two men standing for the AFC were Jarvis Landry and Nick Chubb.
Why is Jarvis Landry so good in the pro bowl skills challenge?

— Caiden🧊 (@Dks_mouthguard) January 24, 2020
They faced four NFC players.
Time for a Little Strategy
Landry decided to rely on his hands instead of trying to hit a competitor with a throw.
Two NFC players teamed up against Landry, throwing a pair of balls in rapid succession.
Landry caught both of them to even up the odds… but for just a second.
Jaylon Smith caught a throw from Chubb, leaving Landry alone against Davante Adams and Smith.
Adams was called for crossing the midline, leaving Smith alone.
He went on the offensive with a point-blank beeline throw at Landry's head.
Landry had two balls in his hands.
He adeptly dropped them both as Smith wound up.
When Landry got his hands back up to grab his throw, Smith let out a disbelieving scream.
UNREAL 2 MINUTES OF DODGEBALL FROM JARVIS LANDRY 😱@God_Son80 put the team on his back.

(via @NFL)pic.twitter.com/qb3V2LwvlH

— ESPN (@espn) January 24, 2020
It was an impossible catch.
One Browns fans are used to seeing Landry make.
What's next?
Fans get to enjoy the NFL Fan Experience over the next couple of days, along with the flag football tournament and other events.
Landry, Chubb, and Joel Bitonio have to get down to some football business.
Both teams will hold practice time in seclusion on Friday.
Fans can watch one hour of each team's practice on Saturday morning.
Those of us at home can watch the AFC and NFC face off in the 2020 Pro Bowl game at 3:00 pm ET Sunday.
The game will be simulcast on ABC-TV and Disney HD.
Huge win for the Browns in the pro bowl skills challenge! Never too early to start building momentum for next year

— Kyle Burson (@Kyle_Burson19) January 24, 2020