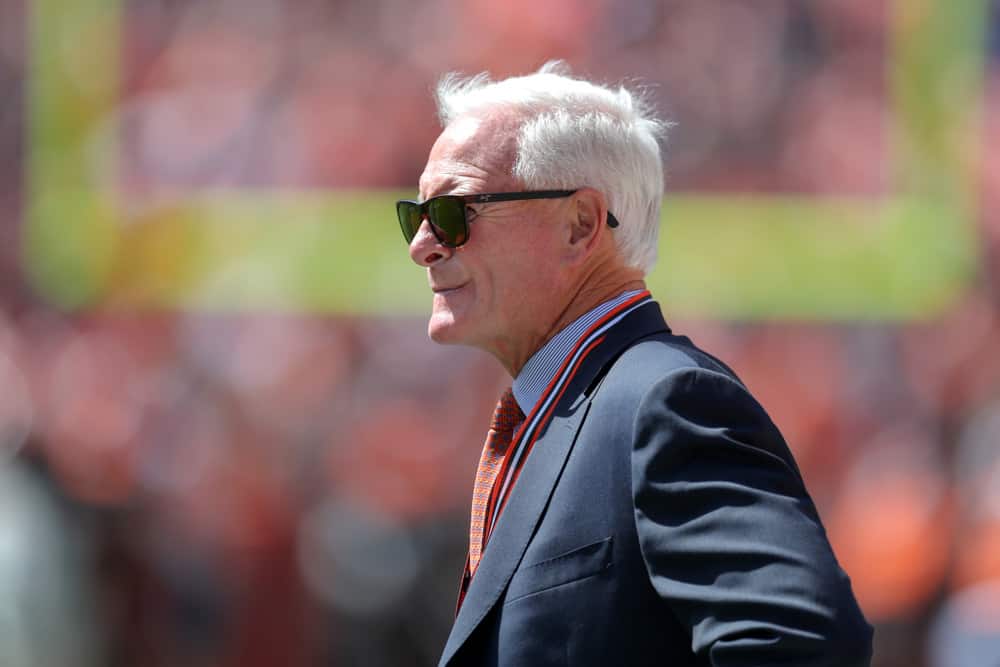 It's now been 12 days since the Browns fired Freddie Kitchens, and 5 days now that the Browns have been the only team remaining in the NFL without a head coach.
And it's still tough to see whether a decision will be coming today or not.
Yesterday the Browns completed their final interview of 8 coaches.
Those coaches include the following:
Patriots OC Josh McDaniels, Vikings OC Kevin Stefanski, 49ers DC Robert Saleh, Bills OC Brian Daboll, Ravens OC Greg Roman, Chiefs OC Eric Bienemy, and Eagles DC Jim Schwartz.  Former Packers Coach Mike McCarthy also interviewed, but has been hired by the Dallas Cowboys.
It seems that the search has been narrowed down to three favorites and a dark horse.
The favorites are McDaniels, Stefanski, and Saleh, while Daboll seems to have made quite an impression and has upped his name on the list as well.
Most Browns fans seem to want McDaniels as the HC, but after yesterday's 7-8 hour interview it looks like the possibility for that to be that case is decreasing.
Several coaches that were rumored to be joining McDaniels' staff in Cleveland have now been hired elsewhere.
That includes the Rams LB's Coach Brandon Staley being promoted to their DC and former Redskins OC Kevin O'Connell joining the Rams as well.
If #Browns had hired Josh sooner he would have most likely ended up in Cleveland. The longer they wait the more coaches they are going to miss out on. https://t.co/YBqjmfFXjE

— Dustin Fox (@DustinFox37) January 11, 2020

Both Staley and O'Connell were the favorites to be McDaniels' coordinators, so with them now out of the picture, that may be a sign the Browns are zeroing in on a different coach.
Building off that, NFL Insider Ian Rapoport tweeted a video this morning in which he implied the Browns may announce tonight depending on what happens in the Divisional Playoff games.
From @NFLGameDay: The #Browns coaching search is the last standing, but we should know more today… pic.twitter.com/XIxmabr42G

— Ian Rapoport (@RapSheet) January 11, 2020
Stefanski's Vikings play Saleh's 49ers, and depending on the outcome of that game, the Browns could announce the hire of either of those coaches this evening.
It is important to note that teams cannot officially announce their hire if the coach's season has not ended.
For example, if the 49ers beat the Vikings, the Browns could announce they've hired Stefanski, but not Saleh, and vise versa.
Given that the Browns are going to wait until these Divisional games are complete, that tells me that McDaniels may not be their favorite anymore.
If McDaniels was the hire, it would be announced as soon as they knew so that he can get his staff built as soon as possible.
Although, I wouldn't put this past the Haslam's to trip themselves up like that.
If I was a betting man, which I am NOT (just in case my family's reading this), I would wager that Stefanski is going to be the guy this time around.
Last season, he finished runner up to the failed Freddie Kitchens, and was Paul DePodesta's pick for the job.
And with Jimmy Haslam insisting that DePodesta was in charge of running the search, this further hints that Stefanski is the guy.
If it was McDaniels, DePodesta would likely be out of the picture having his guy in Stefanski nixed two years in a row.
Bottom line: Get ready, folks. It's going to be a pretty crazy 24-48 hours.