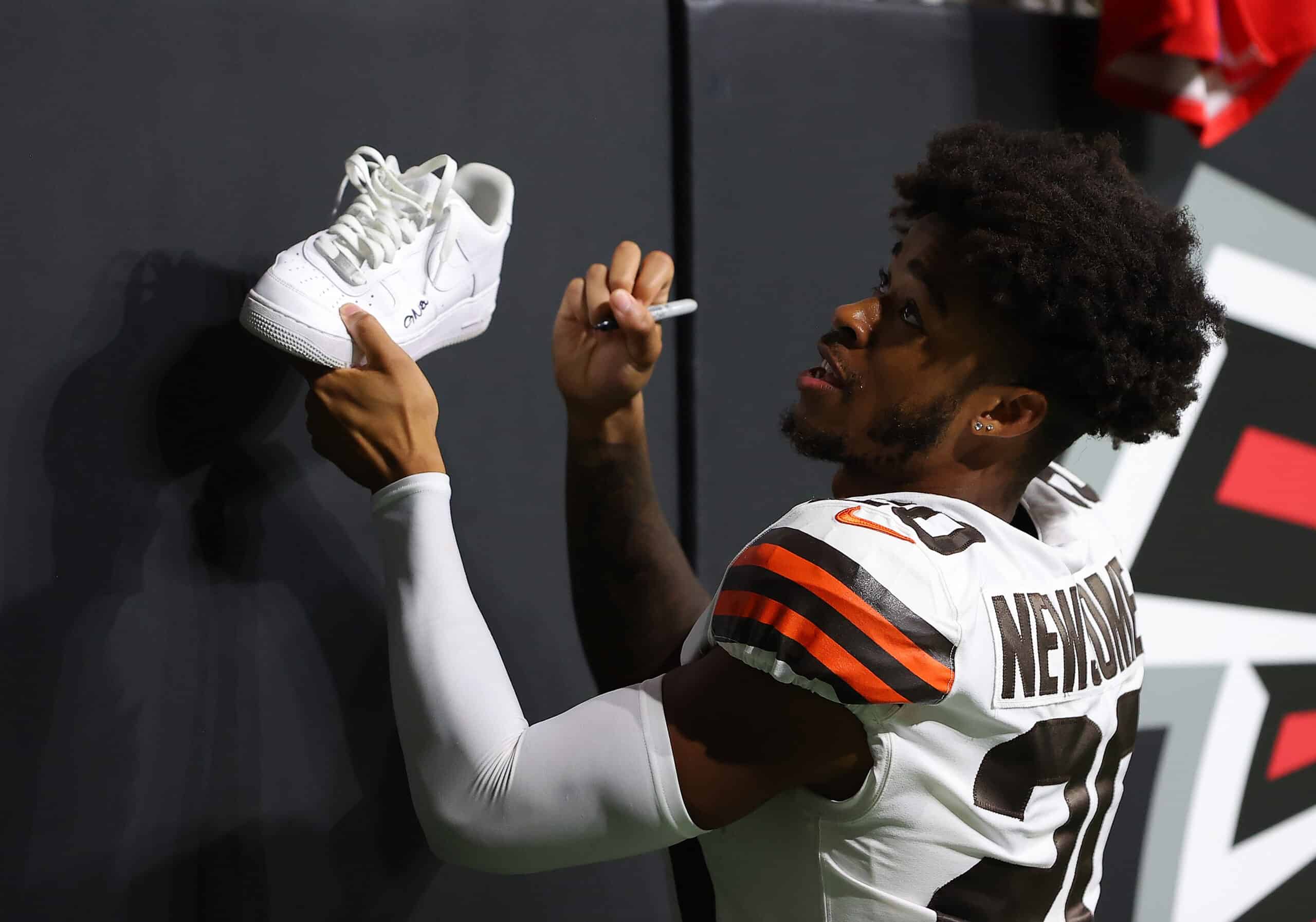 Sunday's loss in Kansas City may be disappointing for the Cleveland Browns.
There were plenty of positives to build on though.
One of those positives is the debut of rookie cornerback Greg Newsome II.
The former Northwestern Wildcat shined against a high-octane Chiefs offense.
This tweet from Pro Football Focus shows just how tough Newsome was to work against on Sunday.
Greg Newsome II #NFL debut vs the Chiefs
🔸 44 coverage snaps
🔸 1 target
🔸 1 catch allowed (4 yards)@NUFBFamily pic.twitter.com/VQn8v6uiuU

— PFF College (@PFF_College) September 13, 2021
While the Browns defense had its struggles against Kansas City, it's a relief to see Cleveland's first-round pick start the season on a high note.
It has to have Browns fans wondering just how good he can be.
Starting Strong
Just two years ago the Browns selected Greedy Williams in the second round of the NFL Draft hoping he could be a consistent corner opposite of Denzel Ward.
Unfortunately, that experiment hasn't panned out.
Andrew Berry took Newsome in this past draft to try and fill that need for another lockdown corner.
It's only been one week, but it was against arguably the best offense in the NFL.
This caliber of a debut from Newsome should warrant some excitement from the brown and orange faithful.
CBS Sports Writer Josh Edwards suggests the tape on Newsome's debut reflects Mahomes' hesitancy to challenge him.
#Browns rookie CB Greg Newsome II was on the field for 97% of the defensive snaps in Week 1. He was targeted once on 36 attempts from Patrick Mahomes. It was a four-yard completion to Clyde Edwards-Helaire. The tape is just as impressive as the stats suggest.

— Josh Edwards (@EdwardsCBS) September 13, 2021
That's pretty incredible when you think about a rookie cornerback only being thrown at once in his first NFL game.
Typically, rookies are picked on early and often.
Only after establishing a reputation do they get left alone.
That's not the case with Newsome.
Looking Ahead
The next two weeks will present less threatening offenses for the Browns defense.
Week Four against the Vikings will pose another challenge for the rookie corner, though.
A collection of Justin Jefferson, Adam Thielen, and others for the Vikings are a tough cover for any secondary in the league.
Kirk Cousins is another aggressive quarterback.
It will be interesting to see if he challenges Newsome on more than just one occasion.
The divisional games will also be good tests for Newsome.
The AFC North is filled with talent at the quarterback position.
Any one of the four quarterbacks can catch fire and win their team the game.
For Newsome, putting up good performances against them will help his team win the North as well as endear himself to the fans.
It's clear that Newsome won a starting position for a reason.
Even with the return of Greedy Williams this season, Newsome has earned his spot.
Barring an injury or some unforeseen stretch of struggles, he'll be at the top of the depth chart for awhile.
It's also fair to temper expectations.
There are still 16 games left to be played.
One great debut doesn't equate to a great season.
Of course, a great season could very well be in the cards for Newsome.
These next few weeks will give us a larger sample size in which to evaluate the rookie.