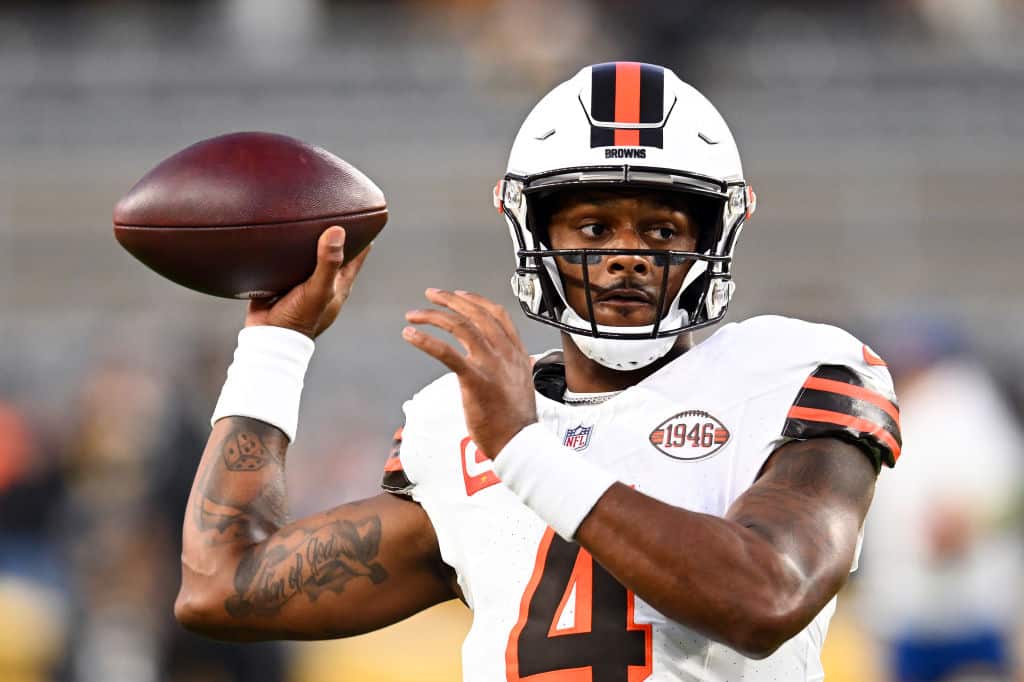 Welcome back to practice, Deshaun Watson.
On Thursday, the Cleveland Browns posted a clip on Twitter of Watson returning to the practice field for the first time in the past two weeks.
4️⃣ @deshaunwatson pic.twitter.com/DWJ789vUzX

— Cleveland Browns (@Browns) October 19, 2023
That's quite a sight for Browns fans who have spent days wondering when their starting quarterback would return to action.
There's no guarantee Watson plays Sunday.
Still, it's great to see him gripping and ripping the football again.
Despite being back at practice, Watson is still taking it slow with that shoulder.
In clips shared by Chronicle-Telegram beat reporter Scott Petrak, Watson isn't flinging the ball 40+ yards down the field.
Instead, he's making short and concise throws, presumably to just get the feel of throwing the ball back.
Here's #Browns QB Deshaun Watson at start of practice. Several low throws but way more zip than last time we saw him pic.twitter.com/SgXu7fPyYd

— Scott Petrak ct (@ScottPetrak) October 19, 2023
#Browns Deshaun Watson throwing at practice.
Didn't look like let it rip completely but threw up to 30 yards and took several reps in individual drills pic.twitter.com/w7fxxoGcHK

— Scott Petrak ct (@ScottPetrak) October 19, 2023
He did make a couple of "deeper" throws, including this one to David Njoku.
Deshaun Watson throwing again #Browns pic.twitter.com/198VLf2jeR

— Jake Trotter (@Jake_Trotter) October 19, 2023
Thursday's session feels like a trial run for Watson.
How he feels physically after throwing the ball again will go a long way into determining his status for Sunday.
It's still unclear whether Watson will go against the Indianapolis Colts on Sunday or not.
Returning to practice is a great first step.
However, it appears he's still limited in the types of throws he's comfortable making right now.
If that remains the status quo by Sunday, we wouldn't anticipate Watson playing.
He's still their long-term investment.
Don't expect them to rush Watson back out there if there isn't 100% confidence in his shoulder health.
Head coach Kevin Stefanski has already confirmed P.J. Walker as the starter if Watson is unavailable again.