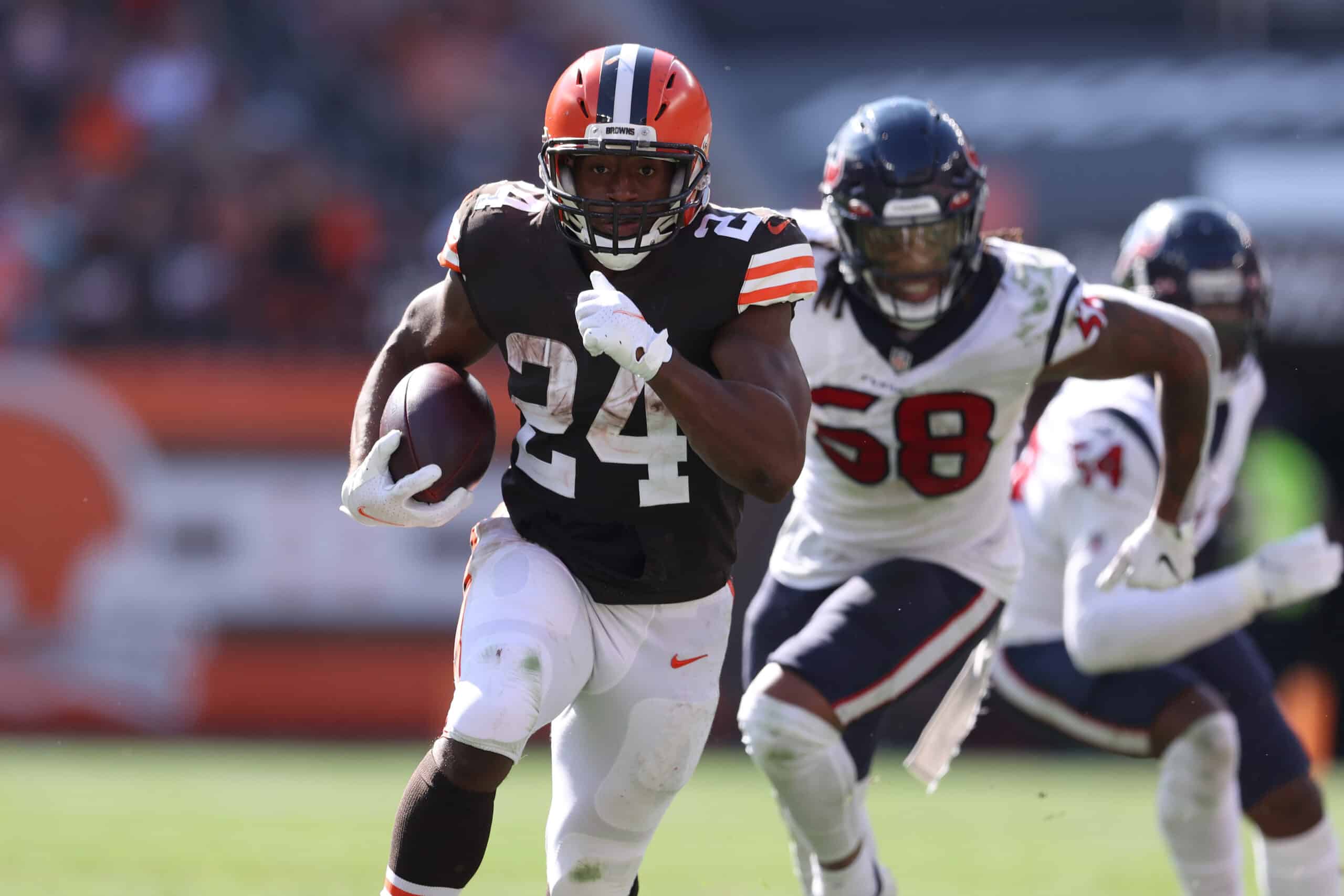 The Cleveland Browns have high hopes for the upcoming 2023 NFL season, mostly because they will have a full season of star quarterback Deshaun Watson and upgrades on defense in defensive tackle Dalvin Tomlinson and defensive end Za'Darius Smith.
But there is no question who their biggest lynchpin is, especially on offense.
That would be running back Nick Chubb, who is probably the best in the league at his position.
He is singlehandedly the reason the Browns ranked No. 3 on Pro Football Focus' list of the best running back units in the league.
1.) 49ers ⛏️
2.) ???
3.) ???

Running back unit rankings entering 2023:https://t.co/IR9br7EkDH

— PFF (@PFF) June 15, 2023
Only the Atlanta Falcons and San Francisco 49ers were ranked higher.
"Nick Chubb was the top-ranked player on Trevor Sikkema's recent top-32 running backs list, but the lack of depth behind him is what drops the Browns to three on this list," wrote Gordon McGuinness. "Chubb is tremendous, though, and is coming off a career-high 90.7 PFF rushing grade, which was tied for second-best in the NFL. He forced 83 missed tackles on 302 carries, the second most in the league last season."
Last season, Chubb had perhaps his finest campaign yet by running for 1,525 yards and 12 touchdowns.
He made the Pro Bowl for the fourth straight year, but he may have been snubbed from the All-Pro first-team, as that honor went to Josh Jacobs of the Las Vegas Raiders.
What may hurt the Browns this coming season, as McGuinness mentioned in his piece, is the fact that they don't have a reliable backup behind Chubb.
That role used to be held by Kareem Hunt, who once led the league in rushing yards as a rookie and formed an outstanding tag-team combo with Chubb.
But Hunt has moved on, and Cleveland will have to rely on the unproven Jerome Ford and Demetric Felton Jr. for depth.
Still, at age 27, Chubb is in the prime of his career, and the Browns will want to maximize that prime before he hits his 30th birthday, which is the point at which running backs have traditionally declined quickly.