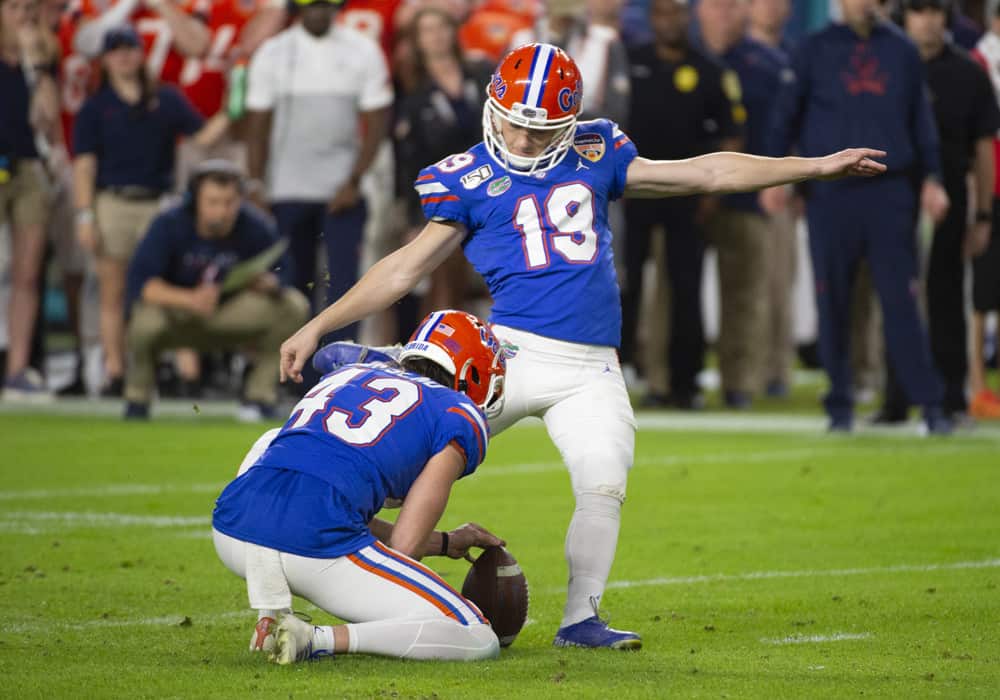 Finding a reliable kicker has not been an easy task for the Cleveland Browns.
Much like many other organizations, the Browns seemingly play musical chairs with kickers.
Last season, the Browns found some consistency with Cody Parkey.
He knocked down 19-of-22 field goal attempts and nailed 43-of-47 extra points in 2020.
The 29-year-old kicker is set to become a free agent this offseason.
Parkey could potentially return to Cleveland in 2021, but it appears the team is also interested in Florida kicker Evan McPherson.
McPherson Draws A Crowd
The third-year kicker out of Florida is going to draw plenty of attention on draft day.
McPherson is regarded as one of the most accurate kickers in program history.
He currently ranked fourth among UF kickers with a field goal percentage of 85% through three seasons.
The young stud kicker has been the starting placekicker since his freshman year.
According to Justin Melo, he is drawing interest from the Browns.
Evan McPherson may be the best K in this draft. Led the SEC (85% career FG%).

McPherson has been in contact w/ #Browns, #Vikings, #Seahawks, #Patriots, #Dolphins, #Buccaneers, #Falcons, #Panthers, #Bills, #Bengals, #Packers, #Colts, #Broncos, #Cowboys, #Cardinals & #49ers.

— Justin M (@JustinM_NFL) March 13, 2021
McPherson earned a handful of accolades during his time at Florida.
One of those awards includes being named a true freshman All-American by 247Sports.
He finished his Florida career having connected on 51-of-60 field goals and 149-of-150 extra point attempts.
Every organization would love to have that kind of consistency from their kicker.
Although, has McPherson done enough to warrant being taken on draft day?
Roberto Aguayo Part 2?
It's not surprising that many teams are hesitant to select kickers early after seeing the Roberto Aguayo aftermath.
In 2016, the Bucs decided to use their second-round pick on Aguayo, which is quite risky.
The Bucs just traded up to draft Roberto Aguayo in the 2nd round.

He's a kicker. pic.twitter.com/CETpMkzARF

— Bleacher Report (@BleacherReport) April 30, 2016
To be fair, Aguayo is one of the biggest kickers in college football history.
Despite that, he was horrendous during his rookie season in Tampa Bay.
He connected on only 71% of his field goals and was cut after the year.
Many organizations could be scared that a similar fate will happen with McPherson.
There is no doubting McPherson's kicking ability and he belongs on an NFL roster.
Yo, this isn't natural @McPherson_Evan pic.twitter.com/hRN6Dd6x1M

— Alek (@abennett50_) January 27, 2020
Despite his popularity, the Browns shouldn't get desperate and select McPherson early on draft day.
This organization needs impact players at linebacker and in the secondary.
They cannot afford to lose out on talented players for a kicker after seeing what happened with Aguayo.
There are plenty of other kickers available, assuming another organization selects McPherson.
The Browns could potentially use a late-round pick on McPherson, assuming he's available.
Otherwise, Cleveland can bring back Parkey or find another option, but they shouldn't use an early-round pick on McPherson.