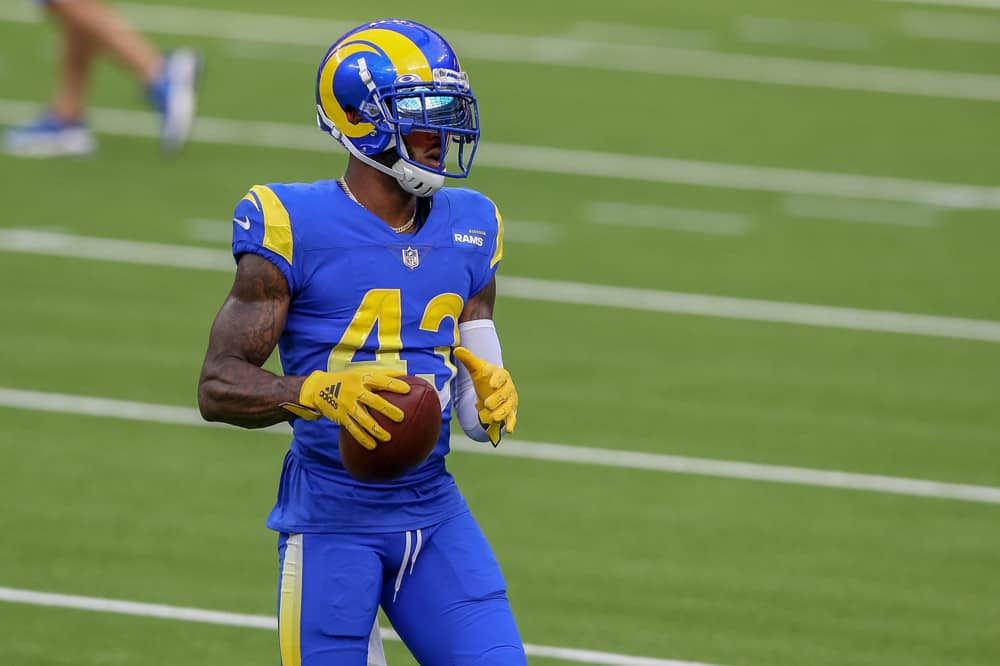 A day full of teams being "interested" in players continues, with one of those teams being the Cleveland Browns.
Now, they are linked with former Rams safety John Johnson III along with some other teams.
Hearing former Rams S John Johnson's free agent market is taking shape. Lions, Eagles, Jags and Browns all showing interest

— Jonathan Jones (@jjones9) March 15, 2021
With money to spend, the Browns can afford to be active throughout free agency, even with a reduced salary cap.
Could Johnson be a name they want to bring aboard?

Some Friendly Persuasion
Even with room to sign Johnson, and a need at safety, he's not a lock (yet) to be a Brown.
As mentioned in the tweet above, Detroit, Philadelphia, and Jacksonville are all also interested in signing Johnson.
The Browns have more cap space than all of those teams except the Jaguars.
Jacksonville currently has the most available space of any team in the NFL.
Cleveland can take a larger hit from Johnson as opposed to Detroit and Philadelphia, and even if Jacksonville wants to splurge, they have more pressing needs to fill that may prevent them from doing so.
Also, consider where these four teams will all be from a contending standpoint.
Lineups.com places the Lions and Jaguars over/under for wins total at 6.5 and 5 respectively.
The Eagles, shockingly enough, come in at 9.5 while the Browns sit at 8.5.
That seems a bit surprising when you look at the 2020 campaign for each side along with their respective returning players.
Cleveland was a stop and a score from appearing in their conference championship game last year while the other three teams all finished their seasons after week 17.
If Johnson wants the ideal combination of money and playing for a winner, Cleveland should be the spot for him.

His Role
Bringing in Johnson would be a great addition to Cleveland's secondary.
Rams will not place their franchise tag on safety John Johnson III, per @JFowlerESPN

Johnson III: 85.3 PFF Grade in 2020 (3rd) pic.twitter.com/bhWZ0BeB8w

— PFF (@PFF) March 9, 2021
John Johnson in 2020:

♦️105 tackles
♦️8 passes defensed
♦️1 interception
♦️71.9 passer rating when targeted
♦️69.1 comp% when targeted

How aggressively should the #Eagles be pursuing the free agent safety? pic.twitter.com/G5RjJcw7aR

— Section 215 (@Sec215) March 15, 2021
They're in need of depth at the safety position after inconsistent play from that spot in 2020.
Grant Delpit returns after missing his entire rookie season, but they'll need others as well. Johnson has logged at least one interception in each of his four seasons in the NFL.
He also recorded over 100 tackles in two of those.
The former 3rd-round pick out of Boston College provides a nice balance of pass coverage and hard-hitting run stopping ability.
John Johnson would be a great addition to the #Eagles secondary. He's only 25 years old. pic.twitter.com/aEHOG78XcT

— Justin Bradley (@JustinJBradley) March 15, 2021
With defense a big priority for the Browns this offseason, snagging Johnson would be a nice start.