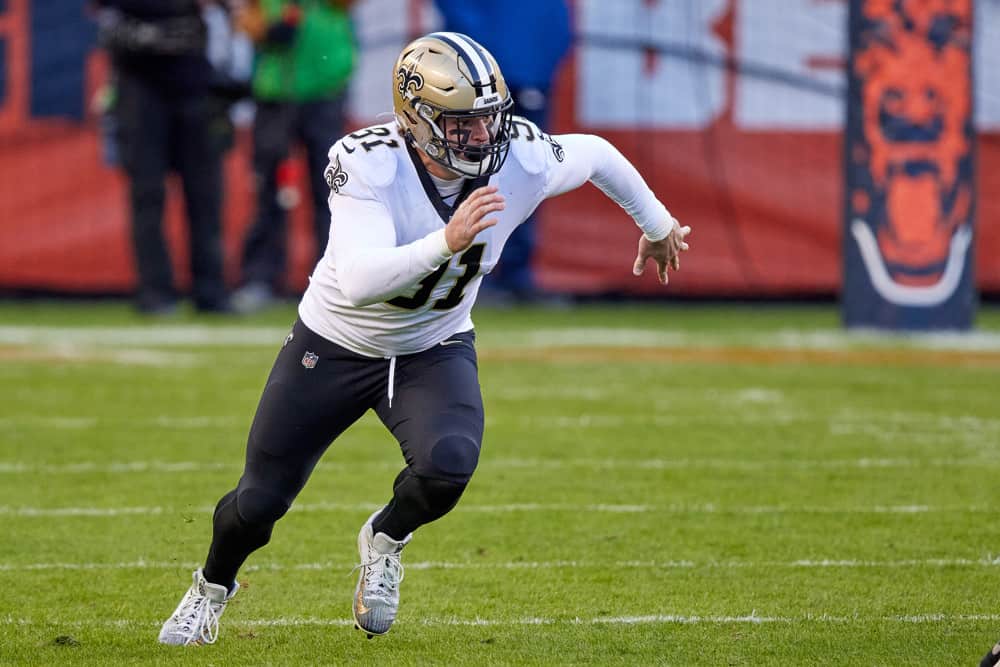 There is one universal fact that Cleveland Browns fans can agree on.
The defense needs to be upgraded in 2021 for the team to advance further in the playoffs.
What does that mean for the defensive end position?
It means that depth and talent need to be on the field and roster beyond Myles Garrett's obvious abilities.
That has led to discussions of which free agents the Browns might pursue.
Big names were thrown around in the rumor mill.
However, J.J. Watt went to the Arizona Cardinals, and Romeo Okwara just re-signed with the Lions.
There are still free agents out there, and this is the week that free agents will either re-sign or find new homes for 2021.
A name that keeps popping up in context of the Browns' current needs is New Orleans Saints free agent defensive end Trey Hendrickson.
According to Josina Anderson, the Browns are showing interest.
My understanding is the #Jets, #Vikings, #Browns have all shown interest in adding #Saints DE Trey Hendrickson, per source. That list is in no particular order.

— IG: JosinaAnderson (@JosinaAnderson) March 15, 2021
Who Is Trey Hendrickson?
To be honest, outside of New Orleans, many may have asked this question prior to the 2020 season.
Hendrickson flew under the radar after being drafted in 2017 by the Saints in the 3rd round (103rd overall).
He finally broke through and peaked at the absolute perfect time for negotiating a new contract; that was the tail end of 2020.
Hendrickson had a forced fumble and 22 solo tackles in the 15 regular season games he played in.
The power of Trey Hendrickson on this sack 👀#ATLvsNO | 📺: FOX pic.twitter.com/KbQ4SL8ytb

— New Orleans Saints (@Saints) November 22, 2020
The 26 year old Hendrickson also had 25 quarterback hits in 2020 which was more than he had in his previous three seasons combined.
His career-high 13.5 sacks which put him in a tie for second in the NFL in 2020.
Hendrickson shared that stat with Aaron Donald.
Trey Hendrickson's Contract
Trey Hendrickson's rookie contract was a 4 year deal worth $3.17 million.
As noted above, his late season burst in advance of becoming a free agent will up the ante on his payday.
Spotrac estimates that his next contract will be a 3 year deal worth $30.9 million.
Hendrickson could go from making under $1 million per year to slightly over $10 million.
The Browns (And Others) Should Be Interested
A young player rising to his peak performance should definitely be on the Cleveland Browns radar.
The Browns are in a more favorable financial position than most of their NFL counterparts are.
However, other teams will pursue Hendrickson.
The Browns are on the short list right now along with the New York Jets and the Minnesota Vikings.
A month ago, the Vikings and Browns were not on the short list.
Leading contenders were considered to be the Cincinnati Bengals, New England Patriots, Jacksonville Jaguars, and the New York Jets.
Whispers and nuggets: the #Jets heavy in on Trey Hendrickson. A "crap load" of teams have checked in on/are pursuing Curtis Samuel. 2 of the bigger name backs in FA were contacted by the #Patriots but right now, are seeking employment elsewhere.

— Michael Giardi (@MikeGiardi) March 15, 2021
The New York Jets new head coach Robert Saleh is a former defensive coordinator, and the Jets have money to spend so the Jets' pursuit of Hendrickson is not surprising.
Each team has a different 2021 salary cap number because unused cap room can carry over & likely/not likely to be earned incentives are reconciled.

Highest Adjusted Salary Caps

Browns-$211,909,691
Jets-$210,597,814
Cowboys-$209,962,519
Jaguars-$209,240,156
Eagles-$206,998,775

— Joel Corry (@corryjoel) March 11, 2021
Good news for all of us is that the waiting and wondering will soon be over.
Free agent signings will happen in a flurry on Wednesday afternoon, March 17 at 4 pm EDT when the 2021 NFL year officially begins.