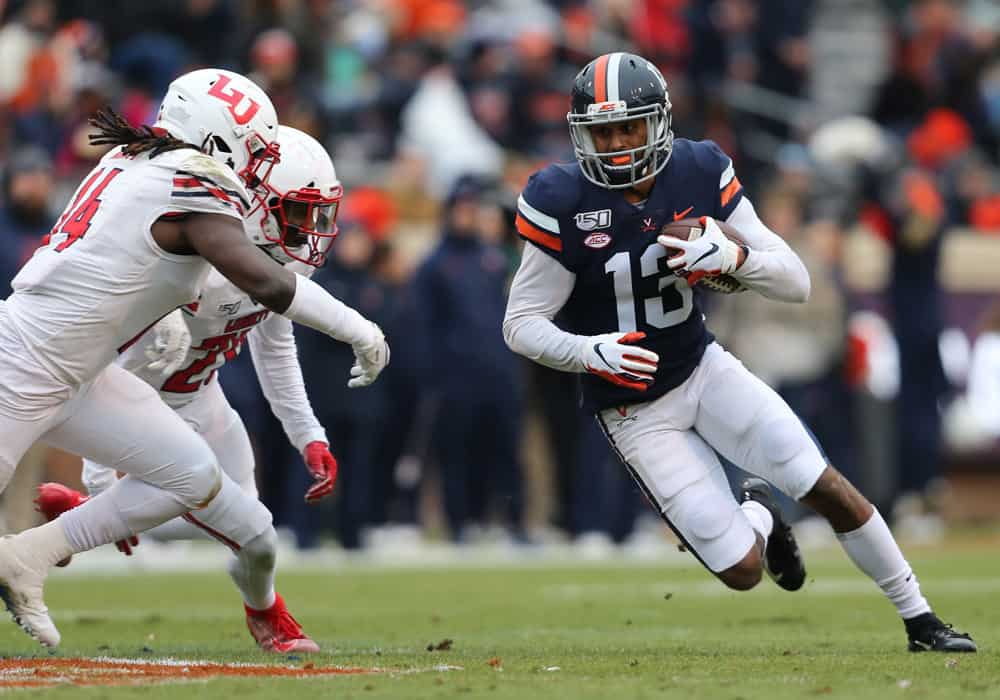 Linebacker Solomon Ajayi officially signed with the Cleveland Browns this week.
Ajayi spent the last two years as a leader on the Liberty University defense.
Liberty, an FBS (Division I) program, went 8-5, including a victory in the Cure Bowl over Georgia Southern.
Ajayi led the team with 92 tackles, including 5.5 for a loss.
Congratulations to Solomon Ajayi on signing an undrafted free agent deal with the @Browns !! #DawgPound pic.twitter.com/yOVF0eWdxK

— A Sea of Red (@ASeaofRed) April 26, 2020
He lined up as the MIKE linebacker for the Liberty Flames in 2019.
But at 6´1″ and a solid 235 pounds with some speed, Ajayi can compete for a role anywhere in the linebacking corps.
Ajayi transferred to Liberty from Bakersfield (Ca) before the 2017 season.
After redshirting that year, he started all 23 games he played in 2018-2019.
He was not invited to the NFL Combine and Liberty´s Pro Day was among the many canceled this year.
In spite of that, Ajayi joins three other Liberty Flames in landing a UDFA contract.
That includes safety Elijah Benton, who follows Ajayi to the Browns.
The Liberty Years
Solomon Ajayi´s 165 tackles over his two seasons included a pair of sacks and 10 TFLs.
He recovered 2 fumbles, including one he caused.
Ajayi also had 2 interceptions, with a pick-six in 2018.
His linebacker coach last year was Kyle Pope.
That was Pope´s only season at Liberty, in between staff positions at Alabama and now Memphis.
But it was enough time for Ajayi to earn Pope´s praise as the team started their 2019 campaign.
In an interview with Damien Sordelett of "The News and Advance" newspaper, Pope said of Ajayi,
"He's a very smart player, a very hard-working player. "He's a guy who who has basically set a path for himself here. Going through spring and going through now, he's continued to step into a leader role, continued to work hard each day, and not only that but make the guys around him better. That's one big thing about him."
Ajayi follows his brother, former Dolphins and Eagles running back Jay Ajayi, to the NFL.
Where Does Ajayi Fit With the Browns?
Solomon Ajayi faces an uphill battle for an NFL roster spot.
But so did many other UDFAs before they found stardom.
Ajayi joins fellow UDFA George Obinna of Sacramento State in the linebacker room.
Cleveland also drafted Jacob Phillips of LSU in the fourth round.
"We''re not excited to just be here we're here to win the game. We've got a game to win."

-Liberty LB Solomon Ajayi @SoloAjayi7

— A Sea of Red (@ASeaofRed) December 19, 2019
With the Browns roster light on incumbents, Cleveland might offer Ajayi more field time upfront.
Mack Wilson, Sione Takitaki, and Tae Davis are the only three carryovers from 2019.
Cleveland signed BJ Goodson to start in the middle for the Browns.
There are no remaining free-agent linebackers likely to demand a starting role anywhere.
So maybe Ajayi´s road to the NFL won´t be as steep as it could be.