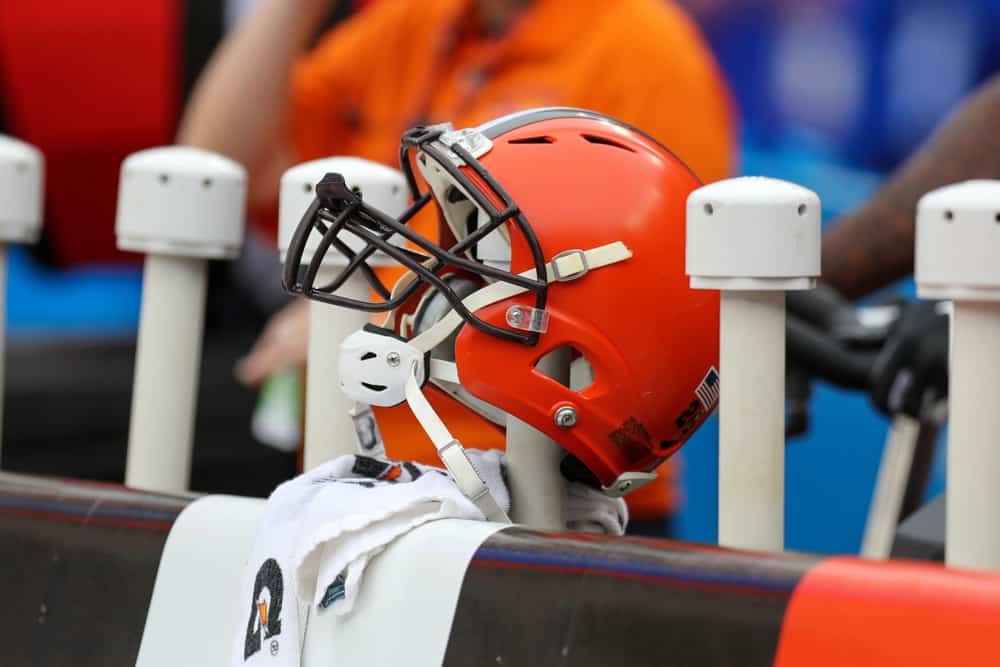 The Cleveland Browns had a successful 2020 NFL Draft according to most experts.
General manager Andrew Berry grabbed Alabama offensive tackle Jedrick Wills with the No. 10 overall pick, addressing one of the top needs on the entire roster.
He followed that up by taking LSU safety Grant Delpit to address another major need.
The early grades are great for Berry in his second stint with the team.
The even better news is that Berry still has just over $38 million in cap space remaining.
That has Browns fans wondering if more moves will be made.
Berry recently appeared on Cleveland's 92.3 The Fan with Ken Carman and Anthony Lima and shared some details about his plans moving forward.
"We'll be opportunistic across the roster. And we do want to be responsible balancing both the short-term and long-term planning. … But if there's something out there that ends up making sense — whether it's a free agent acquisition or trade acquisition — we will do that really at any position on the 90-man roster. We don't play for another four months so there are plenty of opportunities to continue to improve the team. The offseason doesn't stop after that draft, so that will certainly be our mindset."
One key takeaway is that Berry mentioned the team is going to continue to seek out talent via both free agency and trades.
He did not get into any specifics, as expected, but it was better than him saying the roster is staying exactly how it is right now.
The Obvious Top Target
There is one top free agent still out there that has been linked to the Browns in rumors this offseason.
That is elite defensive end Jadeveon Clowney.
Which team will sign free-agent defensive end Jadeveon Clowney?

Titans +200
Seahawks +350
Browns +400
Colts +600
Giants +800
Eagles +1000

Via @SportsLine Oddsmakers

— Allan Bell (@AllanBell247) April 29, 2020
His initial asking price was for a deal worth over $20 million annually.
He has since lowered that number, but it appears the Seattle Seahawks have begun to move on after not signing him at this point in time.
The Browns, Tennessee Titans, and Indianapolis Colts all have a ton of cap space and stand out as favorites.
A challenge Berry faces is convincing Clowney to join the team if the defender's goal is to compete for a championship right away.
Jadeveon Clowney wants to play for a winner https://t.co/1K7TeIiTuJ

— ProFootballTalk (@ProFootballTalk) January 13, 2020
Then again, money talks and the Browns could slightly overpay on a short-term deal.
Adding Clowney would give the Browns a dominant defensive line and the release of Olivier Vernon could free up even more money.
However, that would not even be necessary given all the cap space.
Other Potential Targets
It is difficult to predict what way Berry could go in a trade.
The Browns are set at the skill positions and seem to have the offensive line in order heading into the season.
Adding another pass-rusher would not hurt and that makes Everson Griffen another potential target if the team does not land Clowney.
The four-time Pro Bowler has been with the Vikings since 2010 and there is instant familiarity between him and Kevin Stefanski.
The veteran had eight sacks in 2019 and is another player who could be signed if the team wants to move on from Vernon.
Adding another linebacker would also be a wise move for Berry.
Drafting LSU's Jacob Phillips was a nice start, but more depth never hurts.
Two veterans who stand out are Clay Matthews and Nigel Bradham.
The former had eight sacks in 13 games with the Los Angeles Rams last season while the latter had 61 tackles in 12 games.
Matthews fits the mold better of a "high character" guy and also has history with the team because of his father.
Bradham has had some legal issues, but not in the past few years.
The available cap space allows Berry to add just about any player he wants this offseason.
The goal now is to find talent that fits the specific needs of the team and what Stefanski and Berry are trying to build in terms of scheme and culture.